EKN Driver Diary: Kyle Kalish – 2015 RoboPong 200
Franklin Motorsports / Merlin driver takes break from first semester at college to 'regulate' with karting mentor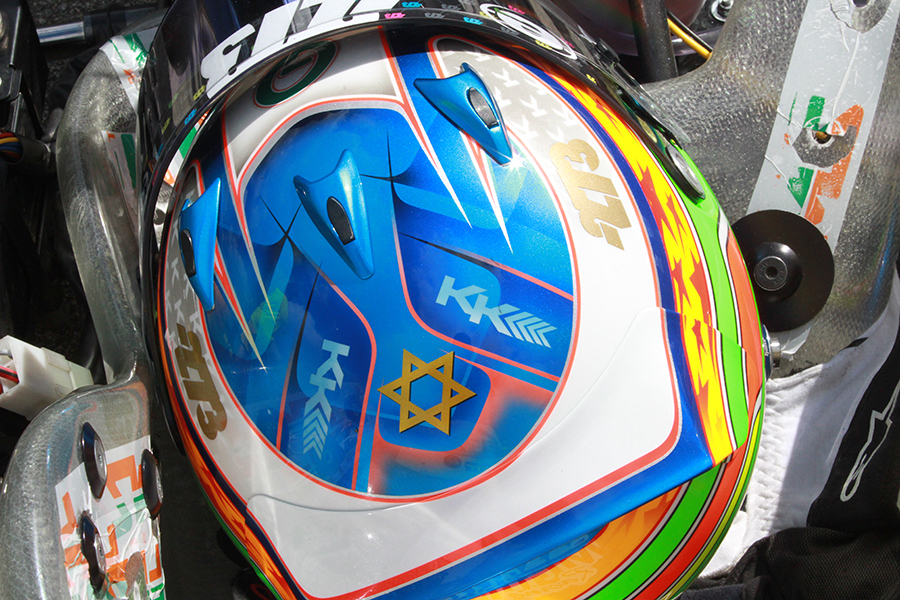 (Photo: EKN)
This year, Franklin Motorsports / Merlin driver Kyle Kalish is taking on a new category. The inaugural United States Pro Kart Series Leopard Pro champion is moving from one gear to six, taking on the challenge that is shifterkart racing. The 18-year-old from Wauconda, Illinois began racing when he was five, and has earned championships from club, regional and national. Throughout 2015, eKartingNews.com will give readers an inside look into the adjustments of going from a single-speed background to racing a Stock Moto at the national level, along with providing the great father/son relationship Kyle and his father Scott enjoy racing together.
For the last installment of the Kyle Kalish Driver Diary, which featured his best performance yet aboard a shifterkart machine at the SKUSA Fikse Wheels Pro Tour SummerNationals at New Castle, click HERE. This edition, Kalish returns to New Castle for the 12th running of the RoboPong 200, an endurance race aboard TaG karts for 200 laps around the 1-mile circuit.
Preparation for the 200 miles:
As many of you may know, I left for Charlotte, NC to attend the UNC-Charlotte towards the end of August, so it has been a while since I was last in a kart. I've only done about 40 laps in a TaG kart, which was earlier in the year, but I figured I'd be okay. When Franklin Motorsports owner Jamie Sieracki brought up the idea of racing the 200 together, it was automatically something I wanted to do. So for the past few weeks, it was constant phone calls and texts to put together a team for the race.
Practice Day:
I flew home from school Thursday night and was able to at least spend one night at home before heading to the track. It was nice to see my family and my dog Maggie for a night before my dad and I headed out to New Castle.
The whole point of this weekend was not only to go out and try our best to win, but also to enjoy ourselves and have fun with it. One way of doing this was with our team name. If you know Jamie and I, you know that two of our favorite things are cooking and the song Regulate by Warren G and Nate Dogg (released in 1994 – two years before Kalish was born). To have fun with it and represent some Rap legends, we decided to call ourselves the Franklin Motorsports / Merlin USA Regulators and put some dope stickers on our kart. TJ Koyen at Oktane Visual was able to produce "Regulators, Mount Up" and "G-Funk" stickers for us, and it definitely completed the look we were going for!
Once we got to the track, I was ready to go. It had been so long since I was in a kart and been around karting in general, so I was so antsy to get going. We had a few last minute stuff to finish on the kart, than we were good to go and ready to hit the track.
Once we hit the track, I knew it was going to be a relearning process. There was 5 less gears and no front brakes on the kart, which I was missing dearly. I was turning in so early, locking up the brakes, and just driving like a true 'wanker' for the first few sessions. By the end of the day, I was running comparable times with the lead drivers so I felt confident going into Saturday. In addition, Jamie was able to throw down some solid laps for only having about 40 laps worth of racing at the Route 66 Sprint Series race at the Badger Kart Club the week before.
Soggy Saturday:
I was going to call this section Saturday Practice and Qualifying, but it was so much more than that! From right when we woke up till mid-afternoon, it was raining pretty hard.
As it started to stop raining, NCMP let people take their cars out on track in an attempt to dry it. We had a decent amount of cars on track and seemed like we were making progress, but they pulled us off as it began to rain again. Fast forward 30 minutes and the rain stopped and back on track we went. We were on track for about 10 minutes when everyone started to pull off for no reason but being the racing driver I am, I stay on track until I see a checkered flag. So with their only being 3 total cars on track, Ashley Rogero and I were able to put my dad's Chevrolet Cruze to the test. Fair warning: it is a great family car, but probably not the best track day car. Well, I can't say that entirely, because I had a pretty masterful drift that may or may not have been under control. I didn't hit anything when I did it, so I'd say it was fairly under control.
Now that the track was dry and the Dan Wheldon Memorial Pro-Am Karting Challenge events were completed, we finally got to hit the track. Sadly our three practice sessions were cut to just one, so it didn't give us too much time between practice and qualifying. We had a fairly decent practice and felt prepared for qualifying.
Thanks to my poor judgement, I screwed us pretty bad in qualifying. Underestimating the 20 minute session and no hot grid, I went out way too early and cost us a shot at a top position. We would end up in the 15th position, which just so happened to be where I started the race last year with Colton Ramsey. So while it wasn't where we wanted to started, we had 200 laps ahead of us.
To finish off the night, the team and I had the opportunity to have a nice dinner together at the local steakhouse. It was a great way to spend my final night before heading back to Charlotte. Lots of laughs and good times with my racing family!
200 Laps to Go:
We had a nice 45 minute morning warm up, which gave both Jamie and I adamant amount of time on track to prepare for the 200 laps ahead of us. We showed pretty good long term pace, which is what you need to succeed in the RoboPong 200, so confidence was fairly high heading into the start of the race.
As we lined up for the start of the event, a mixture of nerves and excitement were going through my body. While this is one of the most fun events of the year, there is a lot of money on the line so pressure is still high. Talking strategy with the team, it was decided that I would do stints 1 & 3 and Jamie would do stints 2 & 4. As the green flag waved, I knew that in order to have a shot at the win, I would need to put us up front by the first pit stop. I was able to keep consistent lap times throughout the stint, even thought I was held up on a few occasions due to having to avoid wrecks in front of me. Everyone seemed to be a little too excited on those opening laps, but I made my fair share of poor moves so I can't be talking too much.
As I handed over the kart to Jamie, we were sitting around P10 after the pit cycle, but we were able to push a few laps past 50, which many teams failed to do. With this, we felt pretty good about fuel mileage for the rest of the race. Jamie was able to pick up a few more spots and keep us out of trouble while showing solid pace, so it was all about keeping clean for the remaining laps.
After the second pit stop, I was back in the kart on around Lap 100 and knew I was going to have to push these next 50 laps. I was going to be doing laps 50 to 100 on our current set of tires, but I couldn't let that stop me from putting down some hard and fast laps. I kept consistent, making my way through lap traffic and found myself earning a few more positions before the final pit stop. With fresh rubber being put on and a full tank of fuel, it was going to be one final push to the finish in hopes of getting onto the podium.
As I came in for the pit stop, I hoped out of the kart and while the team was working on the kart, Jamie came up to me and asked if I wanted to do the final 50 laps. Without much thought, I said "Sure, let's do this." So with 100 laps already under my belt, I went out for the last 50 laps and just kept digging. While I was already tired, I knew that it was all going to be worth it at the end. After the pit cycle, we were sitting in sixth place for a while until a team in the top-five had to take an extra pit stop, slotting us in the last podium position. About 20 laps remaining, I knew I just needed to keep my head down and my nose clean to be able to celebrate with the champagne spray at the end.
With only two straights remaining on the final lap, I could see the end in sight. I also saw the Zach Holden/Ashley Rogero entry, who unknown to me at the time, had a brake failure early in the stint. So as Ashley blew the interstate turn, I figured she was just tired, but it was obviously more than that. As I went for the outside pass going into the last turn, we made contact, which largely in part had to do with her kart having no brakes and me not knowing this. We both went flying through the grass, and she ended up getting me by 0.001 seconds at the line. While brake failure is common in the RoboPong 200, it was a pretty exciting way to end the race! I have to give the Holden/Rogero team props for surviving till the end and finishing on the podium with the problems they faced, so there was no hard feelings what so ever for the contact.
With all that excitement, the Franklin Motorsports / Merlin USA Regulators were able to finish in fifth place, the final podium position. As we got out of our karts on the front straight waiting for the announcer to come and conduct our interviews, my first instinct was to take my helmet off and lie down next to my kart. I really wanted to take a nap right about then. After the interviews, we headed over to the podium, received our oversized checks, and sprayed the celebratory champagne. And if anyone asks, we were all old enough to drink it. Having the chance to spray the champagne and share this moment with my team owner and mentor Jamie Sieracki was such an amazing experience and something I will never forget. After being in the kart for 150 miles and almost 3 hours, it was a nice way to celebrate. While we didn't win, it was so much fun and I can't thank him enough for the opportunity. Also, I can't thank my team and pit crew enough for pushing 110% throughout the entire race. It was a whole team effort and without them, we wouldn't have been able to accomplish all that we did. Without them, Jamie and I wouldn't have been able to regulate and honor the G-Funk era like we did.
Now, it's back to college to refocus my mind on classes which I guess isn't the worst thing. Even though I'd prefer to be racing all the time, college isn't that bad either. While we're still trying to figure out if I will be doing any more races this year and what my 2016 schedule is, I can't wait to get back in the kart and be with my racing family.