Paddock Insider: 2015 RoboPong 200
12th edition of 200-lap endurance race at New Castle Motorsports Park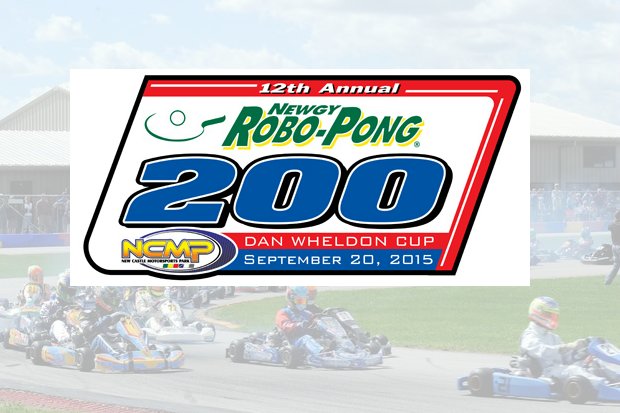 EKN's Paddock Insider is a new Trackside coverage addition, bringing you notes, updates and breaking news as it happens. The article will be a timeline of events as they happen during the 2015 RoboPong 200. The information will not be seen anywhere else, including interviews and photos. Please feel free to comment and discuss our coverage and today's action in the EKN Global Members Discussion area below:
09.20.15
RoboPong 200
Lap 200 – Donald/Jones win the RoboPong 200 by 47 seconds over Newgarden/Dixon
Lap 185 – Donald leads by 48 seconds over Newgarden, only two karts on lead lap
Lap 179 – Bujdoso runs out of gas again, drops out of top-five
Lap 171 – Koyen pits for their fourth time, hands kart over to Lemke
Lap 160 – Donald leads by 32 seconds over Koyen with Newgarden in third, four teams on lead lap
Lap 155 – Dixon pits holding the lead to hand his CometKartSales.com entry over to Newgarden with four new tires and fuel
Lap 154 – Kalish pits for his final time, stays in the kart with four new tires and fuel
Lap 153 – Leaders pit, with Donald staying in for a third stint, getting four new tires and fuel
Lap 151 – Holden pits and hands off to Rogero along with four new tires and fuel
Lap 129 – Rios off course, no brakes the issue
Lap 115 – Donald leads over Rios by 10 seconds, five teams on the lead lap
Lap 104 – Karam pits after just 9 laps on track, replaces flat left front tire
Lap 104 – Brandon Jones pits for gas and four tires, hands the lead back off to Jake Donald
Lap 98 – Bujdoso pulls off track and pushes kart back to pits after running out of gas
Lap 98 – Rios pits for gas and only rear tires, limping around with some cramping
Lap 92 – Koyen pits for gas and 4 tires
Lap 79 – Brandon Jones takes the lead from Rios at I-70 corner
Lap 70 – Rios still leads by four seconds, now over Jones with Koyen running third, saving gas. 11 teams on lead lap
Lap 55 – Rios takes lead after stopping on Lap 47 for just fuel, leading Koyen by four seconds
Lap 54 – Jarsocrak pits as leader, changes four tires but engine will not refire with broken spark plug wire
Lap 53 – New leader Donald pits, changes four tires and fuel for Brandon Jones
Lap 44 – Lemke pits, hands over to Koyen with only a refuel
Lap 36 – Eves off with fuel supply issue, hands lead over to Lemke
Lap 30 – Ten of the 31 teams are already one lap down to the leader Eves
Lap 20 – Top seven within three seconds of each other, Eves continues to lead
Lap 7 – Eves takes over lead with Bujdoso dropping back, lead group 11 karts
Lap 1 – Holden and Rios get together at Turn 3, both continue, then Lap 4 Rios gets put off course by Kalish in inner hairpin
---
---
---
Entry List
RoboPong 200
[table]
No.,Team Name,Chassis,Engine,Driver One,Driver Two,Driver Three,Driver Four
O1,Team Manchild,Merlin,X30,Brandon Lemke,TJ Koyen,,
1,KartSport AMR2,Arrow,X30,Will Power,James Davison,,
2,Holden/Rogero,Tony Kart,X30,Zach Holden,Ashley Rogero,,
3,Rising Star Racing,Tony Kart,X30,Spencer Pigot,Neil Alberico,,
4,Barns Horton Racing,Arrow,Leopard,Chandler Horton,Derek Barns,,
7,CometKartSales.com,FA,X30,Josef Newgarden,Scott Dixon,,
8,Ikart/ISMI/Factory Racing,iKart,X30,Sage Karam,,,
9,Galownia-Neal Racing,Tony Kart,X30,Henry Neal,David Galownia,,
10,KartSport AMR1,Praga,X30,Jake Donald,Brandon Jones,,
11,PTSC,Arrow,X30,George Clark,Bryan Hartman,Matt Collins,Shelli Kopetski
114,MDD #2,CRG,Rotax,Andy Lewis,Will Harvey,,
17,B&B Racing,CRG,Rotax,Brian Buttler,Richard Biggs,Kevin Shelbo,
19,Lionheart,Tony Kart,Leopard,Austen Wheldon,Connor Daly,,
20,Ed Carpenter Racing,FA,Leopard,Ed Carpenter,Nathan O'Rourke,,
21,Pacific Rim Racing,Tony Kart,Leopard,Haopeng Zhang,Anson Liu,,
30,Checkered Motorsports PCR 2,PCR,X30,Jacob Knueven,Kyle Smith,Jeff Smith,
42,Eves/Dignan,CompKart,X30,Braden Eves,Derek Dignan,,
44,MDD #1,Ikart,X30,Jay Howard,Billy Lewis,,
57,Harden Racing,Kart Mini,Leopard,Devon Smith,Tyler Sawyers,Ben Loveall,
59,Team Geringer/Finlayson,Tony Kart,X30,Michael Geringer,Elliott Finlayson,,
64,Faster Then A Fifth Grader,Arrow,Leopard,Luke Durrrett,Phillip Bauman,,
77,Adkins Speed Center,Merlin,X30,Brandon Adkins,Mike Giessen,,
80,FA Factory Racing,FA,X30,Garrett Moran,Davis Durrett,,
99,Home Alone Racing,Arrow,Leopard,Derich Cutshaw,Nick Denney,Callie Wolsiffer,
127,Ikart/ISMI/Factory Racing,iKart,X30,Jesus Rios Jr,,,
213,Franklinkart/Merlin Regulators,Merlin,X30,Jamie Sieracki,Kyle Kalish,,
327,Checkered Motorsports,PCR,X30,Robert Bujdoso,Andrew Bujdoso,,
477,Keep Fighting Ayrton,Praga,Rotax,Joseph Budzinski,Nick Luedeke,,
872,Boos/Jarsocrak,Tony Kart,X30,Brandon Jarsocrak,Mark Boos,,
14X,Team Hard,FA,X30,Cameron Caron,Stephen Davis,,
101,Tecno Racing Team,Tecno,X30,,,,
[/table]
Yamaha Senior
[table]
No.,Driver,Chassis,Engine
0,Mick Gabriel,Tecno,Woltjer
OF,Camden Speth,DR Kart,Comet
2,Zach Holden,Tony Kart,Comet
O6,Steve Knight,Tony Kart,Comet
O7,Tim Hollowell,Tony Kart,Comet
5,Nick Vincent,Merlin,Appco
7,Brad Brittin,Margay,Adkins
23,Brandon Cross,Arrow,Comet
24,Trenton Bryant,Tony Kart,Comet
26,Dominic Lancia,Tony Kart,Comet
27,Nick Chastain,Tony Kart,Comet
32,Max Arney,Birel,Comet
34,Eric Jones,Praga,Comet
40,Rudy Agras,PCR,Woltjer
42,Derek Dignan,FA Kart,Comet
46,Joey Eppink,Tony Kart,Comet
47,Adam Jennerjahm,Tony Kart,Comet
67,Justin Penix,FA Kart,Comet
77,Cole Fink,,
79,Dakota Pesek,Top Kart,Woltjer
88,Sam Cate,Tony Kart,BBS
99,Tony Petersen,CRG,Comet
99J,Ron Petersen,Arrow,Comet
888,Emerson Reed,Merlin,Woltjer
[/table]
Yamaha Junior
[table]
No.,Driver,Chassis,Engine
O1,Brandon Lemke,Merlin,Woltjer
O2,Maks Kowalski,Merlin,Woltjer
2,Connor Cass,Merlin,Woltjer
2X,Zach Holden,Tony Kart,Comet
3,Caiden Young,Top Kart,Appco
4,Alex Bertagnoli,Merlin,Woltjer
7,Brennan Hanville,Tony Kart,Comet
8,Chandlar Moran,Tony Kart,Comet
9,Zack Pretorius,FA Kart,Comet
11,David Kalb,FA Kart,Comet
12,Ryan Weyer,Merlin,Woltjer
14,Marcello Sancez-Lara,,
15,Jacob Clamme,Arrow,Comet
17,Ben Varner,Merlin,Woltjer
20,John Paul Southern Jr.,Top Kart,Woltjer
22,Sam Mayer,Merlin,Woltjer
23,Michael Cruz,FA Kart,Allison
23X,Ian Hornish,PCR,BBS
24,Tahlon Yockel,PCR,Comet
26G,Sam Paley,Tecno,Switch
27,Jack Chastain,Tony Kart,Comet
52,Jackson Lee,FA Kart,Comet
85,Jack Dorsey,FA Kart,Comet
91,Elliott Budzinski,Praga,Woltjer
112,Justin Hutmacher,Birel,Comet
117,Stephen Dial,Merlin,Woltjer
222,Jacob Abel,Top Kart,Woltjer
[/table]
Yamaha Cadet
[table]
No.,Name,Chassis,Engine
O2,Logan Adams,FA Kart,Comet
O3,Robert Noaker III,Merlin,Woltjer
O4,Garrett Adams,FA Kart,Comet
1,Carter Cass,Merlin,Woltjer
5,Jason Welage,Top Kart,Woltjer
5c,Cameron Christ,Benik,Comet
9,Aidan Hinds,Praga,Allison
10,Madison Campeau,Top Kart,Comet
11,Chester Brimer,Merlin,Switch
11A,Parker Abed,Merlin,Switch
14,Kaden Wharff,Tony Kart,Allison
15,Camrin Cass,Merlin,Woltjer
17,Nick Snell,PCR,Allison
22,Sam Mayer,Merlin,Woltjer
23,Ian Hornish,PCR,Woltjer
24,Nic Sheppard,Tecno,Allison
26,Makala Marks,Top Kart,Comet
36J,Kyle Thome,Merlin,Woltjer
41,Adam Maxwell,FA Kart,Woltjer
44,J.J. Hansen,Merlin,Woltjer
45,Maxine Cosat,Birel,Comet
51,Andrew Bische,Top Kart,Comet
56,Nathan Nicholson,Tony Kart,BBS
71,Sam Hinds,FA Kart,Allison
77,Lewis Marshall,Birel,Comet
88,Nicholas Terlecki,BirelART,Woltjer
100,Lucas Smalee,Merlin,Woltjer
111,Kyle Ford,Birel,Fleming
111J,Gage Rodgers,Top Kart,Comet
344,Ty Gibbs,Top Kart,Woltjer
777,Annie Rhule,PCR,Woltjer
888,Luca Mars,CompKart,Allison
[/table]
Mini Swift
[table]
No.,Driver,Chassis,Engine
O3,Robert Noaker III,Merlin,Woltjer
5,Jason Welage,Top Kart,Woltjer
10,Madison Campeau,Top Kart,Allison
14,Kaden Wharff,FA Kart,Allison
15,Camrin Cass,Merlin,Woltjer
23,Ian Hornish,PCR,Woltjer
24,Owen Mahle,Top Kart,
36J,Kyle Thome,Merlin,Woltjer
41,Adam Maxwell,FA Kart,Comet
44,Ty Gibbs,Top Kart,Woltjer
51,Elliott Cox,iKart,Comet
88,Nicholas Terlecki,BirelART,Woltjer
777,Annie Rhule,PCR,Woltjer
888,Luca Mars,CompKart,Allison
[/table]
---
09.19.15
Dixon / Target Team Wins Dan Wheldon Memorial ProAm Even with heavy rain falling, the fans in the Indy area came out to see their favorite IndyCar drivers do battle for the 3rd annual Dan Wheldon Memorial ProAm Karting Challenge. Seventeen teams of four drivers battled in four separate 15-minute heat races, with the professional drivers finishing off the event. The final heat kept the fans on their feet, with two large packs forming. Marco Andretti led at one point, but was shuffled back in the field and eventually flipped his machine after going off course. Andretti flipped the kart back over, stomped out a grass fire, started the kart and jumped back in the race to the roar of the crowd. Out front, Matthew Brabham led in the AFS/STELLRECHT entry on the final lap. A group ran him down and attempted a pass down the final straight. Three-wide action allowed four-time champion Scott Dixon to move his Target entry from fifth to first, crossing the line for the victory. Brabham held on for third as Will Power slipped past for the second spot in the Firestone #1 machine. In total, the event raised nearly $200,000 toward the Dan Wheldon Fund and the Justin Wilson Family. Here Comes the Sun After 1pm, the track finally open to karts as the Dan Wheldon Memorial ProAm Karting Challenge competitors began their quick practice sessions before gearing up for their one hour, four-driver team endurance event. The clouds continued to push away, and the sun began to creep out, gearing up for solid weather conditions to allow the RoboPong competitors and the support classes with a warm-up prior to going out to qualify.
Rain, Rain, Go Away
The start to Saturday was delayed, thanks to a storm that rolled through this morning. No on-track activity has taken place as of noon, including the Dan Wheldon Memorial ProAm event. The autograph session is about to take place, with their event to get going as soon as the track is drivable. RoboPong teams have taken the off time to weight their karts, and make sure everything is set for the qualifying session that will go on later today.
09.18.15
Warm-up Day
The 2015 RoboPong 200 kicked off with a full day of practice. The day was broken up by some heavy rain at one point, but the New Castle Motorsports Park track opened up the circuit to a later time to help make up for the lost laps that racers could enjoy. Final entries came in at the beginning of the day, with a few late moves to round out the 200-lap endurance race field, along with the three Yamaha and Mini Swift support classes.
For the RoboPong competitors, it was a chance get the karts set up for the long haul. Baseline set-ups, working with two or three different drivers depending on the team. It's also a time for those without a lot of seat time on the year to get back on the horse, including the many IndyCar drivers scheduled to compete. A complete entry list of all the teams along with the four support classes will be posted here on the Paddock Insider.