Superkarts! USA Awards $12,000 in Cash and Prizes at SpringNationals
Four divisions earn cash with Traxxas providing product for younger categories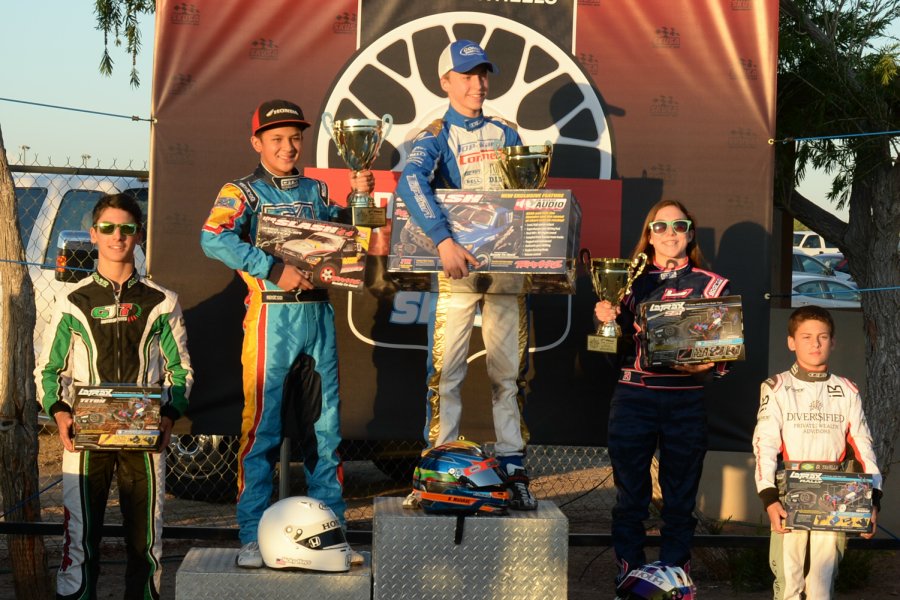 Junior drivers received radio control product from Traxxas to the top-five finishers in four categories at the SKUSA SpringNationals (Photo: On Track Promotions - otp.ca)
The sixth annual Superkarts! USA SpringNationals kicked off the 2015 Fikse Wheels Pro Tour at the Phoenix Kart Racing Association in Glendale, Arizona over the May 1-3 weekend. With cameras rolling for the CBS Sports Network coverage, the racers didn't fail to impress, with almost 190 drivers taking part in fierce competition on a challenging track in hot temperatures. The three-day event featured two full rounds of competition, beginning the Pro Tour championship chase that will finale at the SKUSA SuperNationals XIX at the Las Vegas Convention Center in November. Numerous drivers rose to the occasion, posting main event victories, taking home trophies, and sharing in the $12,000 worth of cash and prizes that were doled out.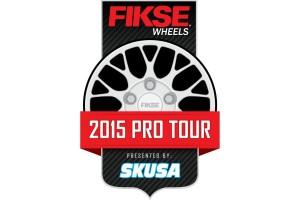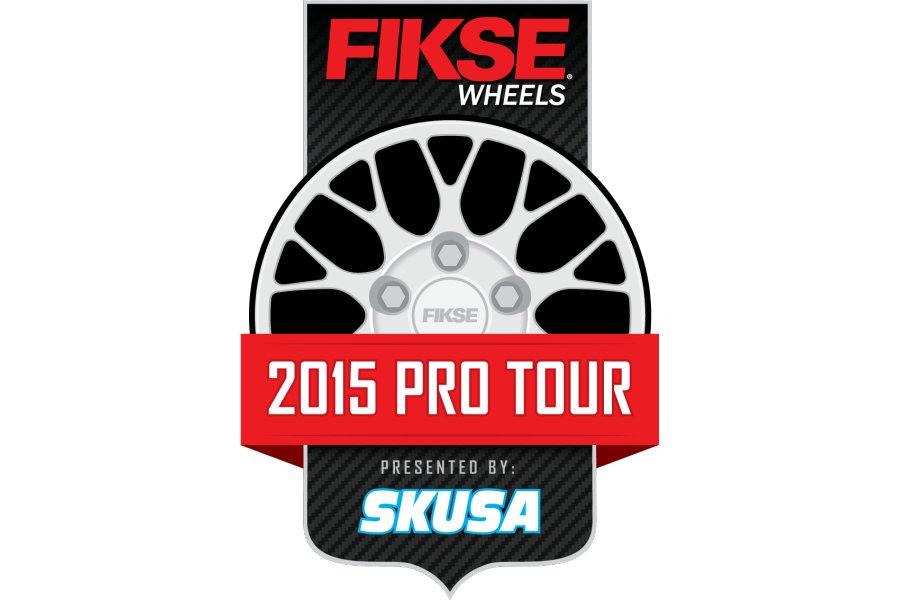 Superkarts! USA is a diverse organization featuring drivers and teams from all points in North America as well as around the world. The same is said for the products utilized on track, as the class line-up featured the Honda powerplants in the four Stock Moto divisions and three different IAME engines for the four TaG categories. All racers utilize MG Tires and are fueled by VP Fuel and Motul oil. Over the weekend, a staggering 20 different chassis brands finished inside the top-five after the eight main events from each round of racing were completed.  At a time when certain brands are dominating the action in other racing programs around the country, SKUSA is proud to have such diversity and equality on the Pro Tour.
Each race day of the SpringNationals featured intense racing for the victories and the top three spots on the podium, as well as a chance at prizes for overall Pro Tour points earned on the weekend. Following the on-track action, Superkarts! USA awarded an impressive weekend prize package. The top-three drivers in each of the eight categories from both race days were awarded SpringNationals trophies. Then, the top five finishers in overall weekend points for the headline S1 Pro Stock Moto and TaG Senior categories won $2,500 in cash total per class, with each overall weekend winner walking away with a cool $1000. In S1, Belgian driver Rick Dreezen took home the winning check after his double-victory performance in his SpringNationals debut. Former two-time champion Fritz Leesmann was second ($600), while fellow Californian Billy Musgrave took third ($400). Belgian Patrik Hajek was fourth ($300) and hometown driver Kolton Griffin finished the weekend in fifth ($200). The TaG Senior $1,000 payday went to Round One victor Louie Pagano. In second place for points and prize money was Jake Craig, while Sunday winner Oliver Askew took home his 'jumbo check' for third. Mason Marotta and Roger Ralston Jr. completed the top-five, both receiving cash prizes for their efforts.
In addition to the headline categories, Superkarts! USA put up another $1,000 for any class that reached 30 or more driver entries. S2 Semi-Pro and TaG Cadet qualified, and three drivers from each class split up the weekend purse. S2 saw double-race winner Carter Williams earn $500 for his efforts, while Mexican driver Fernando Casillas Jr. took home the $300 check for second and Marco Eakins won $200 for third. Three drivers from three different states were awarded the money in TaG Cadet. Texan Jak Crawford finished the weekend with the most points over the two rounds to finish first on the money list, while California driver Ryan Schartau was classified second and Florida's Lachlan DeFrancesco third.
Traxxas, the Fastest Name in Radio Control, has become the latest partner of Superkarts! USA for the 2015 Fikse Wheels Pro Tour. At the SpringNationals, Traxxas awarded their impressive radio control products to two different junior categories each race day. On Saturday, the top-five drivers in TaG Junior and TaG Cadet each won a new Traxxas machine; an equally-amazing assortment of products was awarded to the top-five drivers in S5 Junior Stock Moto and TaG Cadet on Sunday.  Overall, SKUSA and Traxxas awarded over $5,000 in radio control vehicles in Phoenix, and the SummerNationals and SuperNationals will see the fastest young drivers receiving more exciting products to take home with their trophies.
All eight SKUSA classes began their championship chase in Phoenix during the SpringNationals, but as it has been shown in seasons past, nothing is decided just yet. The sixth annual SummerNationals is set for July 24-26, as Superkarts! USA travels to Indiana, competing on track at the popular New Castle Motorsports Park located just outside Indianapolis. With the Fikse Wheels Pro Tour standings counting the best four of five rounds, drivers who may not have performed at their best during the two rounds of racing at PKRA can turn things around in just two months when they head out to New Castle. Online registration for the SummerNationals is scheduled to open Wednesday night, June 10 at 10:00 pm EDT / 7:00 pm PDT through the superkartsusa.com website. More information regarding this event, including a detailed schedule and the host hotels standing by for reservations, will be posted shortly.
The 2015 Fikse Wheels Pro Tour will be brought to you by Torque.TV and featured on CBS Sports Network this season, presenting recorded episodes from all three events on the year. The first episode of the SpringNationals debuted Wednesday night, May 20, with the next episode scheduled to broadcast Wednesday, May 27 at 10pm EDT / 7pm PDT. Each episode will be available On-Demand through Torque.TV just days after it broadcasts on CBS Sports Network.
For more info on anything related to Superkarts! USA, please visit the website – www.superkartsusa.com and be sure to follow the Superkarts! USA Facebook page and Twitter account – or call the SKUSA head office at 951-491-0808.
Please follow and like us: