AKRA: Eli Earns Dexter Hat Trick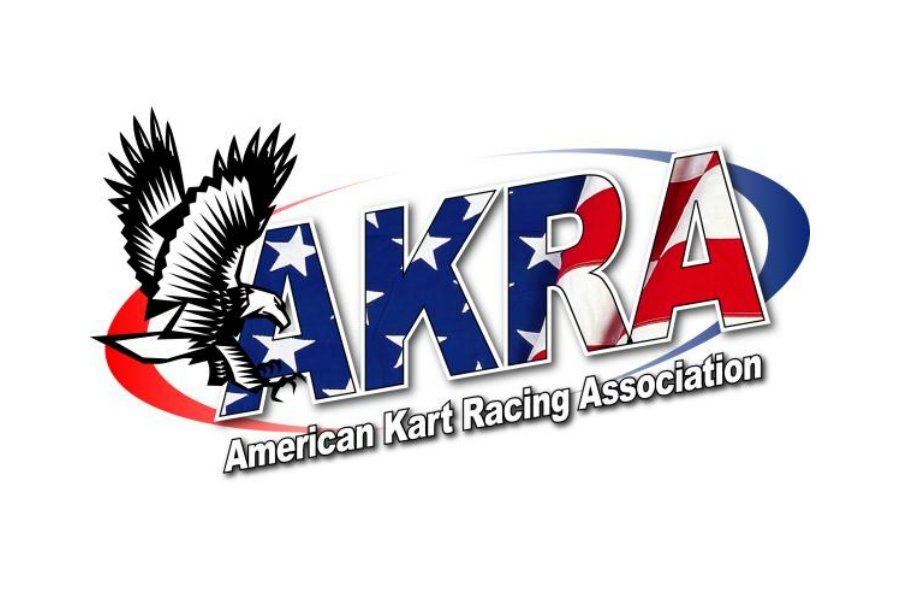 Kart racer Eli Beets continued his command over the Junior classes with a hat trick during round two of the American Kart Racing Association's (AKRA) Big Eight Million Dollar Series sponsored by Unilli Tires hosted by Dexter Speedway in Dexter, GA.  Feb. 21st.  After round one at Cross Roads Speedway in Jasper, FL $32,000 was distributed.  Increased entries in round two pushed that total purse up to $35,000.
"The weather was good all day, a perfect Chamber off Commerce day," described AKRA President/CEO Bill McCutcheon who was pleased with the increased kart count.  "Carl Williams and his crew had everything in top condition as always.  Ms. Pat's food and cakes were delicious.  The Unilli Tires performed well.  They were consistent and record times were set in qualifying and racing."
Beets trio of wins came in Pro Junior and Junior 1 and 2.  In Pro Junior Beets crossed the finish line with JoJo Wilkinson 0.217-seconds behind him. Hurricane Racing Engines powered, Carson's Racing backed Boo McDonald was third across the stripe followed in the top five by Gator Mattice and Baron 'Baronoator' McDowell who crossed five seconds later. McDonald chased him under Junior 1 and 2's checkers.  In Junior 1 McDonald was 0.178-seconds late and in Junior 2 he trailed by 0.371-seconds.
Trailing McDonald in Junior 1 were Wilkinson, McDowell and Mattice. In Junior 2 Wilkinson was third again this time trailed in the top five by Carson Johnson and Landen "Wild Child" Cloud.
Hurricane Racing Engines powered racers were entered in four classes.  They produced 4-poles, second in Junior 1 and 2, a third place finish in Junior 1 Pro along with Boo's win in Junior Pro.
Backing up his Jasper wins in Pro Junior and Junior 2 with Dexter wins puts Beets solidly in their points race lead early in the season. He will try to hold onto those points leads April 4th when the series travels to Liberty Raceway Park in Staley, N.C. for round three.
McDonald led the way in Pro Junior 2 with Wilkinson knocking on his back door.  On the final pass Wilkinson was just 0.147-seocnds behind McDonald.  Beets struggled finishing 7th three laps down.  Trailing Wilkinson in the top five were; Brysen Duncan, Colby Higgins and Carson Johnson.
Josh Hellams dominated Juniors three finishing 3.994-seconds ahead of Brysen Duncan.  Further back Dusty Godbee crossed6.393-seconds later followed in the top five were Jarrett Walker and Nicole Miller.
Clint Mills captured a comfortable 1.393-seconds edge over David Alewine in Pro Clone Super Heavy.  Mills pocketed $2,000 for the win. Alewine's second place finish earned him$750.  Jordan Richards was third across the stripe for a $500 payday and Jody Wilson won $300 for finishing fourth.
Heading for the day's largest purse portion Drew Hammonds dominated Blake Cannon in Non Pro Clone with a huge 3.002-seonds advantage at the end of 50-laps, but was forced to surrender the win and $4,000 payout to Cannon because of a post race technical infraction.  That moved Mills up to second, Cameron Carter to third, Seth Seckinger to fourth and Tyler Toepfer to fifth at the end of 50-laps. Second through fifth earned $1,000 each for their finishes.  Racers finishing sixth through ninth got $500 for their efforts.  They also received a free set of Unilli Tires Certificate
With a 3.037-seconds advantage over Jordan Richards, Alewine showed the way in Super Heavy Clone.  Further back Matt Wise was 11.618-seconds off the pace followed by Carl Davis who was 10-laps down when the checker flag waved.
Mills won the Pro Clone Warm Up 375 after trailing Hammonds by 0.647-seconds. Hammonds was disqualified at post race tech and forced to surrender the win to Mills.  Close behind in the top five were Cannon, by 0.936-seconds, Lee Ragan and Adam Bedenbaugh.
Chip Brindle commanded Clone Heavy over Chuck Pittman.  Pittman trailed Brindle by 3.678-seconds, but both were disqualified at tech.  That put Justin Peacock in first, J.R. Tippens in second, Carter third and Sean Silverman in fourth.
Legendary karter Houdini handled a full field of Clone 375-racers crossing the stripe with a 0.390-seconds edge over Jesse Riggins.  Hammonds was caught illegal at post race tech, which moved Lancaster, S.C. competitor Jamie Knopf up to third.  Following Knopf in the official top five were Simmons and Seth Seckinger.
Carter earned Clone Lite's checkered flag after a dicey battle with Knopf.  Knopf challenged Carter from start to finish where mire 0.031-seconds separated them in one of the day's closest contests. Simmons, Britney Pirolla and Jeffery Leonard rounded out the top five.
Riggins ruled Clone Medium with Houdini glued to his tailpipe 0.354-seconds later.  Simmons was 1.479-seconds off the pace by1.479-seconds. Knopf crossed fourth followed by Nick Scott in fifth.
Three Predator classes competed that Saturday starting with Predator Junior Restricted.  Brandon Meeks totally ruled Predator Junior crossing a whooping 10.795-seconds ahead of Nicole Miller.  Eric Ashley had Taylor Mays closer behind when Predator Heavy 365 racers finished 15-laps of racing.  Mays trailed by 1240-seconds.  Denny Howell followed in third, Nathan Garrard fourth.
Chris McCormick claimed Pro Predator Heavy's win.  McCormick opened a comfortable 1.306-seconds advantage over Nathan Garrard at the stripe.  Cord Yearly captured third, Danny Howell followed in fourth and was trailed by Eric Ashley for the top five.
Brysen Duncan held off late race challenges from Josh Hellams in Pro Junior 3.  When they were done Duncan dominated by just 0.912-seconds. Dusty Godbee trailed in third and Jannett Walker finished fourth.
Haven Van Meter soloed Rookie.
Next up on AKRA's Big Eight Money Races sponsored by Unilli Tires series Liberty Raceway Park in Staley, N.C. April 4th.  For more information on this or other AKRA events visit their website at: www.akrainc.com or call the Monroe, N.C. office at 704-764-8138.