2015 EKN Chassis Showroom: Intrepid
Italian brand continues success and growth worldwide
EKN is excited to offer a new editorial series for our readers – our 'Chassis Showroom'. Over the next couple of months, we will be highlighting many chassis manufacturers and the importers / dealers who are responsible for making these karts available to the North American karting community.  The market is filled with models for all levels of competition, from four-cycle to shifterkarts, and the new offerings are really great looking.
Importer: Champion Racing


Located in the center of the country, Champion Racing is a family-run operation based out of the popular Oklahoma Motorsports Complex in Norman, OK.  The Berryhill family has been in the sport of karting for decades, beginning as competitors and now thriving and member of the industry and track owners. When the Intrepid brand was first launched in the 2000s, Champion Racing was the first company to work with the new chassis manufacturer. Partnered with Intrepid, Champion Racing has helped drivers secure victories and championships in the Stars of Karting and SKUSA Pro Tour programs, and in many other series across North America. In addition to chassis distribution, one of the featured products manufactured by Champion Racing is their popular and innovative line of radiators.
Chassis: Intrepid


The Intrepid brand was born in 2002. SKM, a long-time component manufacturer, released the new chassis and began building a race team. Over the next few years, the brand grew worldwide support and owner Mirko Sguerzoni enjoyed the success of the team, winning at all levels of the sport, including Italian, European and World Championships. Their Intrepid Driver Program was founded in 2008, taking drivers from the sport of karting into the open wheel formula car world. The program has worked with drivers such as Jaime Alguersuari and Sebastien Buemi, among many others.
The Intrepid chassis continues to be innovative and successful on the track, earning numerous victories along with championships here in the United States, including the Stars of Karting and Superkarts! USA Pro Tour.
The Cruiser MS3 (80/CH/20) is the marquee model of the Intrepid brand, as it's ab evolution of the success for the manufacturer, obtaining victory in the world, European and North American markets. This chassis will satisfy the needs of the most demanding drivers who look toward reaching the podium. The Raptor (97/CH/11) is a mixture of 30mm and 32mm frame rails. For many of the lower horsepower categories, the Raptor is the perfect chassis. The Sirius MS3 (78/CH/20) is composed of a 32mm frame rail, and a 30mm tube at the front of the chassis. This frame is ideal for a track in which there is less grip than usual and also for harder tires. All of the models are available in a Junior, Senior or shifterkart version.
---
Cruiser MS3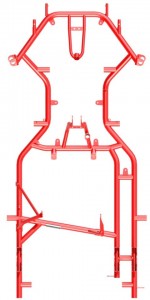 Frame tube size: 30mm
Wheelbase: 1040mm
Spindle size: 25mm
Front width: Adjustable
Rear width: Adjustable
Length: N/A
Front hub: 75mm / 95mm
Rear hub: 95mm
Front Wheels: 132mm Magnesium
Rear Wheels: 212mm Magnesium
Brakes: R1K/R2K (185/FR/14)
Seat: Intrepid Silver Racing
Steering Wheel: Intrepid
Bodywork: NA2 Style
---
Raptor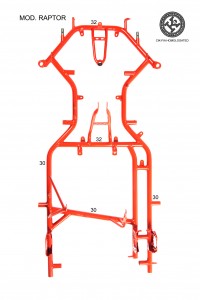 Frame tube size: 30/32mm
Wheelbase: 1040mm
Spindle size: 25mm
Front width: Adjustable
Rear width: Adjustable
Length: N/A
Front hub: 75mm / 95mm
Rear hub: 95mm
Front Wheels: 132mm Magnesium
Rear Wheels: 212mm Magnesium
Brakes: R1/R2 (185/FR/14)
Seat: Intrepid Silver Racing
Steering Wheel: Intrepid
Bodywork: NA2 Style
---
Sirius MS3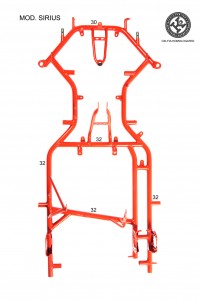 Frame tube size: 32/30mm
Wheelbase: 1040
Spindle size: 25mm
Front width: Adjustable
Rear width: Adjustable
Length: N/A
Front hub: 75mm / 95mm
Rear hub: 95mm
Front Wheels: 132mm Magnesium
Rear Wheels: 212mm Magnesium
Brakes: R1/R2 (185/FR/14)
Seat: Intrepid Silver Racing
Steering Wheel: Intrepid
Bodywork: NA2 Style
---
Dealer List:
Champion Racing
3501 South Interstate Drive
Norman, OK 73072
405-579-5278
championkart.com
Acceleration Kart Racing
6430 Schirlis Street
Las Vegas, NV 89118
702-740-5868
accelerationkarting.com
CPI Racing
13503 Little Cove Road
Mercersburg, PA 17236
301-667-1320
cpikartracing.com
Innovative Karting
5175 W. Phelps Rd #2
Glendale, AZ 85306
602-588-0482
IMI Motorsports Complex
5074 Summit Blvd
Dacono, CO 80514
303-833-4949
Leading Edge Motorsports
2501 S. Stockton Street
Lodi, CA 95240
209-369-0921
Atomic Karting
Southern California
435-668-9347
Texas Karts
6606 Topper Parkway
San Antonio, TX 78233
210-805-9166
Bauhs Karting Service
Houston, TX
979-484-0450
C.A. Marketing
Puerto Rico
787-235-1562
Gooses Karting
Utah
801-636-3224
Hockenson Racing
Tulsa, OK
918-955-4175
Kimball Williams Racing
California
951-657-3609
---
Photo Gallery: