EKN One-on-One: Alan Rudolph
Karting veteran becomes new co-owner of SpeedsportZ Racing Park and creates new racing academy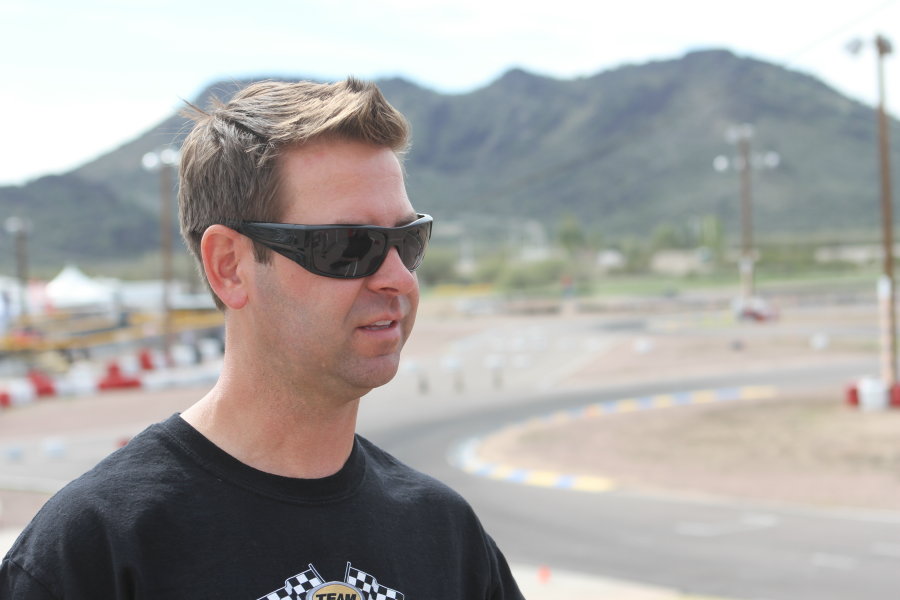 Alan Rudolph (Photo: EKN)
Karting produces a number of individuals that continue to represent the sport, and themselves at the highest level, earning the respect of many within the industry. Over the last three decades, Alan Rudolph has been considered among the top karters in the country. Alan has raced in nearly all forms of the sport, from oval, to sprint, road racing to street races. Growing up in the midwest, Rudolph competed against some of the top drivers in the country. Alan also competed in a number of motorsports events outside of karting, looking to make the next step up the racing ladder. Among his karting accolades is winning the King of the Streets title at the Rock Island Grand Prix five times (1999, 2000, 2001, 2006, 2007), winning the US Rotax Grand Nationals title twice (2012, 2013), and a member of Team USA at the Rotax Grand Finals three straight years (2012, 2013, 2014).
Rudolph announced in January his departure from the Bondurant High Performance School of Driving after 16 years, becoming a co-owner of the SpeedsportZ Racing Park, scheduled to be constructed this year in the Houston, Texas area. He will act as co-owner, President, and Operations Manager in addition to creating the Alan Rudolph Racing Academy.
We had a chance to sit down with Alan at the recent Rotax Challenge of the Americas in Phoenix.
eKartingNews.com: When did the opportunity arise to be part of this new facility in Houston?
Alan Rudolph: To be honest, I got an email from Justin (Bloxham) at Miller Motorsports Park just in December as he and Tim (Crawford) had been talking about this project in Houston. Tim heard my name from Justin and others within the industry that I may be the right candidate to help with this project. Justin sent out an email introduction myself and Tim, and from there, things happened fast. It was perfect timing. Had it been a year ago, I don't know if it would have worked out.
I have always had a dream of having my own race track, school. The last five years at Bondurant have been different from when I began. Things happen for a reason. There is a reason I never became a professional race car driver, and this is it. I have been looking at doing something like this over the last five years, and honestly five or six different opportunities have popped up. None of them just really felt right. This from the start clicked between me and Tim, and the timing is perfect.
EKN: The plans are to have a rental track, a performance track, and a skidpad for the facility. What is the timetable moving forward? When is the ground breaking taking place and when do you expect to be opening the doors?
AR: The land is closed on, and we are going to break ground probably at the end of April. Right now, the area is just a forest. You wouldn't be able to imagine a track where the location is. Moving forward, it is going to go fast. We would like to have asphalt down by the end of October, and building structures after that. A soft opening will happen at the end of 2015, and grand opening January 2016.
EKN: For a number of years, we have talked to you personally about designing tracks, things you like, things you don't like. Are the plans already complete for the karting track area of the facility?
AR: At this point, it's a complete redo. The plans – including a concession kart track, professional track, and a skid pad – were developed before I got on board were done by a few people on track layouts and other details. The concession track I really haven't messed with, it was a pretty good layout, aside from making it smaller as we are trying to make this all fit inside 25 acres. The pro track was developed on the back side of the facility. I didn't like the location or the layout. I have had my ideas of a track design for a number of years, doing some conceptual drawings for people, and I know what I want. The problem is, that's on a square piece of paper and when your dealing with a plot of land that's not square, that's where the issues come in and adjustments need to be made. Thankfully, nothing was locked in stone, and I have been given the opportunity to develop what I feel will work. The pressure however now falls on me, as I have to get this right (laughing). If it's not the most bitchin track in North America, I'll be upset.
EKN: Have you been to the location and how much elevation do you have to play with?
AR: Yes, I have been there…and there is zero elevation.
EKN: New Castle Motorsports Park is on a flat piece of land, and owner/designer Mark Dismore used the earth movers to create little ups and downs with the circuit. Is that something you have thought of?
AR: As far as elevation goes, some of the best tracks I have driven on are flat. There are others that have character with a lot of elevation change. The problem is, you can't see the karts. Something like GoPro Motorplex is a good example. As great as the track is, the back straightaway falls off from the paddock. So all the parents are freaking out when they don't see what's going on as they lose sight of their driver for just a brief instance. While I would like to have some elevation, it won't be the amount that you lose sight of the karts.
EKN: With this new venture comes the creation of the Alan Rudolph Racing Academy. Does it seem surreal to be starting up your very own company and program, at what is now partially your own facility?
AR: Very surreal. Not only is this going to be my own track, but the whole project is mine.
EKN: You have spent 16 years with Bob Bondurant and the High Performance School. Aside from the friends and relationships that you formed over the years, what is the one thing you will take with you that will stay with you for the rest of your life?
AR: There is a lot. For me, I really appreciate Bob and the experience that he has given me, the lessons I have learned about running a business, and the world experiences are something I will never be able to have again. Bob and I went on a world trip, going to Saudi Arabia, helping design a track that was built there. From there we went to Tokyo, Japan and met with Mr. Yutaka Katayama (Mr. K) – the president of Datsun at the time, who was the first sponsor of the school. Mr. K was turning 100 years old, and Bob said when he turned 100, he would go to Japan and give him hot laps. Every time Mr. K came to America, he would visit Bob and get hot laps at the school. When he turned 100, it happened to be the time when we were traveling in Saudi, so we went back through Japan to spend the day with Mr. K. He looked like he was 60, and his son, who was 80, looked like he was 40. That was surreal and I will always appreciate and remember things like that with Bob.
EKN: Also with the announcement, was the mention of a Karting Hall of Fame. What is your general idea for this section of the project? Is it going to be focused primarily on United States karting?
AR: At this point yes. To spread it to the world is over-whelming, and my gosh, who do you pick. I heard recently that Ayrton Senna's kart went for $65,000. I think that becomes just too broad. I think North America is better. There are some great legends that we have here in America. I have always had this vision, and always wanted to do it. This year at the Rotax Pan American Challenge race, I got to chat with Lake Speed, and how cool would that be to have him in there. The pioneers that started the sport. I don't know how its going to work out, I just know it has been a dream of mine.
EKN: So basically, it would focus on honor those who have been the sport, and profile the equipment over the years.
AR: I never thought of the equipment side. Certainly some people that pioneer the sport, and those equipment. I want to get a committee together of people who know a lot about the sport and go from there.
EKN: In the last few years, you entered the arena of being a 'karting dad'. Over the years, you've watched how many different fathers approach racing, on and off the track – in addition to working with a number of young drivers at the Bondurant program. Is it completely different when its your own son?
AR: Completely different. Aden knows what I do for a living, and he has seen and watched me coach other kids. To some degree, it's frustrating. Dads come to me, as some just can't teach them what to do. And many times, the parents just don't know what they are talking about in the first place when it comes to driving or racing. I coach to other kids, but with your own child its difficult. I can't coach him the same way as another kid, because I normally get their undivided attention thanks to the parents. With Aden, I can't always get it. Sometimes its just the little things, like going out behind a specific driver, and he just says 'No, I wanna go out behind that guy'. I'm finding more challenging to coach my own kid then anyone else. Overall, it's been really amazing watching the growth of Aden over the past year. Karting has always been a great family sport and now I am finally sharing it with my family the way my parents did.
EKN: For you behind the wheel, what are the plans for 2015? Are you going to try for a spot on Team USA once again and try to get that world championship you have been trying for the last three years?
AR: Always. However, at this point, I don't have the time to focus on that. Michael Dobbelsteyn has crazy supportive for the last three years, and has left the door open for me to race again. At this point, I have parked the racing helmet, but I will never say I'm retired. 2008 when I decided to stop racing on the national scene, Bob Bondurant told me 'never say you are retired'. So I never said I was retired, as I did some road racing again and had some fun. At this point, I am not retiring, because I don't know yet. I think I need to wait until mid-summer or the fall, and see where the project is at, and maybe see if I can still qualify to be part of Team USA if that even is an option. My project is first and foremost, and with Aden racing, I just need to keep all that moving forward.
EKN: We certainly wish you the best of luck with your new project, and enjoying your time at the race track with Aden.