Operation Grassroots: Briggs & Stratton 206 Cup
Sophomore season of Midwest four-cycle series focused on low cost, great competition and large fields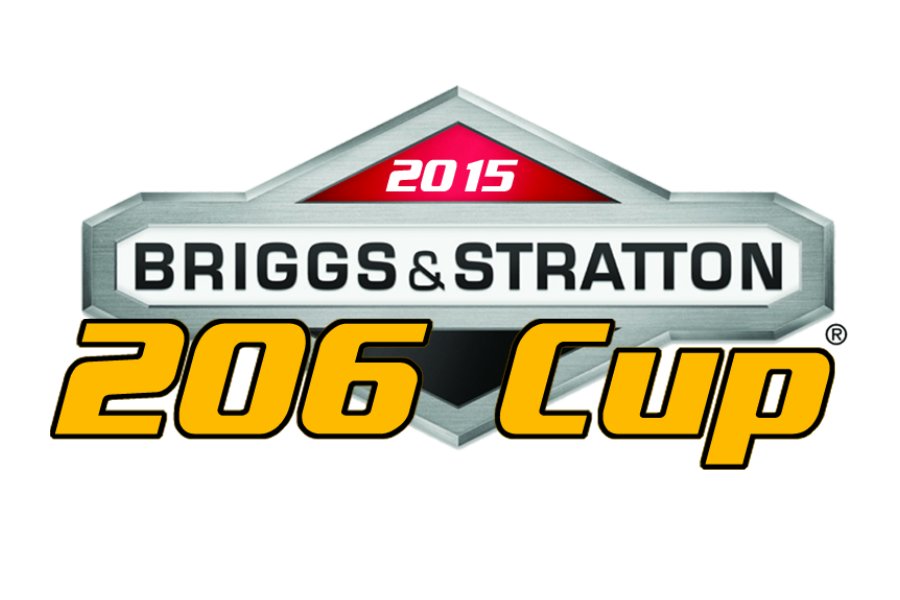 After successfully introducing the Briggs and Stratton 206 engine at their local club in 2010 and then phasing completely to the motor package in 2013, 206 Cup series founders Steve Vermeer and Greg Jasperson saw an opportunity in the new spec engine from Milwaukee. They envisioned a traveling series that club racers could afford, with simple rules that would make it possible for people to race with the equipment that they already owned. They saw the future.
There's no doubt that the Briggs and Stratton 206 package is injecting excitement into the foundation of the sport.  The spec engine features a sealed short block and extremely tight manufacturing tolerances, and it has proven to be a truly competitive great package. Racers have not been seeing any fall-off in performance after 3+ seasons of racing, which has been huge for the growth of the program.  This all comes at a price tag under $550, which makes this engine something truly different than what has been available to the karting community in the past.
The LO206 engine program has become very popular among new racers, as well as seasoned pros, and it is commonly installed on a variety of chassis ranging from Gold Cup models, CIK karts and even retired shifterkart chassis. The 206 Cup series organizers did not want to discourage this low-cost method of getting on the track, so they needed to find a way to allow for the variety of chassis that racers already owned. Their solution is to allow all styles of sprint chassis and bodywork. Basically, if a kart has CIK-style bodywork, it follows those rules. If it has Gold Cup style bodywork, it follows those rules. The combination of this "open" chassis rule and the official Briggs Racing Engine Rules makes this series open to any sprint racer with a 206 in the country!
"The rules package worked great!" said Jasperson, commenting on last year's debut season. "We had racers with chassis that were at least 10-years-old running up front against people with brand new ones. People were pleasantly surprised to see we were using the official Briggs rules, and had two tech men actually doing tech to make sure the rules were followed. I think we got that part right."
The 2014 season was a leap of faith. Since the series couldn't afford to rent the facilities, the organizers found kart clubs that were willing to add their classes into club events already scheduled at their tracks. Every member of the race staff volunteered 100% of their time. This included Series Director Greg Jasperson, Race Director Steve Vermeer, Head Flagman Dave Beamish, Tech Official Josh Schiffler and Series Announcer Dave Macintyre. The only proceeds that the series collected was a $10 per entry fee from each racer. That money, along with donations from Briggs, Bridgestone, Faster Motors, and Riverlake Racing, were just enough to cover some basic awards for the racers. The remainder of the costs were covered by Steve and Greg, themselves. After boasting the largest 206 fields of any series in the Midwest, they knew they were on to something.
The duo has decided to double down on the series in an effort to make it bigger and better in 2015. An expanded four-weekend schedule has been confirmed and will return the series to Midwest Karting Association's Eau Claire Track and USAIR Motorsports Raceway in Shawano, WI. Adding to the schedule, they will also be racing at Badger Kart Club's Briggs and Stratton Raceway Park in Dousman, WI and Concept Haulers Motor Speedway in Sheridan, IL. The events will not piggyback on existing club races, but will instead be stand-alone races with the focus on bringing strong regional competition to the area.
Heading into 2015, series organizers were pleased to receive a big show of support that they are onto something special with their formula of affordable competitive 4-cycle racing. Briggs and Stratton has signed on as the Series Sponsor for the 2015 season. This was a big deal financially for the newly-renamed 'Briggs and Stratton 206 Cup', but it's also important because it shows that they have the support of the engine manufacturer around which their series is based.
Not all of the details for the 2015 season have been solidified, but what we can tell you is that the series organizers are determined to make this one of the best series in the country by making the racers their first priority at every opportunity. For example, they tell us that the Vega FH tire has just been named as the spec tire for the 2015 season. Vega will actually be paying a portion of each racer's entry fee.
"When we talked to the various tire companies, the question wasn't, what are you going to give us to use your tires, but rather what can you do for our racers?" commented Jasperson, when asked about the approach to selecting the tire partner.  "Vega stepped up to the plate big time, offering to pay a portion of each racer's entry fees, regardless of how many tires are sold! They understood what we are trying to build and wanted to be a part of it. The FH tire is Vega's new medium/hard compound that, by all accounts, can last our entire schedule. It has proven to be very consistent from new down to the cords at other tracks around the country. I, myself, have run its predecessor (SL3 NordAM) on a variety of chassis with great results. With the various chassis styles that we have in our series, we wanted to find a tire that all the chassis could work with, have the potential to last an entire season and were well priced. The Vega FH fit the bill perfectly."
More companies have offered to show their support of this growing grassroots regional program for 2015. NORAM Racing (North American Clutch Corporation) has joined in and become the Presenting Sponsor of the series. Many of the 206 Cup competitors use their clutches, including all three class champions from 2014. ONE Racegear, ProKART Racing and Faster Motors have also joined the growing list of sponsors and supporters. Jasperson went on to say that the majority of the sponsorship contributions that they will add to the series moving forward will be given back to the racers in the form of daily raffles, awards at the end of the racing season or further discounted entry fees.
The series will feature three competition classes in 2015: 206 Rookie (265 lbs / green slide), 206 Junior (300 lbs / gold slide), and 206 Senior (375 lbs / black slide). A non-points Kid Kart class will also be available, and entries with either Comer or 206 Kid Kart engines will be welcomed. The series feels that it is important to give these kids the chance for as much track time as possible, regardless of the engines they have. With such a limited number of classes, track time is abundant for all the racers. Each day of the series will have 30 to 45 minutes of practice per class each day broken into multiple sessions. The races will follow the traditional three-race 'moto' format, with Saturday and Sunday being scored separately.
Nearly 50 participants raced the 206 Cup in 2014, and series organizers expect significantly higher numbers this season. If you'd like more information about racing in the Briggs and Stratton 206 Cup, or want to become a sponsor for this promising program, please visit their website: 206cup.com