Karts to Return to The Rock for 20th Year of Street Races
World renowned race preparing for milestone event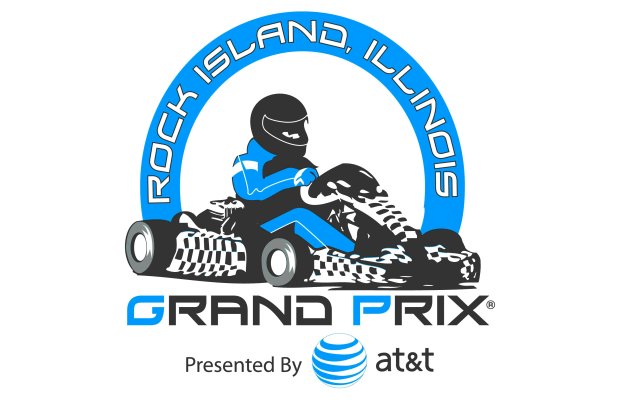 It's a milestone that few karting events ever come close to. This year the Rock Island Grand Prix presented by AT&T celebrates its 20th anniversary. If not for a flood in 1993 and a year skipped in 1997 it would be well into its third decade when racers take to the streets August 30-31.
"Since the very beginning this race has been about two things – doing a fun and safe event for kart racers and an event from which the entire community can benefit," said Roger Ruthhart, president. This year's them "The Most Fun You Will Have in Karting On And Off The Track" is fitting because of the great experience racers have and the fun memories that are always made once the racing is over.
"While I know there our race promoters who profit from karting, our goal as a not-for-profit organization has always been to keep the cost low to the racers and at least break even, which has been hard to do the last few years," said Ruthhart. "In the end, whether we make it another 20 years just depends on the degree to which racers enjoy and support the event."
Again this year, The Rock will be the only race in the world where you can see 2 cycle, 4 cycle, shifters and vintage karts all racing at the same venue. Featured races this year will be the Briggs & Stratton LO 206 Heavy race, MG Tires King of the Streets stock Honda and Yamaha Super Can Heavy sponsored by the International Trophy Cup Series.
This year will again feature Saturday racing with the Valspar Race Against Hunger for TAG Senior. Starting position is determined by the pounds of food donated to the local food bank on behalf of the drivers. Saturday will also feature a vintage kart race featuring karts from the 1950s, 60s, 70s and 80s.
Organizers are also asking spectators to bring a donation of non-perishable food for the River Bend Foodbank. Food will be collected both Saturday and Sunday at the three main crosswalks on the track. Cash donations can also be sent to River Bend Foodbank on behalf of the Grand Prix. River Bend Foodbank provides food to partner organizations in the Quad-Cities and a surrounding 22 county area.
"We thought this was a good opportunity not only to try something different on track but focus attention on the needs of the food bank," said Ruthhart. Last year racers contributed four skids of food.
Sunday's Opening Ceremonies will be at 11 a.m. with the Driver's Parade followed by the Kid's Autograph Session at the Start/Finish line. In addition to the two races on Saturday, 15 races are scheduled for Sunday afternoon.
Sunday, the Quad City Camaro Club will hold a car show from 10 a.m. to 4 p.m. on 18th Street north of the race track near WHBF-TV4.
Jumer's Casino & Hotel is sponsor of the purse. Holiday Inn in Rock Island is the host hotel and race headquarters. General admission to the races is FREE, although there is a daily charge of $10 for the pit area.
Action starts Saturday and Sunday at 8 a.m. and concludes around 5 p.m. The Rock Island Grand Prix has drawn top drivers from coast to coast as well as Canada, Bermuda, Mexico, Argentina, Brazil, Colombia, France, Italy, Poland, Costa Rica, the Philippines and England. The races will be web cast live on eKartingNews.com .
Others sponsors of this year's Rock Island Grand Prix include: Verizon IndyCar Series, O'Reilly Auto Parts; International Trophy Cup Series, Curry's Transportation, MG Tires, Advanced Medical Transport, Valspar paint, Rock Island McDonald's restaurants, Schurr Power Racing Engines; Modern Woodmen Financial Jose Schuur agent; L&W Bedding, Sunbelt Rentals, Modern Woodmen Bank, Full Circle Media, CBS4 TV; Tennant Trucking Co., radio stations B100, 97X, ESPN Quad-Cities and KBOB; The Dispatch and The Rock Island Argus newspapers; Briggs & Stratton Motorsports and Mediacom.
Sponsors also include Coors and Euclid Distributing, Triple E Sales, 61 Kartway, Zimmerman Honda, Courtesy Car City, VP Fuel, Communications Engineering Corp.(CEC), Gas & Electric Credit Union, Rogan Inc. and J&J Camper.
Race details are available on the Grand Prix website at rockislandgrandprix.com or ridistrict.com.