Paddock Insider: 2014 Superkarts! USA Pro Tour SummerNationals
Inaugural Modesto Grand Prix hosts record number of SKUSA competitors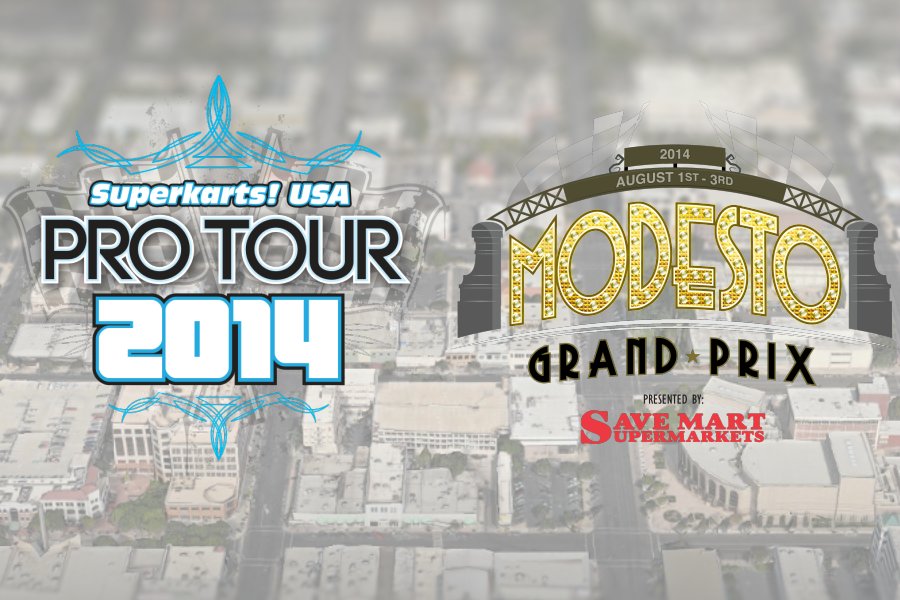 EKN's Paddock Insider brings you notes, updates and breaking news as it happens. The article will be a timeline of events as they happen during the 2014 Superkarts! USA Pro Tour SummerNationals at the inaugural Modesto Grand Prix. The information will not be seen anywhere else, including notes, interviews and photos. For complete coverage of the SKUSA Pro Tour event, visit the EKN Event Page. Please feel free to comment and discuss our coverage and today's action in the EKN Global Members Discussion area below:
Friday, August 1
Final Practice Fast Drivers
S1 Pro Stock Moto – Jake French
Round 1 in the Books
The opening round of practice went into the books with only one major hiccup. The TaG Cadet group hit the track and 10 of them blocked the track at the chicane, forcing officials to red flag the session. There were not allowed back and SKUSA began trying to play catch up with the schedule. The remaining groups made it through without any major hitches. One headline driver already trashed a kart. Defending Pro Tour S1 champion Joey Wimsett got just a little too wide on the exit of turn two, made contact with the barriers and wreck his frame. The CRG-USA team is busy putting together another kart.
Track Videos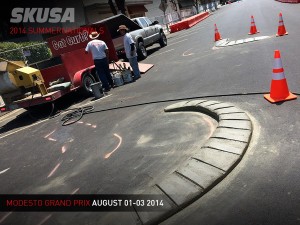 Much Different Layout Then We Thought
Eight turns was the layout SKUSA made up when the original plans were developed. A few esses were included into what is basically a track of all 90 degree corners. On the exit of turn five, after the longest straight of the circuit, Superkarts! USA put in a very tight chicane on the exit of turn five. This will 1) slow down the drivers, and 2) be something different you don't see at a street race. SKUSA CEO Tom Kutscher brought in the curb makers from the SuperNationals to add curbing at a number of spots on the track, including the chicane. Many drivers thought it was a dangerous section while walking the track, and the question was, how are drivers going to hit them.
From City Streets to a Race Course
Over the course of five days, the City of Modesto and Superkarts! USA have turned a 36 square block area of the downtown center into what is hosting the 2014 SummerNationals. Nearly $350,000 has been shelled out to provide all the fencing, barriers, bridges, lighting and all the other things need to put an a street race. Through the late hours Thursday and into Friday morning, work was being finalized to prepare for the 2:00pm start of practice.