EKN Trackside: 2014 Superkarts! USA Pro Tour SummerNationals – Preview – Part 2
Full fields in S2 and S4 with large regional participation in TaG Master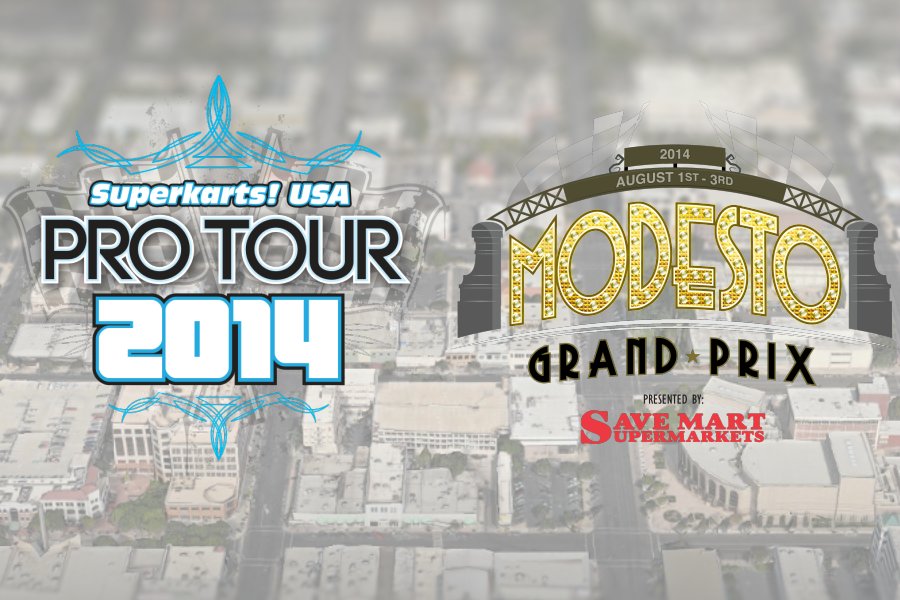 This week marks a number of firsts for the Superkarts! USA Pro Tour. The inaugural Save Mart Supermarkets Modesto Grand Prix is set to host this year's SKUSA SummerNationals over the August 1-3 weekend. A record 242 pre-registered drivers surpasses the record total of entries at the SpringNationals in May, making this year's SummerNats the largest Pro Tour event in the five year history of the series. This weekend also marks the first street race outside the SuperNationals to be included as part of the Pro Tour. The City of Modesto has billed the event as the 'Long Beach' or 'Monaco' of karting, and the numbers going into the event are certainly measuring up.
eKartingNews.com will once again be on site – from Friday to Sunday of the race weekend – providing the 'EKN Trackside Live' broadcast. Live play-by-play action, live timing and all the information you need from California for the SummerNationals. Follow updates at the Official Discussion Thread, Facebook, Twitter and Instagram.
EKN, the official media partner of Superkarts! USA, is set to provide a three-day preview program leading up to the SKUSA Pro Tour SummerNationals highlighting each of the eight classes. Yesterday, the preview series began with a look at TaG Junior, S5 and TaG Cadet. Today, we review the big fields in S2 and S4 along with the TaG Master division.
---
S2 Semi-Pro Stock Moto
The biggest field of the SummerNationals is the S2 category with 43 drivers slated to take on the streets of Modesto, featuring a very young group with an average age of 20. At the SpringNationals, a number of drivers showed the speed to contend for the two feature wins throughout the weekend. When the final checkered flag waved however, Kolton Griffin was the most consistent throughout the weekend to retain the championship lead. The Pure Karting/Tony Kart driver scored the victory at Round One, placing runner-up the following day to secure a 85 point lead going into Modesto. Griffin recently added another win at the California ProKart Challenge, coming from the back of the field to the front.
Leading the chase is Ocala Gran Prix/Tony Kart driver Jonathan Kotyk. A pair of third place results for the S2 rookie placed him second in the championship standings. Dallas Karting Complex/Sodi Kart USA drivers Alex Tartaglia and Nathan Adds opened up the SpringNationals weekend with top-five performances. That has helped them to sit third and fourth in the standings going into the Modesto. Fellow Texan Luke Shanahan (Tony Kart) showed speed in Dallas, putting him top-five in the standings.
The other winner of the weekend was Florida driver Kyle Kirkwood. The Ocala Gran Prix/Tony Kart S2 rookie was fast both days, having trouble on Saturday but bounced back to stand on top of the podium Sunday. One of the favorites going into the SpringNationals was S2 rookie Jarred Campbell. Throughout the weekend, the Champion Racing/Intrepid driver had a mechanical take him out of Saturday's feature, while trouble in the opening heat forced him to drive through the field, ending up in the fifth position. Now on his home turf, Campbell is looking to shine in front of the many spectators expected to be trackside.
With the youthfulness of the field, it will be interesting to see the weekend unfold as many of the drivers take part in their first street race. Speed will be a must but so will patience and the ability to reduce mistakes, as one move could end your race or weekend.
S2 Provisional Entry List
[table]
No.,Driver,Team,Chassis,Hometown,Country
00t,Nathan Adds,Dallas Karting Complex / SodiKart USA,SodiKart,Rowlett TX,USA
4t,Luke Shanahan,Shanahan Racing,Tony Kart,Dallas TX,USA
5t,Sky Finley,DRT Racing / Pole Position Raceway,DR,Frisco TX,USA
10c,Alan Michel,Musgrave Racing Company,Tony Kart,Gilbert AZ,MEX
10t,Alex Tartaglia,Dallas Karting Complex / SodiKart USA,SodiKart,Colleyville TX,USA
11d,Ryan Rudolph,Billet Performance Karting,CRG,Denver CO,USA
13t,Miguel Lopez,GP Texas USA,GP,Tyler TX,USA
15y,Will Preston,Aluminos,Aluminos,Danville CA,USA
16f,Morgan Healey,Ocala Gran Prix,Tony Kart,Ocala FL,USA
17m,Luis Morales,GP Texas USA,GP,Mexico DF,MEX
22c,Pete Yerkovich Jr,Pure Karting,Tony Kart,Desert Hills AZ,USA
25y,Blake Murdock,Phil Giebler Racing,FA Kart,Discovery Bay CA,USA
27y,Andrew Vargas,Aluminos,Aluminos,Hayward CA,USA
29f,Austin Garrison,Ocala Gran Prix,Tony Kart,Ocala FL,USA
31y,Jared Woolf,Leading Edge Motorsports,Intrepid,Manteca CA,USA
36y,Hunter Pickett,Muscle Milk / Pickett Racing,Aluminos,Alamo CA,USA
41f,Kyle Kirkwood,Ocala Gran Prix,Tony Kart,Ocala FL,USA
44t,CJ Cramm,PSL Karting,CRG,Spring TX,USA
47d,Tase Flores,CRG-USA,CRG,Denver CO,USA
55c,Carter Williams,Phil Giebler Racing,FA Kart,Clovis CA,USA
57f,Jonathan Kotyk,Ocala Gran Prix,Tony Kart,Ocala FL,USA
59d,JP Alonso,Billet Performance Karting,CRG,Englewood CO,USA
69t,Harry Gottsacker,Champion Racing,Intrepid,San Antonio TX,USA
70y,Grayson Browne,Aluminos,CRG,San Jose CA,USA
77y,Steve Reasoner,Aluminos,Aluminos,Manteca CA,USA
88x,Kolton Griffin,Pure Karting,Tony Kart,Phoenix AZ,USA
92x,Taylor Monnig,Pure Karting,Tony Kart,Scottsdale AZ,USA
103y,Jarred Campbell,Champion Racing,Intrepid,West Sacramento CA,USA
111y,Josh De Losier,Acceleration Karting,CRG,Las Vegas NV,USA
119j,Jordan Dick,Falcone GP,FA Kart,Northville MI,USA
122q,Cabot Bigham,Bamson Racing,CRG,Weston MA,USA
161a,Loris Ronzano,GP Texas USA,GP,Asti ,ITA
177y,Curtis Paul Jr.,Tony Kart America,Tony Kart,Stockton CA,USA
181c,Jonathan Vitolo,Ocala Gran Prix,Tony Kart,Los Angeles CA,USA
187f,Brandon Frank,Leading Edge Motorsports,Intrepid,Smiths Parish BM,USA
199d,Austin Schimmel,Aluminos,Aluminos,Colorado Springs CO,USA
218z,Marco Eakins,Black Flag Racing Products,ART GP,Beaverton OR,USA
313m,Allan Cesarman,,GP,Acapulco Guerrero,MEX
333y,Daniel de la Calle,Cameron Karting,CRG,Burlingame CA,USA
624t,Graig Alvarez Jr.,3G Kart Racing / Team Burger King,Birel,Houston TX,USA
725q,Tyler Guilbeault,DRT Racing,DR,Hudson NH,USA
727y,Jack Freese,Leading Edge Motorsports,Praga,Salinas CA,USA
[/table]
---
S4 Master Stock Moto
Next to the S2 category, the S4 division will be just as loud with 40 elder drivers banging the six-speed gearbox around the Modesto streets. Possible the one driver with the most successful street racing career in recent years is championship leader Jordon Musser. The 3G Kart Racing/Birel driver is a three-time King of the Streets winner at the Rock Island Grand Prix, including a victory in the last two years of the popular Labor Day weekend event. Musser was runner-up in both feature races of the SpringNationals, coming up short to Matt Hamilton on Saturday with returning veteran Darren Elliott edging out the Texan on Sunday. There is no doubt, Musser is going for victory in Modesto to help pad his title lead.
Aluminos driver Hamilton came over to Las Vegas in November to steal the S4 victory away from the American contingent. Now, the Kiwi driver is aiming to earn the Pro Tour title. The opening day in Dallas was his for the taking, and Sunday was shaping up to be the same until contact sent him off course early on in the feature. With ground to make up, Hamilton is looking to cut into the 140 point advantage Musser currently holds with two solid days of racing this weekend. Second place in last year's championship standings – Brian Fisher – survived the weekend in Dallas after suffering a rib injury. The DRT Racing/DR Kart pilot is third in the title chase, and looking to display the speed of his Fisher Racing Engines powerplant. Fernando Diaz is currently fourth in the standings after his best weekend on the Pro Tour in S4. The 2010 G1 Pro Tour champion recorded a best finish of fourth in Dallas aboard his Aluminos chassis.
Sunday winner Elliott currently ranks fifth in the standings, following a disqualification in Saturday's main event for a timing plate infraction. The Musgrave Racing Company/CRG pilot has continued to work during the down-time, and could be even more of a threat in Modesto compared to the Dallas weekend. Another threat to contend for podium finishes is another street race veteran – Chris Jennings (DR Kart). The DRT Racing/Pole Position Raceway driver is a former SuperNationals winner, a longtime podium finisher at the Rock Island Grand Prix, and 2014 winner at the Lone Star Grand Prix.
A number of other drivers in the field have the ability and speed to contend for victories this weekend in Modesto, including many returning from the SpringNationals along with former Pro Tour competitors making their first start in 2014. Those who are able to avoid mechanical issues and stay off the barriers will no doubt be in contention under the lights.
S4 Provisional Entry List
[table]
No.,Driver,Team,Chassis,Hometown,Country
1,Jordon Musser,3G Kart Racing / Team Burger King,Birel,Coppell TX,USA
2,Brian Fisher,DRT Racing,DR,Gray TN,USA
4x,Chris Fosso,Pure Karting,Tony Kart,Glendale AZ,USA
8m,Carlos Ferdez,Ferdez Racing,Energy,Guadalajara Jalisco,MEX
9nz,Matt Hamilton,Aluminos,Aluminos,Christchurch South Island,NZL
10y,Rene Martinelli,TB Kart North America,TB Kart,Roseville CA,MEX
15a,Gian Cavaciuti,GP Texas USA,GP,Piacenza ,ITA
16m,Jorge de la Huerta,GP Texas USA,GP,Guadalajara Jalisco,MEX
21x,Ken Schilling,Team VemmeKart / Extreme Karting,Vemme,Stanton CA,USA
27m,Jose Hernandez,GP Texas USA,GP,Mexico City Mexico,MEX
28c,Todd Wilson,Aluminos,Aluminos,Newport Beach CA,USA
31c,John Crow,Musgrave Racing Company,Tony Kart,Lakewood CA,USA
33x,Rob Logan,Musgrave Racing Company,CRG,Newport Beach CA,USA
37d,Rob Van Deren,CRG-USA,CRG,Steamboat Springs CO,USA
46x,Trevor McAlister,Leading Edge Motorsports,Praga,Pasadena CA,USA
63f,David Levy,CRG-USA,CRG,Jupiter FL,USA
66c,Nick Firestone,Pure Karting,DR,Paradise Valley AZ,USA
68t,Venkat Reddy,Musgrave Racing Company,CRG,Flower Mound TX,IND
71c,Darren Elliott,Musgrave Racing Company,CRG,Newhall CA,USA
72u,Chris Neria,MSquared Karting,Tony Kart,Salt Lake City UT,USA
76c,Fernando Diaz,Aluminos,GP,Torrance CA,USA
78m,Juan Garcia,CRG-USA,CRG,Huixquilucan Mexico,MEX
81f,Richard Heistand,Ocala Gran Prix,Tony Kart,Orlando FL,USA
92s,Steve Flatt,DRT Racing,DR,Woodstock GA,USA
98y,Jim Kidd,Cameron Karting,CRG,Campbell CA,JAM
102x,Darrell Tunnell,CRG-USA,CRG,Visalia CA,USA
103x,Robert Marks,CRG-USA,CRG,Visalia CA,USA
111y,Jim Inglebright,Aluminos,Aluminos,Fairfield CA,USA
118n,Christiaan Bouhuys,DRT Racing,DR,Radnor PA,NED
127y,Mirko Mizzoni,Italcorse America,Italcorse,Henderson NV,ITA
133y,Eric Humphries,Aluminos,Aluminos,Chowchilla CA,USA
151y,Sergio Machado,Aluminos,Aluminos,San Leandro CA,BRA
161c,Mike Mantel,Power Plus Lubricants,Tony Kart,Lancaster CA,USA
175t,Chris Jennings,DRT Racing / Pole Position Raceway,DR,Sachse TX,USA
216a,Petr Ptacek,Praga North America,Praga,Hollywood FL,CZE
422c,Willy Musgrave,Musgrave Racing Company,CRG,Norco CA,USA
517y,Perry Cole,PSL CRG / Diede Racing,CRG,Lodi CA,USA
707y,Justin Bennett,Aluminos,Aluminos,San Ramon CA,USA
823m,Victor Jimenez,CRG-USA,CRG,San Diego CA,MEX
[/table]
---
TaG Master
The complexion of the Pro Tour championship changes as the series heads to Modesto. Double SpringNationals winner Brian McHattie will miss the SummerNationals, as will second in points Scott Falcone. This promotes Billy Cleavelin into the championship lead and helps to put a number of drivers back in the chase. Cleavelin (CRG-USA) is a two-time SuperNationals winner, and overcame engine issues in Dallas to score a third place and runner-up finish in Dallas. His lead in the standing however is only 30 points to Oklahoma driver Anthony Honeywell. Recently making the move to Mike Manning Karting, Honeywell is looking to improve on his two top-five finishes to end up on the podium this weekend.
Ethan Wilson may have the edge on the field, as street racing has become one of his favorite past time. The Phil Giebler Racing/FA Kart driver scored an emotional win in at the 2012 Streets of Lancaster Grand Prix, and placing runner-up to Cleavelin at last year's event. Just 100 points back of Cleavelin, the 2010 Pro Tour champion is back in contention. Ron Hyde (Italian Motors/Italkart) completes the championship contenders going into Modesto. The Canadian is looking to improve on his two seventh-place finishes in Dallas.
A number of possible contenders are making their 2014 Pro Tour debut. Aluminos is loaded with talent, including recent California ProKart Challenge winner Larry Fraser and Kiwi driver Aarron Cunningham making his Superkarts! USA debut. The rest of the field is made up of NorCal racers, increasing the chance of someone from California landing on the podium this weekend.
TaG Master Provisional Entry List
[table]
No.,Driver,Team,Chassis,Engine,Hometown,Country
0y,Michael Grossi,Snow Racing,Energy,ROK TT,Ripon CA,USA
12y,Larry Fraser,Aluminos,Aluminos,Motori 7,Novato CA,USA
19c,Billy Cleavelin,CRG-USA,CRG,Motori 7,Covina CA,USA
23k,Kevin Manning,Mike Manning Karting,MMK,ROK TT,Castaic CA,USA
27y,Jeremy Hillhouse,,GP,Leopard,Sebastopol CA,USA
45r,Ron Hyde,Italian Motors USA / Italkart USA,Italkart,Leopard,Victoria BC,CAN
48y,John Lewis,Online Racing,Tony Kart,Motori 7,Campbell CA,USA
49y,Ethan Wilson,Phil Giebler Racing,FA Kart,ROK TT,Campbell CA,USA
51y,Carl Freese,Leading Edge Motorsports,Intrepid,ROK TT,Salinas CA,USA
53y,Jeremy Latrasse,Karting Concepts,Intrepid,Leopard,San Rafael CA,USA
57y,Gregg Hall,Folie a Deux Motorsports,Margay,ROK TT,Redding CA,USA
69r,Dave Kunicki,Team VemmeKart / Extreme Karting,Vemme,Leopard,Surrey BC,CAN
72nz,Aarron Cunningham,Aluminos,Aluminos,Motori 7,St. Heliers AUK,NZL
76o,Anthony Honeywell,Mike Manning Karting,MMK,ROK TT,Tulsa OK,USA
77x,Vatche Tatikian,Phil Giebler Racing,FA Kart,ROK TT,Altadena CA,CAN
131y,Paul Hohlbein,Snow Racing,Kosmic,ROK TT,Reno NV,USA
141z,Kurt Fisher,CRG-USA,CRG,X30,Richland WA,USA
144y,Kevin Marshall,Nevada Kartsport,Tony Kart,X30,Incline Village NV,USA
517z,Jeff Hall,Folie a Deux Motorsports,Margay,ROK TT,Woodinville WA,USA
[/table]