EKN Trackside: 2014 Superkarts! USA Pro Tour SummerNationals – Preview – Part 1
Record number of pre-entries set to battle in Modesto, younger categories set the stage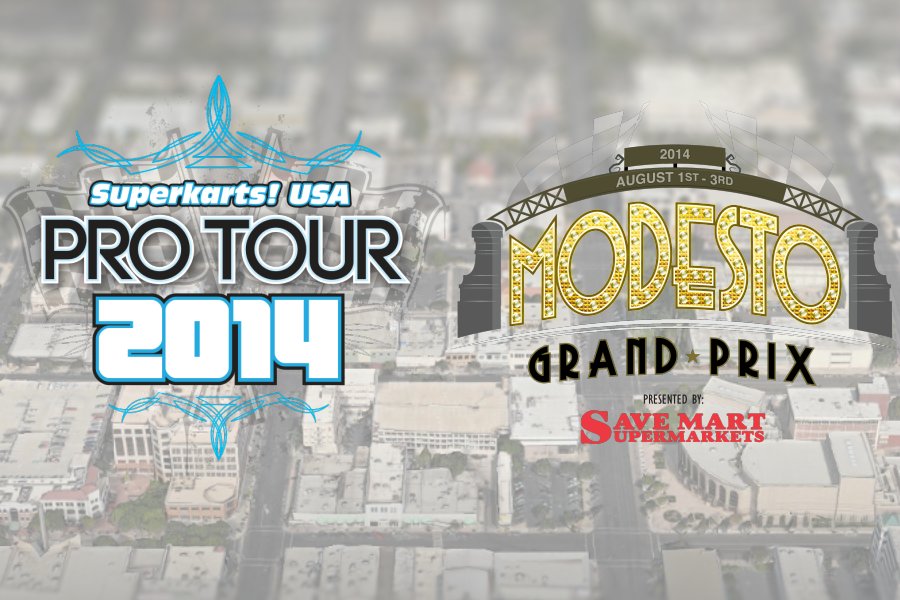 This week marks a number of firsts for the Superkarts! USA Pro Tour. The inaugural Save Mart Supermarkets Modesto Grand Prix is set to host this year's SKUSA SummerNationals over the August 1-3 weekend. A record 242 pre-registered drivers surpasses the record total of entries at the SpringNationals in May, making this year's SummerNats the largest Pro Tour event in the five year history of the series. This weekend also marks the first street race outside the SuperNationals to be included as part of the Pro Tour. The City of Modesto has billed the event as the 'Long Beach' or 'Monaco' of karting, and the numbers going into the event are certainly measuring up.
eKartingNews.com will once again be on site – from Friday to Sunday of the race weekend – providing the 'EKN Trackside Live' broadcast. Live play-by-play action, live timing and all the information you need from California for the SummerNationals. Follow updates at the Official Discussion Thread, Facebook, Twitter and Instagram.
EKN, the official media partner of Superkarts! USA, is set to provide a three-day preview program leading up to the SKUSA Pro Tour SummerNationals highlighting each of the eight classes. Below begins the series with TaG Junior, S5 Junior, and TaG Cadet.
---
TaG Junior
Over 30 competitors will take on the streets of Modesto in the competitive TaG Junior category. Nearly half hail from the northern California area, looking to spoil the party for the Pro Tour regulars competing for the series championship. Leading that chase is double SpringNationals winner Christian Brooks. The Nash Motorsportz/Tony Kart driver worked his way forward both days in Dallas, coming away with big wins against a stacked field. He currently leads by 132 points over Top Kart USA driver David Malukas. The Chicago pilot was among the contenders in Dallas, but missed out on the podium both days. This will be his third straight weekend at the track following the Rotax Grand Nationals in Utah and the USPKS event in Pittsburgh.
Third and fourth place drivers in the championship race started their rookie campaigns with a promising future. Neil Verhagen (KartSport North America/Arrow) hung around the top five all weekend at the SpringNationals, while Texas driver Nick Brueckner (MRP Motorsport/Birel) stood on the podium Sunday during his first weekend in the TaG Junior category at the Pro Tour. Brazilian Luiz Branquinho (Italian Motors USA/Italkart) drove to a runner-up on Saturday, as all three find themselves looking for some help in Modesto to climb their way closer to Brooks in the championship chase.
Other rookies are looking to shine in Modesto as well. Sting Ray Robb (BBR Karting/Tony Kart) battled back from adversity in Dallas. Robb fought engine issues, a flip and a fire as he was pitted with the CRG West operation for the weekend. He rebounded to a runner-up result on Sunday and should be among the quick drivers on the weekend. With the near majority of drivers from NorCal, the many spectators ready to watch the night racing will be cheering them on.
TaG Junior Provisional Entry List
[table]
No.,Driver,Team,Chassis,Hometown,Country
9a,Petr Ptacek Jr.,Praga North America,Praga,Hollywood FL,CZE
11y,Aldous Solano,Karting Concepts,Intrepid,San Rafael CA,USA
14y,Vicente Guerrero Jr.,,Top Kart,Modesto CA,USA
15y,Colby DuBato,PKS Kart Supplies,Top Kart,Madera CA,USA
16c,Gary Lyles,Nash Motorsportz,Tony Kart,Bakersfield CA,USA
21y,Eric Nascimento Jr.,Scott Conway Racing,Tony Kart,Manteca CA,USA
22y,Royal McKee,Phil Giebler Racing,Tony Kart,Las Vegas NV,USA
32b,Trenton Sparks,Rolison Performance Group,FA Kart,Bakersfield CA,USA
32y,Richard Stock,Nevada Kartsport,Energy,Carson City NV,USA
42z,Davey Manthei Jr.,KartSport North America,Arrow,Pasco WA,USA
44c,Christian Brooks,Nash Motorsportz,Tony Kart,Santa Clarita CA,USA
45c,Cameron Kaihatu,Ryan Perry Motorsports,Tony Kart,Encinitas CA,USA
55a,Luiz Branquinho,Italian Motors USA / Italkart USA,Italkart,Sumas WA,BRA
56y,Carter Herrera,PKS Kart Supplies,Top Kart,San Ramon CA,USA
66t,Ryan C. Lewis,Iron Rock Motorsports,Tony Kart,Cedar Park TX,USA
74t,Nick Brueckner,MRP Motorsports,Birel,Hockley TX,USA
77x,Josh Early,Empire Karts,Top Kart,Perris CA,USA
79j,David Malukas,Top Kart USA / Grand Products,Top Kart,Chicago Ridge IL,USA
81c,Justice Lepe,Nash Motorsportz,Tony Kart,Bonita CA,USA
88b,Ethan Barrett,Ryan Perry Motorsports,Kosmic,Laguna Niguel CA,USA
91s,Neil Verhagen,KartSport North America,Arrow,Mooresville NC,USA
98y,Phillippe Denes,2Wild Karting,ART GP,Carmel CA,USA
103y,Hunter Kelly,Leading Edge Motorsports,Praga,Elk Grove CA,USA
106c,Anthony Sawyer,Nash Motorsportz,Tony Kart,Los Angeles CA,USA
131y,Michael Prinzo,Italcorse America,Italcorse,Sacramento CA,USA
201y,Chase Farley,Snow Racing,Energy,Walnut Creek CA,USA
213y,Blake Milton,Snow Racing,Energy,Rancho Murieta CA,USA
251m,Luis Perez Jr.,Falcone GP,Tony Kart,San Nicolas de los Garza Nuevo Leon,MEX
316z,Sting Ray Robb,BBR Karting,Tony Kart,Ontario OR,USA
422t,Max Hewitt,Champion Racing,Intrepid,Houston TX,USA
888c,Hannah Grisham,Phil Giebler Racing,FA Kart,Glendora CA,USA
[/table]
---
S5 Junior Stock Moto
Nearly the entire field from the SpringNationals will be in Modesto, ready to tackle the third and fourth rounds of the Pro Tour. The first weekend was highlighted by a remarkable debut weekend in the category by Trenton Estep. A rising star in the single-speed categories, Estep marked his Pro Tour debut with double feature win on the weekend, including a clean sweep of the action on Sunday. That performance was aboard an Intrepid kart, but the Texas driver just moved over to the Dallas Karting Complex/Sodi Kart USA operation. Estep hopes his debut with the new package is just as good as the first debut in May.
Current TaG Junior championship leader Christian Brooks is the lead challenger in the S5 point standings. The only Junior driver currently doing the double, the Nash Motorsportz/Tony Kart pilot bagged two third-place results in his S5 Pro Tour debut. Instead of too much grip that worked the competitors in Dallas, the slick conditions early on may help Brooks' endurance level as the event goes on. Third through sixth is separated by just 100 points. Mexican driver Raul Guzman (GP Texas USA) is the elder statesman of the category, and was in contention for the win Saturday in Dallas. He came back for a runner-up on Sunday. Mathias Ramirez is another new face to the S5 category, as he is the represents Ocala Gran Prix/Tony Kart Junior program in the class. A runner-up Saturday was blemished by a stall at the start of Sunday's feature. Austin Versteeg is another driver making the move over from single speed to the shiferkarts. The Rolison Performance Group also made his S5 Pro Tour debut, ending up fourth both days. Jacob Loomis (Champion Racing/Intrepid) showed promise in Dallas, and could be a contender in Modesto.
Joining the fight at the SummerNationals are two California drivers. Jason Pettit (Aluminos) has been competed at the local and regional level, ready to make a run at a home race on the national scene. SoCal driver Anthony Sawyer (Nash Motorsportz) is also making his S5 debut at the Pro Tour.
S5 Junior Provisional Entry List
[table]
No.,Driver,Team,Chassis,Hometown,Country
00t,Trenton Estep,Dallas Karting Complex / SodiKart USA,SodiKart,San Antonio TX,USA
4t,Andretta Young,3G Kart Racing / Team Burger King,Birel,Katy TX,USA
7m,Raul Guzman,GP Texas USA,GP,Guadalajara Jalisco,MEX
22t,Max Hewitt,Champion Racing,Intrepid,Houston TX,USA
44r,Sara Brinkac,Musgrave Racing Company,CRG,Burnaby BC,CAN
44c,Christian Brooks,Nash Motorsportz,Tony Kart,Santa Clarita CA,USA
46y,Jason Pettit,Aluminos,Aluminos,Walnut Creek CA,USA
58d,Evan Roshak,CRG-USA,CRG,Arvada CO,USA
65t,Ryan P. Lewis,GP Texas USA,GP,Lufkin TX,USA
77u,Austin Versteeg,Rolison Performance Group,Kosmic,Sandy UT,USA
106c,Anthony Sawyer,Nash Motorsportz,Tony Kart,Los Angeles CA,USA
151f,Mathias Ramirez,Ocala Gran Prix,Tony Kart,Ocala FL,USA
168t,Jacob Loomis,Champion Racing,Intrepid,Corinth TX,USA
[/table]
---
TaG Cadet
The racing is always nail-bitting and exciting for the Cadet divisions across the country, and the SpringNationals was no different. Leaving Dallas and coming into Modesto, six drivers are only separated by 150 points and still have a chance of chasing the title with good results this weekend. Miles Farhan (Tony Kart) came away with the Round Two win, and the most consistency throughout the weekend to hold the championship standings lead. Two podium finishes have him as the driver to beat. The d'Orlando duo however are right there, with Nicholas back by 10 points and Michael out of first by 13 markers. The Koene USA/Tony Kart drivers each stood on the podium with Nicholas third on Sunday and Michael sweeping the on-track sessions on Saturday. Lance Fenderson (Benik) was runner-up in the opening round, and finds himself sitting fourth in the standings. Just 25 points out of first, the New Hampshire pilot will make the long journey to the west coast with hopes of reaching the top of the podium.
Jagger Jones (Tony Kart) placed runner-up on Sunday after recording a DNF on Saturday. Only 100 points behind Farhan, two good results puts the Arizona driver back on track for a championship run. Lachlan DeFrancesco (Benik) and Riley Dickinson (Tony Kart) both earned a fourth place result over the weekend in Dallas, and will need to earn more consistent results to remain in the fight for a podium spot at the Super Sunday podium ceremonies at the Pro Tour finale.
At 40 drivers, there is no telling just who will come out of Modesto as the top driver on either day. Recent US Grand Nationals champion Dylan Tavella (Tony Kart) had one of his toughest weekends in the results column at Dallas, and is ending a long six week journey of racing in Modesto. A number of the other drivers, including those not in the championship chase, could emerge as the fast drivers following practice on Friday and shine under the lights each night at the SummerNationals.
TaG Cadet Provisional Entry List
[table]
No.,Driver,Team,Chassis,Hometown,Country
12y,Oliver Calvo,PKS Kart Supplies,Top Kart,Stockton CA,USA
14n,Dylan Tavella,GT7 Motorsports,Tony Kart,Massapequa NY,USA
21y,Dezel West,Smokin' Fast Motorsports,Nevoso,Henderson NV,USA
22y,Rei Solano,Karting Concepts,Intrepid,San Rafael CA,USA
23q,Lance Fenderson,Team Benik Kart,Benik,Rye NH,USA
25c,Joseph Daniele,DR Kart USA,DR,Long Beach CA,USA
26g,Sam Paley,Jay Howard MDD,FA Kart,Hebron KY,USA
28b,Trey Brown,Ryan Perry Motorsports,Tony Kart,Lemon Grove CA,USA
41z,Joshua Pierson,Neliton Racing Concepts,Tony Kart,Wilsonville OR,USA
42y,Aiden Hawkins,Nevada Kartsport,Invader,Reno NV,USA
044c,Devin Gomez,Sanner Racing,Tony Kart,Del Mar CA,USA
44x,Dante Yu,Nash Motorsportz,Tony Kart,Temple City CA,USA
50y,Tomas Mejia,PKS Kart Supplies,Top Kart,Danville CA,USA
51r,Marco Kacic,PSL West,CRG,West Kelowna BC,CAN
550c,Aden Dodge,Phil Giebler Racing,FA Kart,Canyon Lake CA,USA
57n,Michael d'Orlando,Koene USA,Tony Kart,Hartsdale NY,USA
64t,Dylan Hajicek,Praga North America,Praga,Houston TX,USA
66y,Wyatt Couch,PKS Kart Supplies,Top Kart,El Dorado Hills CA,USA
73c,Anthony Willis,Nash Motorsportz,DR,Peoria AZ,USA
80n,Kaylen Frederick,Hudlett Racing Group,Tony Kart,Potomac MD,USA
81u,Payton Durrant,MRP Motorsports,Birel,Lehi UT,USA
82x,Dick Yu,Nash Motorsportz,Tony Kart,Temple City CA,CHN
88y,Dylan Roberts,Nash Motorsportz,Tony Kart,Fairfield CA,USA
89t,Matt Stretch,,Birel,Arlington TX,USA
95n,Nicholas d'Orlando,Koene USA,Tony Kart,Hartsdale NY,USA
97t,Logan Stretch,,Birel,Arlington TX,USA
981x,Myles Farhan,Ryan Perry Motorsports,Tony Kart,Upland CA,USA
98x,Jagger Jones,Pure Karting,Tony Kart,Scottsdale AZ,USA
100c,Carson Mallett,,Tony Kart,Blythe CA,USA
101y,Ethan Tavares,Aluminos,Aluminos,San Jose CA,USA
107f,David Morales,Team Benik Kart,Benik,Fort Lauderdale FL,USA
108c,Jace Denmark-Gessel,Pure Karting,Tony Kart,Phoenix AZ,USA
111c,Colin Queen,Ryan Perry Motorsports,Tony Kart,Coto De Caza CA,USA
130f,Lachlan DeFrancesco,Team Benik Kart,Benik,Fort Lauderdale FL,USA
132y,Grant Langon,Aluminos,Aluminos,Castro Valley CA,USA
133y,Beck Marshall,Nevada Kartsport,Tony Kart,Incline Village NV,USA
153z,Jacob Hudson,Black Flag Racing Products,Energy,Salem OR,USA
155r,Jordan Novota,Team VemmeKart / Extreme Karting,Vemme,Maple Ridge BC,CAN
177y,Clayton Williams,PKS Kart Supplies,Top Kart,Oakley CA,USA
198x,Jace Jones,Pure Karting,Tony Kart,Scottsdale AZ,USA
[/table]