EKN Trackside: 2014 Cold Stone US Grand Nationals – Preview – Part 1
'Rotax Week' underway as national champions to be decided this weekend at Miller Motorsports Park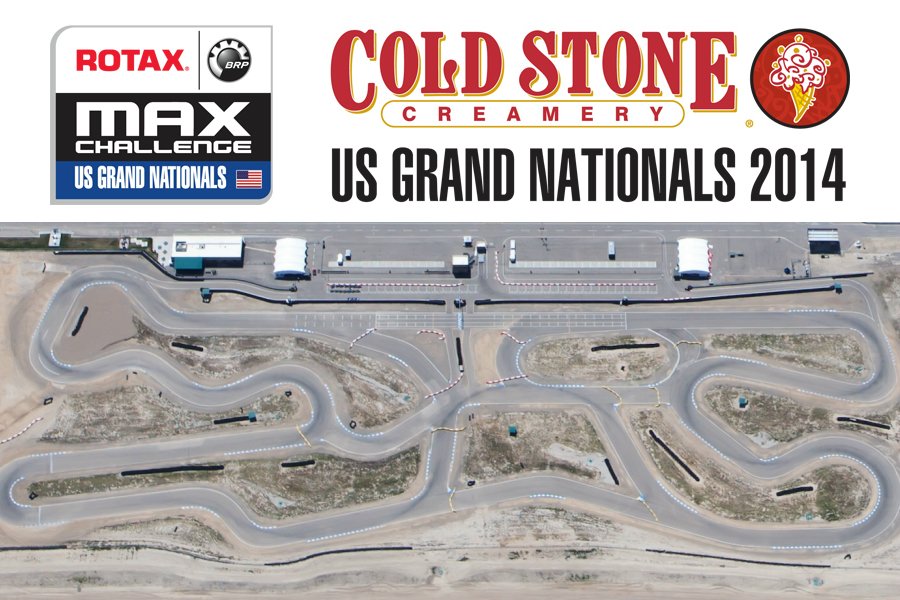 This week is officially 'Rotax Week' in the United States as the racers from all across the country have traveled to the Miller Motorsports Park for the Cold Stone US Grand Nationals. The 14th annual event is set for the second time at the Tooele, Utah facility with close to 200 drivers battling over a three-day period (July 18-20). Drivers in seven Rotax Max Challenge categories will be competing for a chance to claim the only true national championship.
The Miller Motorsports Park complex is among the most state-of-the-art facilities in North America, featuring road racing, off-road, and of course a karting circuit. The layout will be exact to that featured during the 2011 edition of the Rotax Grand Nationals, held at MMP, utilizing the 9/10-mile 'StarTrek' course. The MMP facility was opened in 2006, and has been a great foundation for the growth of karting and the Rotax Max Challenge in the state of Utah, along with the surrounding Rocky Mountain region.
Competitors began traveling to Tooele over the weekend, setting up for unofficial practice held Tuesday and Wednesday, with official practice beginning Thursday, setting the stage for the remaining three days. Qualifying and the first round of heat races are held on Friday. Saturday is the final two rounds of heat races to set the stage for Championship Sunday. The final day will host a Prefinal, which sets the lineup for the main events to crown the seven national champions. This year's event has moved one day later than typically seen, with the final day held on Sunday, rather than Saturday like in year's past.
On the line, aside from the national titles, will be tickets to the 2014 Rotax Grand Finals, set for the new Kartodromo Internacional Lucas Guerrero in Valencia, Spain where racers from around the world will compete for the four world championship categories. The top two finishers in the Senior Max, DD2, DD2 Masters and Junior Max divisions will be awarded spots to the event, while the top Masters Max pilot also earns a ticket. All will become a member of Team USA, already featuring seven championship drivers from the Rotax Challenge of the Americas and the Florida Winter Tour.
EKN will once again be providing the popular Trackside coverage. Be sure to follow the Official Discussion Thread for top-10 results of every on-track session as the event unfolds, and follow all the coverage through the EKN Event Page. Also, get updates through Facebook, Twitter and Instagram. Three different preview articles will be published to open up the Cold Stone US Grand Nationals coverage. Junior Max, Mini Max and Micro Max are previewed first, with DD2 Masters and Masters Max on Tuesday. Wednesday is a look at Senior Max and DD2, with coverage beginning on Thursday.
---
Can-Am Karting Challenge Junior Max
The list of former Junior Max national champions is one of talent that dates back to 2002. Twelve different drivers are among the list of former Grand Nationals winners, with a new driver set to join them following the action in Tooele. Forty drivers are ready to battle and compete for the top step of the podium this year, with a good handful already having experience standing there at other events throughout the season, along with gaining titles in the beginning steps of the Rotax Max Challenge ladder system.
Four drivers have won at the US Grand Nationals previously, either in the Mini or Micro Max division and are searching for their first Junior Max crown. New York driver Anthony Gangi Jr. is attempting to join the prestigious names at the top of the list with multiple Rotax titles. Gangi (GT7 Motorsports/Tony Kart) is the only driver to win the event in Micro and Mini Max in this year's field, and ready for his debut in the Junior Max category after sitting out last year's event during a transition from Mini to Junior. Gangi was victorious at the Rotax Summer Shootout in June, putting him among the favorites on the weekend. No stranger to the Miller Motorsports Park is California driver Christian Brooks. The Nash Motorsportz/Tony Kart pilot secured his only Rotax Grand Nationals title in the 2011 edition at MMP, winning the Mini Max division. Brooks came three points short of winning the Rotax Challenge of the Americas championship this April, and the Rotax Grand Finals ticket. There is no doubt he his hungry for the top step this weekend.
2012 Micro Max Grand Nationals champion Nick Brueckner is set to make his Junior Max debut at the national championship event. The MRP Motorsport/Birel driver from Texas has been busy in 2014, gaining as much Junior level experience as possible. He faired well during the Rotax Summer Shootout, earning two top-five results including a podium finish. Patricio O'Ward became the first ever US Rotax Grand Nationals Micro Max champion at the USA International Raceway in Wisconsin at the 2008 edition. After progressing up the ranks, O'Ward took on open wheel racing for some time but is back to karts again, working with Chase Racing aboard a FA Kart.
Aside from Gangi, the other driver to pick up a win at the Rotax Summer Shootout was 2014 Rotax Challenge of the Americas champion Austin Versteeg. The Rolison Performance Group/Kosmic driver has had this event circled on his calendar since the announcement, ready to show well at his home track. Versteeg, already a member of Team USA for the 2014 Rotax Grand Finals, is going all out for the victory to claim his first US crown. The three podium finishers from last year have moved up the Rotax ranks, putting Florida driver Ryan Norberg as the top returning driver from the 2013 main event. Norberg was among the quickest drivers in the feature, coming up just short for the podium but gained a spot on Team USA for the Rotax Grand Finals Returning with the Ocala Gran Prix/Tony Kart operation, he's one drivers stop watches will be following. The same can be said for his teammate Austin Garrison, who has earned some impressive results already in 2014, placing third in the Florida Winter Tour point standings.
Finishing one spot ahead of Garrison and missing out on the FWT championship and Rotax Grand Finals ticket was J3 Competition driver Luis Jose Forteza III. The Orlando, Florida driver who hails from Puerto Rico is no stranger to winning. Other notables that could be in contention on Championship Sunday include the very fast Phillippe Denes (ART GP America), Junior rookie Sting Ray Robb (BBR Karting/Tony Kart), Top Kart USA driver David Malukas and fellow Junior rookie Neil Verhagen (KartSport North America/Arrow).
Junior Max Provisional Entry List
[table]
No.,Driver,Team,Chassis,Hometown
200,Trenton Estep,Piquet Sports/HR Racing,Tony Kart,San Antonio TX
201,Patricio OWard,Chase Racing,FA Kart,San Antonio TX
202,Matt Solarczyk,MRP Motorsport,Birel,Ashburn VA
203,Max Fedler,Unser Racing,Kosmic,Denver CO
206,Ryan Lewis,Iron Rock Motorsports,Tony Kart,Cedar Park TX
207,Anthony Gangi Jr.,GT7 Motorsports,Tony Kart,Brookville NY
212,Stevie Pugsley Jr.,Go Kart Hero Indoor Raceway,FA Kart,Eagle Point OR
215,Ryan Norberg,Ocala Gran Prix,Tony Kart,Ocala FL
216,Sting Ray Robb,BBR Karting,Tony Kart,Boise ID
217,Sophia Price,Msquared Karting,Kosmic,Heber City UT
218,Walker Hess,Rolison Performance Group,Tony Kart,Park City UT
219,Parker Chase,Chase Racing,FA Kart,New Braunfels TX
221,Bruno Carneiro,RPG/Rodizio Grill,FA Kart,Herriman UT
222,Sebastian Sierra,Orsolon Racing,Praga,Boca Raton FL
223,Marcus Petersen,,Tony Kart,Coral Springs FL
225,Enzo Prevost,ART GP America,ART GP,Novato CA
227,Adam Tams,MRP Motorsport,Birel,Huntley IL
228,Adam Smalley,,Tony Kart,Battle Ground WA
229,Austin Garrison,Ocala Gran Prix,Tony Kart,Ocala FL
230,Dhyllan Skiba,Rolison Performance Group,Kosmic,Leesburg VA
232,David Ilavia,J3 Competition,Kosmic,Houston TX
234,Christian Brooks,Nash Motorsportz,Tony Kart,Santa Clarita CA
241,Braden Eves,J3 Competition,Tony Kart,Gahanna OH
244,Michael Avansino,VRP Racing,Energy,Pleasant Hill CA
249,Jonathan Shone,,Tony Kart,Fontana CA
251,Mayo Livingston,Ocala Gran Prix,Tony Kart,Bainbridge GA
256,Theo Chick,J3 Competition,Kosmic,Fairfax VA
269,Aidan Keel,Andersen Racing,Birel,Plant City FL
270,Michael McCarthy,Andersen Racing,Birel,Clearwater FL
271,Luis Jose Forteza III,J3 Competition,Kosmic,Orlando FL
272,Tevin Robbins,Msquared Karting,Tony Kart,South Jordan UT
274,Nick Brueckner,MRP Motorsport,Birel,Hockley TX
277,Austin Versteeg,Rolison Performance Group,Kosmic,Sandy Ut
279,David Malukas,Top Kart USA,Top Kart,Burr Ridge IL
284,Alec Faubion,Relentless Racing,Kosmic,Scottsdale AZ
288,Chase Acklam,Ocala Gran Prix,Tony Kart,Ocala FL
291,Neil Verhagen,KartSport North America,Arrow,Ridgefield CT
292,Christian Munoz,VMotorsport,Tony Kart,Deerfield Beach FL
298,Phillippe Denes,ART GP America,ART GP,Monterey CA
299,Robert Megennis,McAleer Motorsports,Birel,Amawalk NY
[/table]
---
Chase Racing Mini Max
It was the third edition of the US Rotax Grand Nationals that the Mini Max engine and class was introduced. The category has been the stepping stone for a number of young drivers to gain experience racing on the national scene, garner their first national title, and turn it into a path toward success in karting. In the past 11 years, we have not seen a single driver repeat as the class champion. This year, a new opportunity lies with Michael d'Orlando.
The New York driver scored a monumental victory last year at the GoPro Motorplex for his first ever national crown. He has been among the top Cadet level drivers all season long, and the Koene USA/Tony Kart pilot is certainly at the top of the contender list. Joining d'Orlando as a former Rotax champion is fellow New Yorker Dylan Tavella. The GT7 Motorsports/Tony Kart driver scored the Micro Max championship last year, and is already making a name for himself in the Mini Max category. He traveled west this winter, securing the Rotax Challenge of the Americas championship, and won the Sunday main event at the Rotax Summer Shootout. With race craft skills beyond his age, Tavella is sure to be on the hunt on Championship Sunday.
Scoring the other victory last month at the warm-up event in Tooele was last year's runner-up Enzo Fittipaldi. The race went down to the wire last year with Fittipaldi (Orsolon Racing/Tony Kart) coming up just short. Enzo claimed the feature win at the Shootout in Saturday's round of racing, and backed it up with a top-five the following day. Among the other drivers to earn strong results at the Rotax Summer Shootout include Maryland driver Kaylen Frederick (Pilot ONE Racing/Tony Kart), who has been all over the eastern half of the country racing this season. Fittipaldi's teammate Riley Dickinson was another driver to earn a top-five finish in last month's race, and the Texas driver enters as the Texas ProKart Challenge point leader.
A number of Mini Max rookies make up much of the field in Tooele. Michael d'Orlando's brother Nicholas has picked up quickly in his Mini Max rookie season, and is among the contenders. Nicholas finished runner-up in Micro Max to Tavella last year, and is back to make it a Koene USA 1-2 finish. Harry Coulton is another rising Mini Max rookie. The Florida driver was the provisional winner in Micro Max last year until a carburetion issue in tech removed him from the results. Putting that behind him, the MRP Motorsport/Birel driver was the top American finisher in the Florida Winter Tour championship standings in his rookie campaign. Utah driver Payton Durrant is another driver that circled this event, looking to take advantage of home track knowledge. The MRP Motorsport/Birel was a top-five finisher last month against the Rotax Grand Nationals competitors warming up for this week, and the Mini Max rookie is ready for podium contention.
Mini Max Provisional Entry List
[table]
No.,Driver,Team,Chassis,Hometown
101,Dante Tekampe,KartSport North America,Arrow,Sherrills Ford NC
102,Devin Boutot,,Tony Kart,Naples FL
105,Dane Miller,Yardley Racing,Tony Kart,Salt Lake City UT
107,David Morales,Benik Kart,Benik,Fort Lauderdale FL
108,Hannah Greenemeier,KartSport North America,Arrow,Parker CO
110,Filip Niemkiewicz,AM West/Karting Couch,AM,Breckenridge CO
111,Sean Groenstein,Msquared Karting,Tony Kart,Jackson Hole WY
112,Derek Deslauriers,Karting Coach,Energy,Littleton CO
113,Jordan Heffner,Ocala Gran Prix,Tony Kart,Ocala FL
114,Dylan Tavella,GT7 Motorsports,Tony Kart,Massapequa NY
115,Edward Portz,,Kosmic,Corvallis OR
117,Clayton Williams,PKS/SpeedSense Motorsports,Top Kart,Oakley CA
118,Austin Torgerson,Ruthless Karting,KGB,Central Point OR
120,Joshua Fine,,Birel,Park City UT
121,Zoey Edenholm,Nash Motorsportz,Kosmic,Scottsdale AZ
122,Cody Dempster,Unser Racing Performance Division,Tony Kart,Parker CO
123,Dylan Gennaro,Ocala Gran Prix,Tony Kart,Ocala FL
126,Alexis Apodaca,Karting Coach,Energy,Castle Pines CO
128,Trey Brown,,Tony Kart,Lemon Grove CA
134,Ricardo Villasmil,AM Engines,Birel,Miami FL
143,Noah Call,Call Racing,Kosmic,West Bountiful UT
144,Dante Yu,Nash Motorsports,Tony Kart,Temple City CA
148,Joseph Lamberth,CMP,Haase,Camden SC
150,Tomas Mejia,PKS,Top Kart,Danville CA
151,Michael d'Orlando,Koene USA,Tony Kart,Hartsdale NY
153,Riley Dickinson,Orsolon Racing,Tony Kart,New Brunfels TX
155,Nicholas d'Orlando,Koene USA,Tony Kart,Hartsdale NY
156,Zachory Hollinshead,Ocala Gran Prix,Tony Kart,Ocala FL
172,Enzo Fittipaldi,Orsolon Racing,Tony Kart,Davidson NC
176,Everest Fedler,Unser Racing Performance Division,Tony Kart,Denver CO
178,Harry Coulton,MRP Motorsport,Birel,Lakeland Fl
180,Alejandro Jaramillo,DKC/Sodi Kart USA,Sodi Kart,Dallas TX
181,Payton Durrant,MRP Motorsport,Birel,Lehi UT
182,Brandin Warwas,Iron Rock Motorsports,CRG,Cypress TX
184,Dylan Schlegel,Iron Rock Motorsports,CRG,Cypress TX
188,Kaylen Frederick,Pilot ONE Racing,Tony Kart,Potomac MD
192,Alex Verhagen,KartSport North America,Arrow,Mooresville NC
194,Sebastian Alvarez,PSL Karting,CRG,McAllen TX
196,Lawson Nagel,CZL Mechanical,FA Kart,Azle TX
[/table]
---
Nash Motorsportz/Precision Works Micro Max
The Micro Max category was added to the United States Rotax Max Challenge program in 2008, and has increased in numbers every season with a new crop of young, eager racers ready to take the first step of the Rotax ladder system. Junior Max driver Patricio O'Ward was the first to step to the top of the podium follow the Rotax Grand Nationals, and this year will be another first time champion.
The 2014 season has been phenomenal for Texas driver Jack Crawford (Birel). After going six for six in main events to clinch the Rotax Challenge of the Americas, and has continued winning at every stop he makes, including the Rotax Summer Shootout. Other championship leaders coming into the weekend also include Reece Gold (Tony Kart). The Florida driver picked up the FWT title in Micro Max this winter. Josh Pierson (Tony Kart) leads the Rotax Can-Am ProKart Challenge standings after six rounds, and won a free entry at the recent event in Canby, Oregon. He is among four drivers representing Oregon. Another name to watch is Sebastian Montoya (Birel), the son of IndyCar driver Juan Pablo Montoya. The young driver finished eighth in last year's event, looking to improve his results while his father will be racing at the Honda Indy Toronto event.
Others will no doubt step up throughout the weekend as these young drivers take the first step up the Rotax Max Challenge program.
Provisional Micro Max Entry List
[table]
No.,Driver,Team,Chassis,Hometown
2,Ashton Torgerson,Ruthless Karting,KGB,Central Point OR
11,Tait Blum,Rolison Performance Group,Kosmic,Phoenix AZ
14,Josh Pierson,Neliton Racing Concepts,Tony Kart,Wilsonville OR
15,Jonathon Portz,,Kosmic,Corvallis OR
19,Cooper Becklin,Go Kart Hero,FA Kart,Medford OR
27,Tyler Maxson,Tyler Maxson Racing,Tony Kart,Lawrenceville GA
49,Ethan Arndt,,Tony Kart,Leander TX
51,Gabriella Ramirez,Ocala Gran Prix,Tony Kart,Ocala FL
52,Jak Crawford,Nash Motorsportz,Birel,Spring TX
55,Reece Gold,Ticket Clinic Racing Team,Tony Kart,Miami FL
56,Diego LaRoque,Nash Motorsports,Kosmic,Laveen AZ
58,Sebastian Montoya,Team Montoya,Birel,Miami FL
85,Chase Heffner,Ocala Gran Prix,Tony Kart,Ocala FL
87,Jeremy Fairbairn,,Tony Kart,Wellington FL
,Ugo Ugochukwu,Koene USA,Tony Kart,New York NY
[/table]