Rock Island Grand Prix Gearing Up for 20th Annual Event
Popular Labor Day weekend street race set for another historic rumble at the Rock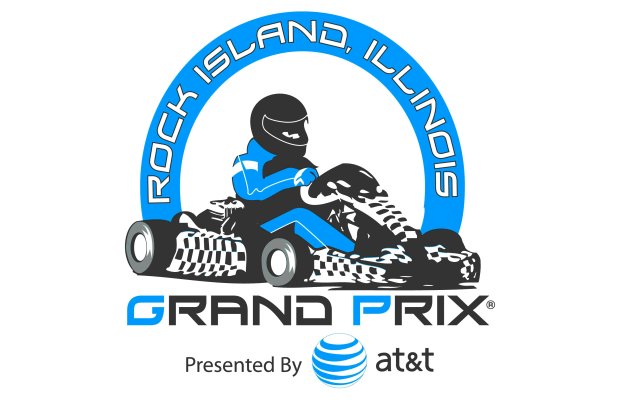 The Rock Island Grand Prix presented by AT&T, the world's largest karting street race, is pushing forward with plans for the celebration of its 20th anniversary. The theme for this year's festival weekend is "The most fun you will have in karting – on and off the track." This year's races will be held August 30-31 through the streets of the Downtown Arts and Entertainment District of Rock Island, Illinois.
The main focus this year, according to Roger Ruthhart, president of the organization that promotes the race, has been working with the city to make improvements to the streets that make up the race course.
"The course was getting rough and that's hard on both racers and their equipment," Ruthhart said. The city has agreed to make repairs to pavement at close to a dozen locations around the track. The most important are large portions of Third Ave. at Turn 4 (right hander) and Turn 5 where the pavement has already been ground down in preparation for being repaved. Plans call for work on Turns 1 and 6 next year along with repaving of the front straight.
"The city has been a great partner for the past 20 years and we appreciate them stepping up to help with these essential improvements," Ruthhart said.
The organization has also been working to get the U.S. Army and its enlisted and civilian employees at the Rock Island Arsenal more involved in the event.
"Rock Island is proud to be home to the Arsenal and its various commands including First Army. Ours is a free family event that everyone in the community can enjoy and we want to make sure that includes our soldiers and 8,000 civilian employees," Ruthhart said. Garrison commander Col. Elmer Speights will join Rock Island Mayor Dennis Pauley if offering welcoming remarks during Opening Ceremonies. The USO will also have a presence and discussions with other groups are on-going, Ruthhart said.
The Grand Prix Committee has also been focused on reorganization of track construction duties and trying to replace several key sponsors which have opted not to return this year. Ruthhart said that without a larger commitment from O'Reilly Auto Parts and the addition of Curry's Transportation Services from Muscatine as a sponsor, this year's races might not have happened.
"This is a costly event to produce, both in terms of money and manpower," Ruthhart said. "The good old days of karting have not yet returned so every sponsor and every racer's entry is essential to the future of this great event."
Event sponsors include AT&T back as presenting sponsor for the 20th year, Holiday Inn Rock Island, Jumer's Casino & Hotel, O'Reilly Auto Parts, Curry's Transportation Services, Coors Light, International Trophy Cup Series, AMT Ambulance, Briggs & Stratton, MG Tires, Modern Woodmen Financial/Joe Schurr, WHBF-TV, L&W Bedding, Mediacom, Schurr Power Racing Motors, Sunbelt Rentals, Modern Woodmen Bank, McDonald's Restaurants, The Dispatch and Rock Island Argus newspapers, radio stations B100, 97X, Rock 104.9 and ESPN radio, Gas & Electric Credit Union, CEC Communications, Courtesy Car City, Verizon Indy Car Series, Rogan Scale, VP Racing Fuel and J&J Camper. Several other proposals are out waiting approval.
While racers continue to say that Rock Island is "the Indy 500 of karting," Ruthhart pointed out that this year there are three regional events it must compete with to attract racers. "Karting has an interesting way of supporting its major events," Ruthhart said.
"In the end, it is the racers and the karting community which will determine if our event is to continue for another 20 years," Ruthhart said.
This year, the Rock Island Grand Prix is working with seven regional programs by providing free entries to "The Rock" to winners in specified classes at each of the regional races. The goal is to not only support the regional programs, but also expose the Rock Island Grand Prix to competitors from series that do not routinely attend. Partners this year include Northeast Shifter Series, Texas Pro Kart Challenge, Route 66 Series, US. Pro Kart Series, Florida Karting Championship Series, the Hamilton, Bermuda street race and Lone Star Grand Prix. In all, more than 140 free entries are up for grabs.
"We hope this effort will not only gain us some additional exposure with these programs but bring in racers who will enlarge our fields while raising the level of competition at Rock Island. Every regional racer should have one national event they look forward to each year and we hope that will be the Rock Island Grand Prix. There's no place else you can have so much fun – on and off the track!" Ruthhart said.
Organizers have also been busy working with local businesses to fill out and promote an exciting weekend of entertainment options in The District.
This year's event will again feature 2 cycle, 4-cycle and Vintage kart racing. The program is similar to last year with the addition of a Briggs & Stratton LO 206 Masters class. The schedule provides the opportunity for nearly all competitors to enter two classes for more track time and more chances to win. Once again this year, the Saturday noon TAG Senior race will benefit the local food bank which serves 22 counties in western Illinois and eastern Iowa. Starting position will be determined by the weight of food donated by race teams.
The Rock Island Grand Prix is also excited to announce that the winner of its 2014 art contest is Bob Cole of Wyoming, Mich. Cole will receive $100 and his artwork will be used for t-shirt and other promotion during the 20th anniversary celebration of the Rock Island Grand Prix, August 30-31.
"I really just did it for fun. I never expected to win," Cole said when told he was the winner.
The Rock Island Grand Prix would like to thank all who took the time to enter the contest.
Registration is now open by mail or at the race's website, RockIslandGrandPrix.com, which also has a wealth of information about the world's largest karting street race.
The Rock Island Grand Prix, the world's largest karting street race, draws entries from throughout the United States and Canada. It has also hosted racers from Italy, France, Colombia, Costa Rica, England, Argentina, Poland, Bermuda, the Philippines, Ireland and Mexico. It includes 16 feature races in 4-cycle, 2-cycle, TAG and gearbox classes as well as a Vintage class. Rock Island Grand Prix races are also covered live worldwide on the Internet by eKartingNews.com.