EKN Trackside: Superkarts! USA Pro Tour SpringNationals – Preview – Part 2
Large S2 and S4 fields, regular contenders in TaG Master set for Dallas Karting Complex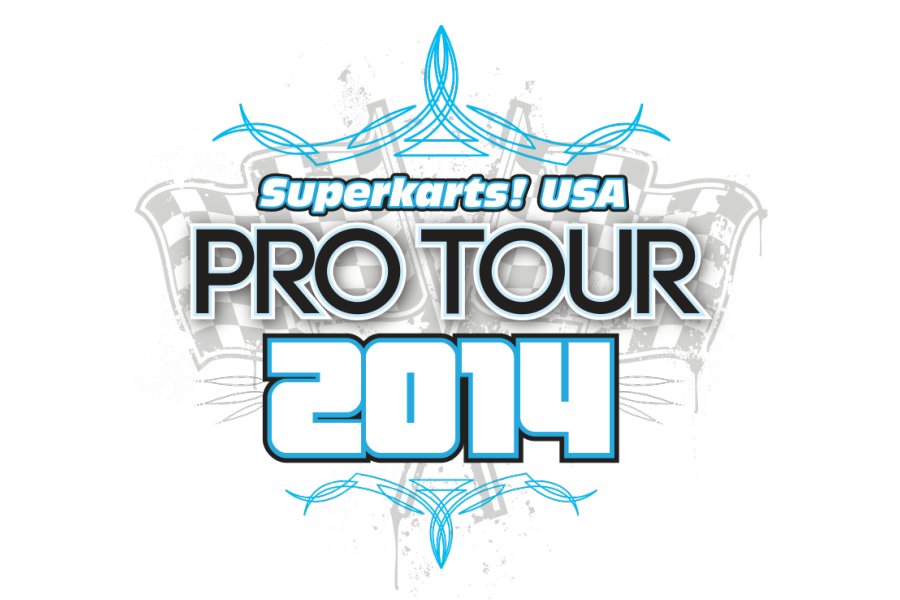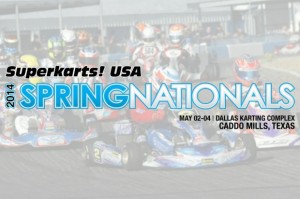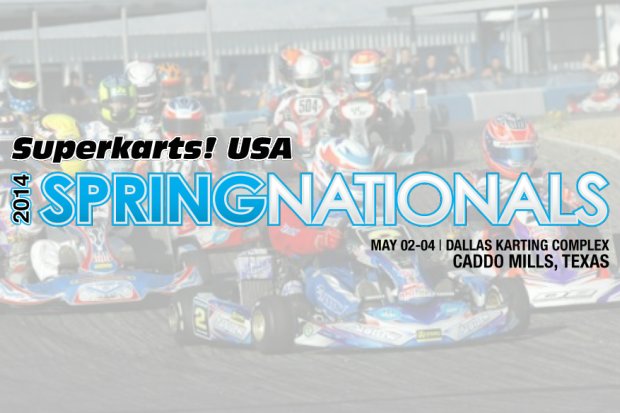 The 2014 edition of the Superkarts! USA is primed for another record breaking event to begin the fifth season. The SKUSA SpringNationals will take place at the Dallas Karting Complex in Caddo Mills, Texas on May 2-4, with 237 entries already scheduled to take part this historic event, 10 more than last year's number from Tucson, Arizona. The circuit hosting the opening two rounds of the Pro Tour is a newer 8/10-mile circuit, hosting its first major national event and brining a number of drivers from across North America and around the world to the LoneStarState.
eKartingNews.com will once again be on site – from Friday to Sunday of the race weekend – providing the 'EKN Trackside Live' broadcast. Live play-by-play action, live timing and all the information you need to follow the action in Texas for the SpringNationals. Follow updates at the Official Discussion Thread, Facebook, Twitter, and Instagram.
EKN, the official media partner of Superkarts! USA, is providing a three-day preview program leading up to the SKUSA Pro Tour SpringNationals highlighting each of the eight classes. Yesterday was a preview of the TaG Junior, S5 Junior, and TaG Cadet divisions. Today is S2 Semi-Pro, S4 Stock Moto and TaG Master.
---
Billet Performance Karting S2 Semi-Pro Stock Moto
Over the past few seasons, the S2 Semi-Pro division has brought out some of the best racing on the Pro Tour. Racers and mechanics line the fences to see the bright young talent emerging from the Superkarts! USA Stock Moto ladder system. The past two class champions are among the contenders in S1 now including a good handful of the top drivers from last year, and the young S5 drivers from the past few years are now into the mix for S2 supremacy. The average age of the 41 driver field racing in Dallas is 19 years of age, showing the growth to come within the Pro Tour for the future.
Having the hot hand is important in motorsports, including karting. The most recent winners are Miguel Lopez and Kolton Griffin. Lopez (GP Texas USA) finished last year third in the S2 Texas ProKart Challenge behind S1 graduates Ryan Kinnear and Garrett Boone. He swept the opening round of the Texas ProKart Challenge event last weekend. That was his third win in two events at the DKC facility in the last year. Griffin (Pure Karting/Tony Kart) did not get off to a good start in 2013, but has done a 180 with the opening months of 2014. He's recorded three straight top-five finishes at the California ProKart Challenge, including a victory, and backed it up with a win Sunday at the Texas PKC event. Another hot hand belongs to S2 rookie Jarred Campbell. The 2013 S5 Pro Tour champion never finished outside the top two last year, including three wins. He opened up the season winning two of the three features at the California PKC program, and leads the championship. The Champion Racing/Intrepid driver is among eight rookies making their S2 Pro Tour debut.
The top drivers from the championship last year returning including Acceleration Karting driver Josh De Losier and Curtis Paul Jr. The two finished seventh and eighth last year, with De Losier making progress throughout the season and Paul (Tony Kart) standing on the podium at last year's SpringNationals. They lead a number of drivers looking to improve their standing within the S2 division.
Many of the teams at the SpringNationals have a solid group of drivers under their stables in the S2 division. Among them is the Ocala Gran Prix operation, making the journey from Florida to take on its first SpringNationals. Five drivers will represent the team with a good chance of competing for the victory. Last year's SuperNationals S5 winner Kyle Kirkwood (Tony Kart) leads the group, hungry for more success.
In addition to Kirkwood and Campbell, six other rookies are making their S2 Pro Tour debut. Carter Williams (Phil Giebler Racing/FA Kart) has two S5 championships at the California PKC program, and is racing this year thanks to the Streets of Lancaster Grand Prix Scholarship Program. One rookie looking to stand on the podium is Dallas Karting Complex's own Nathan Adds. Son of co-owner Kevin Adds, the SodiKart USA driver performed well last weekend in his S2 debut and is searching for success this weekend.
S2 Semi-Pro Stock Moto Provisional Entry List
[table]
No.,Driver,Team,Chassis,City,State,Country,Age
00t,Nathan Adds,Dallas Karting Complex / SodiKart USA,SodiKart,Rowlett,TX,USA,15
59d,JP Alonso,Billet Performance Karting,CRG,Englewood,CO,USA,28
624t,Graig Alvarez Jr.,3G Kart Racing / Team Burger King,Birel,Houston,TX,USA,14
118n,Christiaan Bouhuys,DRT Racing,DR,Radnor,PA,NED,38
777t,Jayson Braffett,,Intrepid,Willow Park,TX,USA,20
221d,Lindsay Brewer,CRG-USA,CRG,Arvada,CO,USA,17
103y,Jarred Campbell,Champion Racing,Intrepid,West Sacramento,CA,USA,16
4m,Fernando Casillas Jr.,Casillas Racing,Vemme,Corona,CA,MEX,17
313m,Allan Cesarman,Aluminos,GP,Acapulco,Guerrero,MEX,17
44t,CJ Cramm IV,PSL Karting,CRG,Spring,TX,USA,17
28t,Grant Dawlett,Texas Karts,CRG,Austin,TX,USA,16
111y,Josh De Losier,Acceleration Karting,CRG,Las Vegas,NV,USA,19
218z,Marco Eakins,Black Flag Racing,ART GP,Beaverton,OR,USA,15
5t,Sky Finley,DRT Racing / Pole Position Raceway,DR,Frisco,TX,USA,17
526o,Tyler Fling,Champion Racing,Intrepid,Edmond,OK,USA,23
47d,Tase Flores,CRG-USA,CRG,Denver,CO,USA,24
87f,Brandon Frank,Leading Edge Motorsports,Intrepid,Smiths Parish,BM,USA,27
727y,Jack Freese,Leading Edge Motorsports,Intrepid,Salinas,CA,USA,16
29f,Austin Garrison,Ocala Gran Prix,Tony Kart,Ocala,FL,USA,15
88x,Kolton Griffin,Pure Karting,Tony Kart,Phoenix,AZ,USA,19
16f,Morgan Healey,Ocala Gran Prix,Tony Kart,Ocala,FL,USA,17
07n,Jake Karwowski,Pure Karting,Tony Kart,New York,NY,POL,26
41f,Kyle Kirkwood,Ocala Gran Prix,Tony Kart,Ocala,FL,USA,15
57f,Jonathan Kotyk,Ocala Gran Prix,Tony Kart,Ocala,FL,USA,20
18j,Ryan Lankenau,CRG-USA,CRG,Warrenville,IL,USA,21
13t,Miguel Lopez,GP Texas USA,GP,Tyler,TX,USA,16
400d,Myles Marolt,Billet Performance Karting,CRG,Centennial,CO,USA,23
33t,Mitch McKie,,CRG,Highland Village,TX,USA,16
10c,Alan Michel,Musgrave Racing Company,Tony Kart,Gilbert,AZ,MEX,27
17m,Luis Morales,GP Texas USA,GP,Mexico,DF,MEX,17
177y,Curtis Paul Jr.,Tony Kart America,Tony Kart,Stockton,CA,USA,14
15y,Will Preston,Aluminos,Aluminos,Danville,CA,USA,16
888m,Joaquin Rodriguez,Casillas Racing,Tony Kart,Zapopan,Jalisco,MEX,16
161a,Loris Ronzano,GP Texas USA,GP,Asti,,ITA,29
11d,Ryan Rudolph,Billet Performance Karting,CRG,Denver,CO,USA,17
55d,Ben Schermerhorn,BRS Racing,FA Kart,Highlands Ranch,CO,USA,27
199d,Austin Schimmel,Aluminos,Aluminos,Colorado Springs,CO,USA,17
4t,Luke Shanahan,MJDrive,Tony Kart,Dallas,TX,USA,16
10t,Alex Tartaglia,Dallas Karting Complex / SodiKart USA,SodiKart,Colleyville,TX,USA,18
181c,Jonathan Vitolo,Ocala Gran Prix,Tony Kart,Los Angeles,CA,USA,32
55c,Carter Williams,Phil Giebler Racing,FA Kart,Clovis,CA,USA,15
[/table]
---
PSL Karting TaG Master
Since the inception of the Superkarts! USA Pro Tour, the TaG Master division has seen four different champions in four years. The competition has been fierce each and every weekend, year after year. The same contenders return, searching for the next victory, podium and possible run at a title. Three of the four former champions are taking on the Dallas Karting Complex, with hopes of becoming the first two-time title winner.
The first ever Pro Tour champion was Californian Ethan Wilson. The Phil Giebler Racing/FA Kart driver came up short in his title defense in 2011, saw his SpringNationals cut short in 2012 with a broken wrist, and experienced multiple gremlins last season. With the bad luck behind him, Wilson is focused on challenging for this year's title. 2011 champion Brian McHattie (DB Motorsports/Kosmic) bounced back to his winning ways last year after getting shut out in 2012. The Ohio driver won at the SummerNationals, and is looking for his first SpringNats win since his championship season. They all hold court to current champion – Scott Falcone. The KartSport North America/Arrow pilot stood on the podium in the first four Pro Tour races, including a win at each of the two events. Carrying the SKUSA #1 plate puts the pressure on the Colorado driver to become the first repeat champion in the category. He opened up TaG racing on the season, winning both the TaG Senior and TaG Master features at the Lone Star Grand Prix street race in March.
One driver not yet to claim a SKUSA Pro Tour title is two-time SuperNationals winner Billy Cleavelin. The veteran driver is among the quickest drivers each and every race he takes part in, but yet to stand on top of the podium at the any Pro Tour, earning his last national stage victory at the 2009 SuperNats. He moves over to the CRG-USA operation for the Pro Tour, jumping aboard a CRG chassis. Oklahoma driver Anthony Honeywell is opting to become the fifth different champion this season. The DB Motorsports/Tony Kart driver won both main events during the Texas ProKart Challenge event last weekend, and primed to make a stand at the SpringNationals.
TaG Master Provisional Entry List
[table]
No.,Driver,Team,Chassis,Engine,City,State,Country,Age
155p,Hector Alvarez,Champion Racing,Intrepid,Vortex ROK TT,San Juan,PR,PRI,42
19c,Billy Cleavelin,CRG-USA,CRG,Motori 7,Covina,CA,USA,56
1,Scott Falcone,Falcone Racing,Arrow,Motori 7,Lone Tree,CO,USA,45
141z,Kurt Fisher,Snow Racing,CRG,Motori 7,Richland,WA,USA,48
76o,Anthony Honeywell,DB Motorsports,Tony Kart,Vortex ROK TT,Tulsa,OK,USA,32
45r,Ron Hyde,Italian Motors USA / Italkart USA,Italkart,Leopard,Victoria,BC,CAN,48
69r,Dave Kunicki,Team VemmeKart / Extreme Karting,Vemme,Leopard,Surrey,BC,CAN,55
79j,Brian McEvoy,Franklin Motorsports,Merlin,Loepard,Milwaukee,WI,USA,39
93j,Brian McHattie,DB Motorsports,Kosmic,Vortex ROK TT,Youngstown,OH,USA,37
15m,Jesus Robles,,Tony Kart,Vortex ROK TT,San Antonio,TX,MEX,35
33t,Matt Souza,,,,,,,
77x,Vatche Tatikian,Phil Giebler Racing,FA Kart,Vortex ROK TT,Altadena,CA,CAN,32
49y,Ethan Wilson,Phil Giebler Racing,FA Kart,Vortex ROK TT,Santa Clara,CA,USA,44
[/table]
---
CRG-USA S4 Master Stock Moto
Nearly 40 drivers will take to the Dallas Karting Complex facility in the S4 Master division. Like TaG Master, S4 has seen four different champions in four years. A fifth different driver could be crowned in Las Vegas, as only one former title winner is scheduled to compete for the championship. This year's SpringNationals field is stacked with talent, many 'young' Master drivers and a number of experienced pilots set to do battle.
There is no better way to defend your Pro Tour title, then in your home state. Texan Jordon Musser carries the SKUSA #1 plate in 2014 after his championship performance last year. A double win at the 2013 SpringNationals catapulted his run at the title. He opened up the new season last weekend with a sweep in Round One at the Texas ProKart Challenge, ready to defend his crown aboard the 3G Kart Racing/Birel. Brian Fisher matched Musser's performance by scoring double wins at the SummerNationals. The DRT Racing/DR Kart pilot finished second in the standings, marked with a third place performance at the SuperNationals. The Fisher Racing Engines guru has been busy over the winter months, preparing at a full effort toward the title in 2014.
One spoiler in the efforts for last year's top drivers to return back at the front of the field is Kiwi Matthew Hamilton. The New Zealand driver stole the show in Vegas, earning the S4 victory to give Aluminos chassis its first SuperNationals victory after its market debut in July. Back with the NorCal operation, Hamilton makes his first SpringNats start. Another international star will be among the contenders in Texas is Italian Gian Cavaciuti. The GP Racing Kart factory driver was among those in the hunt at last year's SuperNationals and now he makes his SpringNats S4 debut this weekend.
Lots of eyes however are on the return of former SKUSA ProMoto Tour top driver Darren Elliott. A two-time G1 SuperNationals winner (2006, 2007), the former SKI Driver of the Year spent time away from the sport. The fire was rekindled as he worked the SpringNationals as an assistant race director, and he spent the winter months preparing for the season. The Musgrave Racing Company/CRG driver began the year going three for three at the California ProKart Challenge. The chance to stay perfect in 2014 will be a challenge with the stacked field. Among those who Elliott raced back in the late 90s, early 2000s is Trevor McAlister. The Texas native, now residing in California, is itching for a happy homecoming this weekend. Since his return two years ago, 'T-Mac' has been a contender each weekend aboard his Leading Edge Motorsports/Praga machine, including two straight podium finishes at the SuperNationals and victory at the 2012 SummerNationals.
Chris Jennings was another driver to stop Musser on occasion in 2013, as the Texas ProKart Challenge S4 champion. The fight went to the wire, with Jennings (DR Kart) coming away with the title. The DRT Racing/Pole Position Raceway driver opened up the year, splitting the Texas PKC wins with Musser on the weekend. Another champion among the entry list is Aluminos driver Fernando Diaz. The G1 Pro Tour title winner in 2010 has been quick since moving to the S4 division, however, with no Pro Tour victories to his credit.
S4 Master Stock Moto Provisional Entry List
[table]
No.,Driver,Team,Chassis,City,State,Country,Age
555m,Sergio Aguilera,,GP,Zapopan,Jalisco,MEX,40
11m,Adrian Aguilera,,CRG,Zapopan,Jalisco,MEX,35
13d,Leo Ahearn,Musgrave Racing Company,CRG,Littleton,CO,USA,50
100m,Adolfo Anguiano,Race Time,Energy,Guadalajara,Jalisco,MEX,44
118n,Christiaan Bouhuys,DRT Racing,DR,Radnor,PA,NED,38
333m,Jesse Carrasquedo,,GP,Zapopan,Jalisco,MEX,39
15a,Gian Cavaciuti,GP Texas USA,GP,Piacenza,,ITA,33
16m,Jorge de la Huerta,GP Texas USA,GP,Guadalajara,Jalisco,MEX,29
76c,Fernando Diaz,Aluminos,Aluminos,Torrance,CA,USA,41
71c,Darren Elliott,Musgrave Racing Company,CRG,Newhall,CA,USA,48
8m,Carlos Ferdez,Race Time,Energy,Guadalajara,Jalisco,MEX,34
66c,Nick Firestone,Pure Karting,DR,Paradise Valley,AZ,USA,48
2,Brian Fisher,DRT Racing,DR,Gray,TN,USA,34
92s,Steve Flatt,DRT Racing,DR,Woodstock,GA,USA,43
4x,Chris Fosso,Pure Karting,Tony Kart,Glendale,AZ,USA,51
78m,Juan Garcia,CRG-USA,CRG,Huixquilucan,Mexico,MEX,42
9nz,Matthew Hamilton,Aluminos,Aluminos,Christchurch,SI,NZL,31
81f,Richard Heistand,Leading Edge Motorsports,Intrepid,Orlando,FL,USA,30
27m,Jose Hernandez,GP Texas USA,GP,Mexico City,Mexico,MEX,37
175t,Chris Jennings,DRT Racing / Pole Position Raceway,DR,Sachse,TX,USA,33
823m,Victor Jimenez,CRG-USA,CRG,San Diego,CA,MEX,42
65j,Lance Lane,DRT Racing,DR,Algonquin,IL,USA,48
63f,David Levy,CRG-USA,CRG,Jupiter,FL,USA,50
33x,Rob Logan,Musgrave Racing Company,CRG,Newport Beach,CA,USA,34
58c,PP Mastro,Aluminos,Aluminos,Bakersfield,CA,USA,50
46x,Trevor McAlister,Leading Edge Motorsports,Praga,Pasadena,CA,USA,40
28t,Steve McCaffery,CRG-USA / RPM Motorsports,CRG,Katy,TX,GBR,36
777m,Carlos Medina,GP Mexico,GP,Leon,Guanajuato,MEX,30
55x,Roy Montgomery,CRG-USA / RPM Motorsports,CRG,Humble,TX,USA,47
422c,Willy Musgrave,Musgrave Racing Company,CRG,Norco,CA,USA,50
1,Jordon Musser,3G Kart Racing / Team Burger King,Birel,Coppell,TX,USA,32
72u,Chris Neria,MSquared Karting,Tony Kart,Salt Lake City,UT,USA,31
216a,Petr Ptacek,Praga North America,Praga,Hollywood,FL,CZE,42
68t,Venkat Reddy,Musgrave Racing Company,Tony Kart,Flower Mound,TX,IND,46
48m,Miguel Angel Rojas,Aluminos,Aluminos,Guadalajara,Jalisco,MEX,51
41t,Mike Smith,Texas Karts,Intrepid,San Antonio,TX,USA,50
00f,Tim Ulmen,CRG-USA / Homestead Karting,CRG,Miami,FL,USA,47
[/table]