EKN Trackside: Superkarts! USA Pro Tour SpringNationals – Preview – Part 1
New faces set to contend at Dallas Karting Complex in younger categories of Pro Tour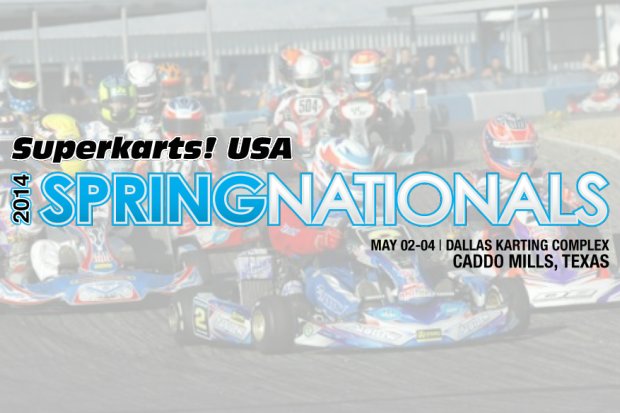 The 2014 edition of the Superkarts! USA is primed for another record breaking event to begin the fifth season. The SKUSA SpringNationals will take place at the Dallas Karting Complex in Caddo Mills, Texas on May 2-4, with 237 entries already scheduled to take part this historic event, 10 more than last year's number from Tucson, Arizona. The circuit hosting the opening two rounds of the Pro Tour is a newer 8/10-mile circuit, hosting its first major national event and brining a number of drivers from across North America and around the world to the LoneStarState.
eKartingNews.com will once again be on site – from Friday to Sunday of the race weekend – providing the 'EKN Trackside Live' broadcast. Live play-by-play action, live timing and all the information you need to follow the action in Texas for the SpringNationals. Follow updates at the Official Discussion Thread, Facebook, Twitter, and Instagram.
EKN, the official media partner of Superkarts! USA, is set to provide a three-day preview program leading up to the SKUSA Pro Tour SpringNationals highlighting each of the eight classes. Below begins the series with TaG Junior, S5 Junior, and TaG Cadet.
---
Rolison Performance Group TaG Junior
The graduation of a number of contenders from 2013 in the TaG Junior category has opened up the division for the upcoming season. The entry list is a true west versus east battle as some of the top Junior drivers in the country will do battle in Dallas.
Representing the west is third year Junior driver Christian Brooks. The Nash Motorsportz/Tony Kart driver is the current point leader in the California ProKart Challenge division in both TaG Junior and S5 Junior. He's already gained four wins in six races there, along with three wins during the winter at the Challenge of the Americas program to open up the season. Brooks dominated last weekend in Texas, and primed for podium runs at the SpringNats. Kyle Wick and Sting Ray Robb were among the challengers this winter, both looking for success in their Pro Tour TaG Junior debuts. Robb (Tony Kart) was among the TaG Cadet championship leaders last year, but elected to run TaG Junior at the SuperNationals – qualifying for the Super Sunday main event. Wick (Rolison Performance Group/Kosmic) also competed at the SuperNationals, and is set to make his SpringNationals debut in TaG Junior.
The East is carrying some heavy ammo in the likes of Gangi, Malukas and Holden – all into their first full season as a Junior level driver. Anthony Gangi Jr. (GT7 Motorsports/Tony Kart) is among the most decorated Cadet drivers in recent years, earning the 2012 SuperNationals victory among many other achievements. He moved to the Junior ranks midway through the season with mixed results. Now focused on his progression, Gangi earned his first major victory recently at the USPKS opener in Mooresville. David Malukas stood on the podium twice that weekend, taking home $1,000 for his efforts. The Top Kart USA pilot won the inaugural Leopard Junior feature, adding a Yamaha win the following day. His teammate Zach Holden is another young driver making his mark early. Running Yamaha all last season, earning a USPKS championship, the Indiana driver is gunning for more stepping up to TaG Junior.
A couple wildcards include Texas drivers Nicholas Brueckner (MRP Motorsport/Birel) and Max Hewitt (Nash Motorsportz/Tony Kart). Each has numerous laps and wins at the Dallas Karting Complex, both graduating from the Cadet division in 2014. Other TaG Junior rookies include Neil Verhagen (KartSport North America/Arrow), Czech driver Petr Ptacek Jr. (Praga North America) – another winner this past weekend at Texas PKC, 2012 and 2013 Pro Tour TaG Cadet champions Hunter Kelly (Leading Edge Motorsports/Praga) and Chase Farley (Snow Racing/Energy), along with Canadian Roman DeAngelis (Koene USA/Tony Kart).
TaG Junior Provisional Entry List
[table]
No.,Driver,Team,Chassis,City,State,Country,Age
55a,Luiz Branquinho,Italian Motors USA / Italkart USA,Italkart,Sumas,WA,BRA,14
34c,Christian Brooks,Nash Motorsportz,Tony Kart,Santa Clarita,CA,USA,13
74t,Nick Brueckner,MRP Motorsport,Birel,Hockley,TX,USA,12
219t,Parker Chase,Chase Racing,CRG,New Braunfels,TX,USA,13
47r,Roman DeAngelis,Koene USA,Tony Kart,Belle River,ON,CAN,13
29c,Vincent DePalma,Team VemmeKart / Extreme Karting,Vemme,Glendale,AZ,USA,13
15y,Colby DuBato,PKS Kart Supplies,Top Kart,Madera,CA,USA,14
201y,Chase Farley,Snow Racing,Energy,Walnut Creek,CA,USA,13
07n,Anthony Gangi Jr.,GT7 Motorsports,Tony Kart,Brookville,NY,USA,12
422t,Max Hewitt,Nash Motorsportz,Tony Kart,Houston,TX,USA,13
222j,Zach Holden,Top Kart USA / Grand Products,Top Kart,Greenfield,IN,USA,13
103y,Hunter Kelly,Leading Edge Motorsports,Praga,Elk Grove,CA,USA,12
81c,Justice Lepe,Nash Motorsportz,Tony Kart,Bonita,CA,USA,13
66t,Ryan C. Lewis,Iron Rock Motorsports,Tony Kart,Cedar Park,TX,USA,12
79j,David Malukas,Top Kart USA / Grand Products,Top Kart,Chicago Ridge,IL,USA,12
213y,Blake Milton,Snow Racing,Energy,Rancho Murieta,CA,USA,13
9a,Petr Ptacek Jr.,Praga North America,Praga,Hollywood,FL,CZE,11
95d,David Rafailov,Italian Motors USA / Italkart USA,Italkart,Aurora,CA,USA,12
316z,Sting Ray Robb,CRG West,Tony Kart,Ontario,OR,USA,12
442y,Callum Smith,Warrigal Motorsports,Kosmic,Wilton,CA,AUS,14
91s,Neil Verhagen,KartSport North America,Arrow,Mooresville,NC,USA,13
14d,Angus Watkins,Karting Coach,Arrow,Boulder,CO,GBR,15
9z,Kyle Wick,Rolison Performance Group,Kosmic,Auburn,WA,USA,14
[/table]
---
SwedeTech Racing Engines S5 Junior Stock Moto
Last year's S5 field welcomed back all three SKUSA plate holders, which was unique into the fourth year of the Pro Tour and the existence of the category. This year, most of the championship contenders have graduated up the SKUSA Stock Moto ladder system to the S2 Semi-Pro division. That has opened up the door for some new names to shine in the spotlight.
Two drivers return after campaigning last year's S5 division, finishing out the year in the top-10 of the standings, to lead as the early contenders heading into 2014. Mexican driver Raul Guzman was a podium finisher at three of the four main events to begin 2013. The GP Texas USA driver was fourth in the standings after missing the SuperNationals. Jesse Woodyard earned four wins in the Texas ProKart Challenge a year ago, finishing the year second in the standings. On the Pro Tour, the Champion Racing/Intrepid pilot finished fourth twice at the SummerNationals for his best results of the series.
The level of competition will increase a couple notches with the arrival of Christian Brooks and Austin Versteeg to the category. Brooks (Nash Motorsportz/Tony Kart) is making his Pro Tour debut in the S5 division, winning two of the first three features at the California ProKart Challenge. The question will be if doing double-duty (TaG Junior and S5) will effect his performances. Carter Williams was a double champion at the regional level, but could never translate that into success on the Pro Tour. Versteeg (Rolison Performance Group/Kosmic) was a championship contender in TaG Junior last year, earning a win at the SummerNationals. This year, he will make his debut in the S5 division to take part in the first rung of the SKUSA Stock Moto ladder system. He opened 2014 with wins at the Can-Am ProKart Challenge 'warm-up' event this past weekend.
Another driver going double duty includes Max Hewitt (Nash Motorsportz/Tony Kart), making his S5 debut as well. Keep your eye on Mathias Ramirez as the Florida driver is jumping in the Ocala Gran Prix/Tony Kart entry that won the SuperNationals in November, driven by Kyle Kirkwood.
S5 Junior Provisional Entry List
[table]
No.,Driver,Team,Chassis,City,State,Country,Age
44r,Sara Brinkac,Team VemmeKart / Checkered Flag Racing,Vemme,Burnaby,BC,CAN,15
34c,Christian Brooks,Nash Motorsportz,Tony Kart,Santa Clarita,CA,USA,13
29t,Pierce Dawlett,Texas Karts,CRG,Austin,TX,USA,13
00t,Trenton Estep,Texas Karts,Intrepid,San Antonio,TX,USA,14
271p,Luis Forteza,PSL Karting,CRG,Dorado,PR,PRI,14
55t,Harry Gottsacker,Champion Racing,Intrepid,San Antonio,TX,USA,14
7m,Raul Guzman,GP Texas USA,GP,Guadalajara,Jalisco,MEX,14
22t,Max Hewitt,Nash Motorsportz,Tony Kart,Houston,TX,USA,13
168t,Jacob Loomis,CRG-USA,CRG,Corinth,TX,USA,14
151f,Mathias Ramirez,Ocala Gran Prix,Tony Kart,Ocala,FL,USA,12
58d,Evan Roshak,CRG-USA,CRG,Arvada,CO,USA,14
77u,Austin Versteeg,Rolison Performance Group,Kosmic,Sandy,UT,USA,14
88t,Hannah Williams,CRG-USA / Core Karting,CRG,Denton,TX,USA,15
2o,Jesse Woodyard,Champion Racing,Intrepid,McLoud,OK,USA,15
4t,Andretta Young,3G Kart Racing / Team Burger King,Birel,Katy,TX,USA,14
[/table]
---
Black Flag Racing Products TaG Cadet
The largest category, and something we are continually seeing across the country, is the TaG Cadet division. In 2013, 102 drivers took part in the three Pro Tour events with an event-high 43 set for battle in Dallas. The top contenders from last year's championship chase have all moved up to the Junior ranks, leaving the spot open as we begin the 2014 title run.
Aside from 2013 champion Chase Farley, Dylan Tavella was the only double winner on the season. The GT7 Motorsports driver scored both victories at the SummerNationals in Colorado after missing the SpringNats. He was recently crowned the Challenge champion and scored two Mini Rok wins at the USPKS opener. The hot hand is Tavella. Other drivers with solid starts to 2014 are Trey Brown and Jak Crawford. Brown (Iron Rock Motorsports/Tony Kart) is three for three in California ProKart Challenge main events. The Californian will make his first SpringNats debut in Dallas. Crawford (Nash Motorsportz/Birel) went six for six in feature races at this year's Challenge of the Americas program. Making the move to TaG Cadet is not unfamiliar grounds for the Texan, as he placed third in the Texas ProKart Challenge championship a year ago.
A total of four sets of brothers will be competing in the TaG Cadet division, with two sets among the contenders entering the weekend. Michael and Nicholas d'Orlando were the top drivers at the Florida Winter Tour this winter. The Koene USA duo was the class of the field throughout the season, with Michael earning the championship off four wins and two runner-up finishes. Nicholas finished third in the standings, placing on the podium twice in six races. He just scored his first TaG Cadet win of the season, placing first in the Texas PKC Round Two feature. Jagger and Jace Jones are third generation drivers, grandchildren of Indianapolis 500 winner Parnelli Jones and children to racing driver P.J. Jones. The Pure Karting/Tony Kart pilots are regulars on the Pro Tour, finishing inside the top-20 last year after both had a tough finish to the year at the SuperNationals. With another year under their belt, expect both to be among the contenders. Local drivers Branyon and Cash Tiner along with Matt and Logan Stretch round out the four pairs of brother drivers.
A quarter of the entries in the category call Texas home, so it is certain to see someone from the Lone Star State claiming a spot on the podium over the weekend. A number of other drivers show promise in competing well in Dallas, with those drivers expected to shine once practice begins on Friday. David Morales (Benik) swept the opening round at the Texas PKC event last weekend, and was on the podium in day two. His name grew stock with that performance, as did many others that will battle this weekend.
TaG Cadet Provisional Entry List
[table]
No.,Driver,Team,Chassis,City,State,Country,Age
77n,Giovanni Bromante,Top Kart USA / Grand Products,Top Kart,Glenwood Landing,NY,USA,10
28b,Trey Brown,Iron Rock Motorsports,Tony Kart,Lemon Grove,CA,USA,11
12y,Oliver Calvo,PKS Kart Supplies,Top Kart,Stockton,CA,USA,10
333f,Derek Camenate,Team Benik,Benik,Hialeah,FL,USA,10
3t,Jak Crawford,Nash Motorsportz,Birel,The Woodlands,TX,USA,12
130f,Lachlan DeFrancesco,,Top Kart,Fort Lauderdale,FL,USA,11
108c,Jace Denmark-Gessel,Pure Karting,Tony Kart,Phoenix,AZ,USA,9
53t,Riley Dickinson,Orsolon Racing,Tony Kart,New Braunfels,TX,USA,11
57n,Michael d'Orlando,Koene USA,Tony Kart,Hartsdale,NY,USA,12
95n,Nicholas d'Orlando,Koene USA,Tony Kart,Hartsdale,NY,USA,11
81u,Payton Durrant,MRP Motorsport,Birel,Lehi,UT,USA,11
981x,Myles Farhan,Ryan Perry Motorsports,Tony Kart,Upland,CA,USA,11
23q,Lance Fenderson,,Top Kart,Rye,NH,USA,12
80n,Kaylen Frederick,Pilot ONE Racing,Tony Kart,Potomac,MD,USA,11
34d,Hannah Greenemeier,KartSport North America,Arrow,Parker,CO,USA,11
59t,Adam Jackson,Dallas Karting Complex / SodiKart USA,SodiKart,Allen,TX,USA,10
18t,Alejandro Jaramillo,Dallas Karting Complex / SodiKart USA,SodiKart,Danville,TX,USA,11
28m,Esteban Jimenez,CRG-USA,CRG,San Diego,CA,MEX,7
198x,Jace Jones,Pure Karting,Tony Kart,Scottsdale,AZ,USA,9
98x,Jagger Jones,Pure Karting,Tony Kart,Scottsdale,AZ,USA,11
51r,Marco Kacic,CRG West,CRG,West Kelowna,BC,CAN,11
58o,Hayden LeFever,Dallas Karting Complex / SodiKart USA,SodiKart,Lindsay,OK,USA,8
24t,Cade McKee,Iron Rock Motorsports,Tony Kart,Hockley,TX,USA,11
50y,Tomas Mejia,PKS Kart Supplies,Top Kart,Danville,CA,USA,10
21t,Yusuf Moola,3G Kart Racing / Team Burger King,Birel,Houston,TX,UAE,10
107f,David Morales,Euro Motorsport,Benik,Fort Lauderdale,FL,USA,10
96t,Lawson Nagel,Dallas Karting Complex / SodiKart USA,FA Kart,Azle,TX,USA,12
155r,Jordan Novota,Team VemmeKart / Extreme Karting,Vemme,Maple Ridge,BC,CAN,10
9t,Tyler Orum,,Tony Kart,Boerne,TX,USA,12
26g,Sam Paley,North Star Karting,FA Kart,Hebron,KY,USA,11
111c,Colin Queen,Ryan Perry Motorsports,Tony Kart,Coto De Caza,CA,USA,9
88y,Dylan Roberts,Nash Motorsportz,Tony Kart,Fairfield,CA,USA,12
157a,Sebastian Rodriguez,Orsolon Racing,Tony Kart,Bogota,,COL,11
97t,Logan Stretch,,Birel,Arlington,TX,USA,10
89t,Matt Stretch,,Birel,Arlington,TX,USA,10
14n,Dylan Tavella,GT7 Motorsports,CRG,Massapequa,NY,USA,12
69t,Branyon Tiner,Tiner Motorsports,OTK,Lake Jackson,TX,USA,9
99t,Cash Tiner,Tiner Motorsports,OTK,Lake Jackson,TX,USA,11
497t,Max Waithman,Iron Rock Motorsports,Tony Kart,Katy,TX,USA,10
13x,Noah Warren,Pure Karting,Tony Kart,Scottsdale,AZ,USA,7
48t,Brandin Warwas,Iron Rock Motorsports,CRG,Cypress,TX,USA,11
73c,Anthony Willis,Nash Motorsportz,DR,Peoria,AZ,USA,10
44x,Dante Yu,Buddy Rice Karting,Tony Kart,Temple City,CA,USA,12
[/table]