Championship Titles Near End with First Day of Racing in Orlando for Florida Winter Tour
Schiavo adds to win total with double victory with Neri, Forteza, and DeMelo bag first of series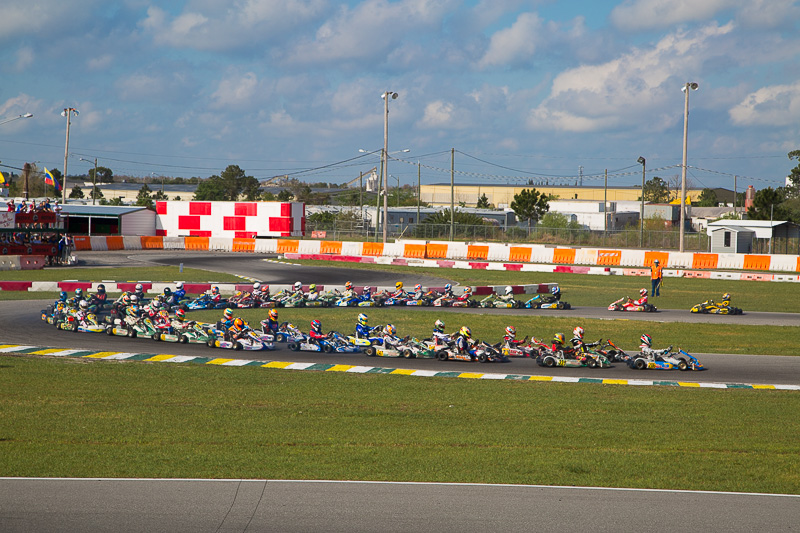 (Photo: Studio52.com)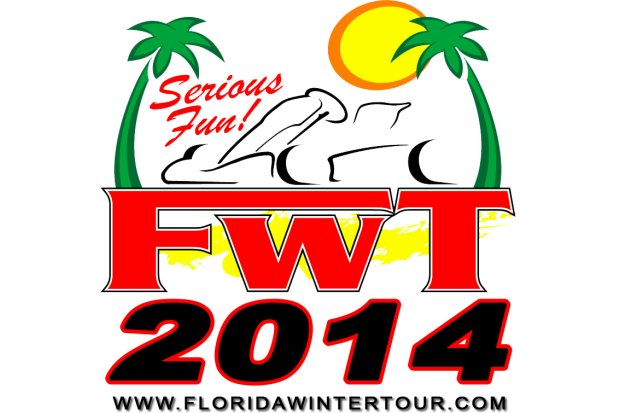 It was another "Chamber-of-Commerce" day of weather as the International Rotax MAX Challenge competitors in Formula Kart Production's Florida Winter Tour, presented by Ocala Gran Prix, headed into battle for their fifth of six rounds in 2014. With seven championship categories set to run the order of business was an early morning warm up, followed by the pre-finals then the finals later in the day.
After Friday's qualification run the grids were all set as the competitors looked for success on the racetrack. For some, success was solidifying their position in the points standing. For others, they were looking to end the 2014 on a high note with a good result.
F-TEAM FEATURE
Ken Johnson has been the Florida Winter Tour's Media Coordinator since 2011. His main responsibilities during race weekends are to capture the official photos of the FWT, as well as prepare the photos and race reports for electronic and print production editing. His main duties between race weekends at the Florida Winter Tour involve getting out and playing many of the beautiful golf courses that Florida is famous for.
Ken developed a love for motorsports early in life and spent many summers in his hometown of Kansas City mowing lawns so he could buy his first racing kart. When he was 15 he saw an ad in the newspaper that read, "Poor Man's F1." The ad was for a blue Hornet LP2 laydown road racing kart with a Yamaha KT100 engine. It costs $1500, roughly everything he had saved up from his lawn cutting. "Once I got into laydowns I was hooked." he says. "I loved the challenge of driving them. But moreover, I grew to love designing and building my own karts."  Although he no longer competes in racing, he still has a love for the sport and its participants.
When at home in Dallas, Texas, Ken devotes a lot of time to his Photo and Video business, Studio 52. Although he has had many clients in the racing industry, he is best known in karting for his work covering the Rotax MAX Challenge Grand Finals. For the last 12 years he has attended every Grand Finals. In fact, it was while working for BRP-Powertrain (Rotax) that he met Formula Kart Production's Bill Wright.
As he puts it, "I got to know Bill while interviewing him in Italy about the Tire Changing Championship he was hosting. I didn't know much about the FWT other than they had an incredible Micro and Mini program and they were bringing some really talented drivers to the Grand Finals. Over the next few years we got to know each other better and realized that we had very similar views on what made a racing program successful. It truly is an honor to work for the Florida Winter Tour I really enjoy spending time with my 'Fun-Team' family." 
FEATURED DRIVER
Eight-year-old "Jetpak" Jak Crawford hails from The Woodlands, Texas and has been racing karts since he was five. He says he got the bug from his dad, who used to race. A kid kart purchase and some time spent driving around in a deserted parking lot made it obvious Jak was born to be a racer. So far this year Jak has swept all four Micro MAX races he has competed in at the Rotax MAX Challenge of the America's on the West Coast. Not everyone can duplicate that level of success after stepping up to the Florida Winter Tour. But, as of this weekend, Jak has won his first pole position in the FWT so that's a good sign for the future.
In addition to karting Jak has also raced quarter midgets, but says he prefers karting because there are more passing opportunities on a kart track. When asked what his favorite track is he says he really likes Oklahoma Motorsports Complex in Norman, Oklahoma. He says this is primarily because that's where he got his first win, but also because the infield has a long banked section. In fact, Jak says he loves racing on any part of a track that is banked and that, hopefully he'll have a career as a NASCAR driver like his favorite driver, Joey Logano.
When discussing NASCAR Jak's eyes light up as he talks about some of the races he's been able to attend in Charlotte, Dallas/Ft. Worth and, especially, the night race in Bristol. In addition to karting, Jak also enjoys more traditional sports like baseball and is apparently quite a good video game player. Jak also sees to it that he gets his schoolwork in and says his favorite subjects are reading, math and science. Jak was quick to point out that his favorite teacher is Brittany Doyle, who travels with MRP Motorsports to help tutor the kids in their schoolwork while at the track. At eight-years-old, Jak has a lot going on. We have a feeling it's going to be fun watching him progress over the next few years and possibly become a Florida Winter Tour champion.
SH Racing sponsored Rotax DD2
the DD2 drivers took to the track first in the racing queue and the big dogs of Rotax competition were laying down some impressively fast laps. DD2 Koene USA P1 Pole Award winner Nick Neri (USA) led the way in the pre-final to take the win over his Ocala Gran Prix teammate Jonathan Kotyk (USA). In the DD2 final Nick again grabbed the early lead as he was looking to solidify his points lead. Big news in this race involved Nick's main championship contender, Daniel Formal (USA), who suffered a starter failure in the grid and never made it onto the track. It was a heartbreaking setback for the tight knit Formal family. But should fortunes be reversed tomorrow, Daniel could still take the DD2 championship.
Joining Nick on the DD2 podium were three-time Rotax World Champion Ben Cooper (UK/Canada), back in a DD2 for the first time this year, and Jonathan Kotyk, who continues to impress after moving up to the DD2 class.
Decal Zone sponsored DD2 Masters
DD2 Masters top qualifier Luis Schiavo (Venezuela) took the pre-final win by two seconds over Andreas Fonseca (Costa Rica). In the final, Schiavo put in another stellar performance to not only win DD2 Masters by over eight seconds, but to be giving some of the quicker DD2s a good run for their money, too.
Behind Schiavo in the final were Derek Wang (USA) and Andreas Fonseca in second and third to round out the podium. With his win today, Luis is secure in his bid to be the 2014 FWT DD2 Masters champion and earn his invitation to this year's Grand Finals. With the form Luis has shown in this year's FWT, we could be looking at our sixth Grand Finals champion from the Florida Winter Tour.
PSL Karting sponsored Rotax Junior
The Junior MAX pre-final would be led to the start by pole sitter Patricio O'Ward (Mexico). In what seemed like one of the slowest formation laps ever it was ironic that Patricio was actually over the speed limit when approaching the starting line.  The resulting penalty knocked him back a few positions but he surely had the speed to make up for it in the final. O'Ward's penalty not-withstanding, nothing should take away from the excellent drive by Pedro Cardoso (Brazil) who has really driven well this weekend and earned the win.
In the Junior MAX final Pedro got the jump at the start and sped through the first few laps with Austin Garrison (USA) right on his tail. Early in the race the third place runner, Luis Forteza (Puerto Rico), had become the second place runner after getting past Garrison. Shortly after this, an issue for Cardoso dropped him back a few spots leaving Forteza and Garrison to fight for the lead.
These two would battle all the way to the end. On the last lap, Garrison made a move for the lead at the end of the backstretch but Forteza thwarted his attempt and took the win by just 0.067 seconds. Joining these two on the podium was Gianfranco Mazzaferro (Canada) who shadowed the lead two the entire race and came up just a tenth of a second short in a thrilling Junior final finish.
Rolison Performance Group sponsored MAX Masters
The MAX Masters class saw another dominating performance today by the ultra-fast Luis Schiavo, who would turn the triple play by sweeping pole, pre-final and the final. Sometimes when someone comes into a program and has such domination of a class some may write it off as a fluke. But give Luis Schiavo his due. He and his team came to this year's Florida Winter Tour prepared to win and that's just what they've done.
Schiavo's win aside, the drive of the race, possibly the drive of the day, was put in by Scott Falcone (USA). After getting knocked off the track and into the barriers on the warm up lap, Scott soldiered through the final with a bent axle to come in third. Splitting the podium between Schiavio and Falcone was Scott Roberts (USA) who was making the most of his first Florida Winter Tour MAX Masters appearance this year.
AM Engines sponsored Mini MAX
Matthew Latifi (Canada) would lead the strong field of Mini MAX drivers to the start in their pre-final race. Although he would lead early, in the end it was Giancarlo Petecof (Brazil) who would take the win over Emiliano Richards (Mexico) and Lochie Hughes (Australia).
Petecof and Hughes would take the lead in the final ahead of Alex Verhagen (USA) and Devin Boutot (USA). By lap three Emiliano Richards was on the move making up for a poor start. First in his sights were Boutot and Verhagen, before setting off for Petecof and Hughes. Richards would indeed make it up to the Australian but by that point Gianluca Petecof was long gone in a lead he would never give up.
At the finish Petecof would take the win for Brazil while Lochie Hughes and Emiliano Richards would fill out the podium for Australia and Mexico respectively in a truly international podium celebration.
GT7 Motorsports sponsored Micro MAX
Micro MAX is another one of those classes that's just plain fun to watch. These kids, the youngest in Rotax MAX competition, are fearless competitors with an enthusiasm for the sport that, if ever bottled, could be sold for a fortune. In the Micro MAX pre-final Jeremy Fairbairn (USA) turned his top qualifying spot into a win. It wasn't easy though as he really had his hands fill with Reece Gold (USA) and Matheus Morgatto.
The start of the Micro MAX final saw Fairbairn, Morgatto and Gold again in the lead, closely shadowed by Sebastian Montoya (Colombia). What followed was an amazing battle between these four talented youngsters. For the next 14 laps the lead would change hands multiple times. In the end Morgatto would pull off a stunning last lap pass for the win over Gold while Montoya would finish off his best FWT performance to date.
After all the dust had settled, the top three were Morgatto, Montoya and Gold with Fairbairn in fourth. Jak Crawford (USA) would complete a great run from the back of the pack, after suffering a bent axle in the pre-final, to fifth. His great run earned the Texan a set of tires from the MAXSpeed Group for being the races "Hard Charger".
MRP Motorsport sponsored Rotax Senior
Capping off a fantastic day of action here at the OrlandoKartCenter were the ferocious Rotax Senior competitors. Heading up the pre-final after earning the Koene USA P1 Pole Award in Friday's qualifying session was 2009 Senior MAX World Champion Luke Varley (UK). Although Luke held the point to start the race, in the end there was no denying Zach Claman DeMelo from taking the win as he was gallantly holding onto his shot at winning the Senior MAX title.
In the final DeMelo once again grabbed the lead. Louie Pagano (USA) and Varley made the big moves, immediately jumping from fifth and seventh to second and third, respectively. Senior MAX point's leader Oliver Askew (USA) took the start a bit conservative knowing he had a shot at wrapping up the title today. As a consequence he found himself back in fifth position and needing to make up ground.
Through the balance of the race Askew and his OGP teammate Kyle Kirkwood (USA) worked together to get themselves back on the podium in second and third respectively. But, on this day, no one had anything for DeMelo as the reigning Canadian National Champion would win by almost two seconds.
In addition to the standard podium proceedings, we had an extra presentation as Richard Boisclair of the MAXSpeed Group / GoRotax presented every "Hard Charger" award winner with a new set of Mojo tires. The GoRotax Hard Charger Award, presented by MAXSpeed Group, is presented to the driver in each race group who passed the most competitors during the finals. It is a very generous award and over the course of the weekend Richard will be giving away 12 sets of Mojo tires.
Saturday's Hard Charger award winners were Gavin Reichelt (USA) in DD2, Anthony Gangi jr. (USA) in Junior MAX, Raul Costa (USA) in MAX Masters, David Morales (USA) in Mini MAX, Jak Crawford in Micro MAX, and Joao Vieira (Brazil) in Senior MAX.
Another new participant at the podium celebrations was Boggy Bear, a stuffed teddy bear from Camp Boggy Creek, the official charity of the FWT. Boggy Bears are hand-crafted stuffed bears given to the young kids who attend Camp Boggy Creek. Not surprisingly, those in attendance fell in love with little" Boggy" bear, and with each new podium presentation calls of "Bring out the bear" could be heard from the assembled crowd.
As the day came to a close, the realization the we only have one day left in the 2014 Florida Winter Tour became evident . But, there's still plenty of racing to go as tomorrow is Championship Sunday, and promises to bring us some "off-the-hook" action. In addition to all the race winners and championships, tomorrow is a special day in the hearts of the Florida Winter Tour competitors. During the lunch break Formula Kart Production's Bill Wright will be awarding the 2014 Dan Wheldon/FWT Karting Ambassador Award to one very deserving recipient. Join us in honoring the memory of Dan Wheldon and recognizing the 2014 FWT Karting Ambassador.
If you can't be here in person, make sure you log on to the Florida Winter Tour's live steaming broadcast, FWT LIVE! to catch the awards presentation and all the fantastic on-track action. And be sure to send shout outs to your favorite drivers and teams by emailing the FWT LIVE! announcers at live@FloridaWinterTour.com.