EKN Trackside: Rotax Challenge of the Americas – PKRA Preview
Halfway point for winter International Rotax Max Challenge series in return to Arizona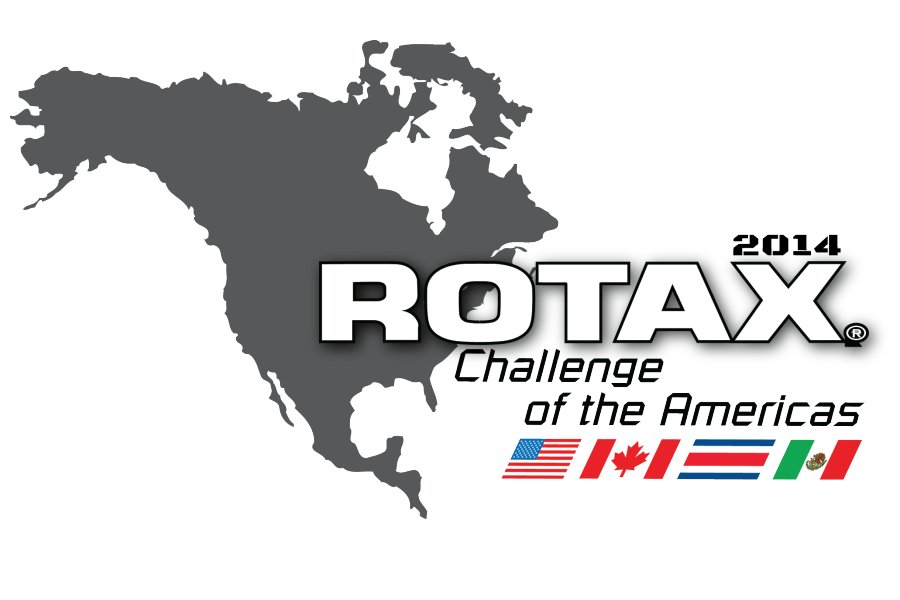 Just over 100 of the elite Rotax Max Challenge drivers from North America will converge on the Phoenix Kart Racing Association facility for two rounds of championship racing, all driving for a piece of history in the Rotax Challenge of the Americas program. Into its seventh year, the premier winter karting series on the left coast visits the Glendale, Arizona facility for the sixth straight year.
The weekend is forecasted to be perfect for racing, with temperatures racing the 80 degree mark, with just a bit of cloud cover. At 3/4-mile long, the 13-turn circuit provides speed along with challenge. The long back straight gives a chance for the Rotax engines to stretch their legs, while the esses and unique corners put an emphasis on chassis set-up.
Four tickets are on the line this season, with the champions from Senior, DD2, DD2 Masters and Junior Max all earning a spot at the 2014 Rotax Grand Finals. Those in Masters Max, Mini Max and Micro Max, are fighting for a paid entry to the US Rotax Grand Nationals.
For those unable to attend, eKartingNews.com has partnered with FTK Promotions and the Challenge of the Americas for a third straight year to provide exclusive coverage for all three weekends of the series. The popular EKN Trackside Live program provides live audio coverage of all the action, streamed to your laptop, computer, or mobile device. Rob Howden, the voice of the Challenge, gives play-by-play call of the action as it happens, with live timing provided by Race-Monitor, viewable all at one page – eKartingNews.com/live. Daily reports, forum and social media updates, along with photos can be accessed through the EKN Event Page.
Holeshot Drive Systems Senior Max
The 2014 season has begun just where we left off last year, as the Senior Max drivers are chasing Phillip Arscott (Rolison Performance Group/Kosmic) in the championship chase. The former US Rotax Grand Nationals winner and defending Challenge champion started the year out with two runner-up finishes in Tucson to hold the point lead going into Phoenix. Last year, Arscott used a 1-2 finish on the weekend to propel him into the title chase for the series finale, leading to the championship with another 1-2 finish in CalSpeed. The margin is tight at the top however as they opening two rounds had no clear-cut stud throughout the weekend with two different race winners. Round two victor Jake Craig (2 Wild Karting/Tony Kart) sits second in the standings, just one point back after two podium finishes of his own. Former series champ Phil DeLaO started out the opening weekend with victory, but missed out on the podium on day two. The KartSport North America/Arrow driver however is just 10 points out of first. Completing the top four is Matt Johnson (Black Flag Racing/ART), placing third on Sunday after leading on the final lap. The veteran is sure to be motivated to redeem himself from the opening weekend events.
eKartingNews.com TaG Driver Rankings #1 driver Louie Pagano was fast throughout the weekend in his Dallas Karting Complex/Sodi Kart. The top qualifier on Sunday, contact took the former Junior series champion out of contention for a win. The weekend will mark the second outing for Senior rookies Jim McKinney, Luke Selliken and Blaine Rocha. McKinney (Ruthless Motorsports/Tony Kart) calls the PKRA circuit home, and should have no trouble returning toward the front of the field like he did in his rookie Senior debut last month. Rolison Performance Group/Kosmic driver Selliken and Rocha came up to speed with the Senior rides on Sunday, battling for podium positions. Selliken has performed well at PKRA, with three wins in two years at the Challenge, while Rocha scored a win last year in Junior as well. The wildcard will be 2010 US Rotax Grand Nationals winner Stepanova Nekeel (Ryan Perry Motorsports/OTK), making his first series start since 2011 when he was vice champion. That year, the Seattle driver won the opening two rounds – which were held at the PKRA facility.
Senior Max Provisional Entry List
[table]
No,Driver,Team,Chassis,City,State
300,Joe Criscione,Black Flag Racing,FA,West Linn,OR
303,Luke Selliken,Rolison Performance Group,Kosmic,Portland ,OR
314,Carlos Calderon,Team Aluminos,Aluminos,San Jose,CA
315,Andrew Wiener,ART GP America,ART,Santa Ana,CA
317,Matt Johnson,Black Flag Racing,ART,Las Vegas,NV
318,Marco Eakins,Black Flag Racing,ART,Beaverton,OR
319,Jim McKinney,Ruthless Motorsports,Tony Kart,Chandler,AZ
321,Blaine Rocha,Rolison Performance Group,Kosmic,Oakdale,CA
322,Stepanova Nekeel,Ryan Perry Motorsports,OTK,Seattle ,WA
325,Louie Pagano,Dallas Karting Complex,Sodi,Camarillo,CA
327,Joey Wimsett,CRG-USA,CRG,Beavercreek,OR
331,Bailey Murphy,,Arrow,Phoenix ,AZ
335,Noel Dowler,Ryan Perry Motorsports,OTK,Sherwood Park,AB
340,Jaden Conwright,Cambrian Go Karts,Birel,Newark,CA
341,Sean Conyers,,Intrepid,Phoenix,AZ
342,Jake Craig,2 Wild Karting,Tony Kart,Mission Viejo,CA
354,Mason Marotta,Ryan Perry Motorsports,FA,Bakersfield,CA
357,Phillip Arscott,Rolison Performance Group,Kosmic,Portland,OR
369,McKay Snow,Rolison Performance Group,Kosmic,Pleasant Grove,UT
371,Ryon Beachner,2 Wild Karting,Tony Kart,Lake Forest,CA
377,Phil DeLaO,KartSport North America,FA Kart,Peoria,AZ
382,Carlee Taylor,2 Wild Karting,Tony Kart,Yucaipa,CA
392,Christopher Patterson,,Tony Kart,Calgary,AB
398,Matthew Moniz,BBR Karting,Kosmic,Vancouver,BC
[/table]
Snow Racing Engines/Energy Corse North America DD2
One of the most exciting races to watch either day was in the DD2 category. After two years of watching two-time champ Fritz Leesmann walk away with victories, the finishes in Tucson came down to the wire. Each day however DD2 rookie Gavin Reichelt (PSL Karting/CRG) scored the race win. The fight all weekend included much of the field, as CRG-USA teammates Sabré Cook and Andy Lee scored the runner-up finishes. It's the third CRG-USA driver Christian Schureman that holds the second spot in the standing, back by 34 markers, after placing third in both main events. If any of the three are able to keep Reichelt off the top spot of the podium all weekend, the championship chase will heat up even more heading to the season finale in Sonoma. The addition of NorCal driver Bronson Eggert (Cambrian Go Karts/Birel), Phoenix pilot Bailey Murphy (Tony Kart), and Phoenix transplant Christian Bird (CRG West/CRG) could shake things up as well.
CRG-USA DD2 Masters
Defending series champion Alan Rudolph made no doubt about his intention to repeat as the DD2 Masters king at the Challenge in an effort to earn his third straight trip to the Rotax Grand Finals. The CRG-USA driver swept the opening weekend in Tucson, extending his win streak to seven after coming up short in the opener a year ago. A bounty was established by the Challenge, putting up a free weekend of racing to anyone who could beat the veteran at his home track this weekend at PKRA. Unfortunately, no one stepped up to the plate to take on Rudolph, and it is certain the win streak will continue. Brent Harper continued to inch closer and closer to Rudolph's pace on the weekend, but could not get within striking distance. He will miss this weekend due to scheduling issues, leaving DD2 rookie Ben Johnston and Mike Urban – all racing under the CRG-USA tent, to round out the field.
Provisional DD2/DD2 Masters Entry List
[table]
No,Driver,Team,Chassis,City,State
406,Andy Lee,CRG-USA,CRG,Chandler,AZ
413,Bailey Murphy,,Tony Kart,Phoenix,AZ
424,Christian Bird,CRG West,CRG,Grand Junction,CO
431,Sabre Cook,CRG-USA,CRG,Grand Junction,CO
478,Bronson Eggert,Cambrian Go Karts,Birel,Pleasnton,CA
482,Gavin Reichelt,PSL Karting,CRG,Rhinebeck,NY
522,Ben Johnston,CRG-USA,CRG,Salem,OR
525,Mike Urban,CRG-USA,CRG,Parker,CO
577,Alan Rudolph,CRG-USA,CRG,Gilbert,AZ
[/table]
Rolison Performance Group Junior Max
Last year's championship chase came down to two drivers. This season could play out that way, but a host of hungry young drivers may force this title to be decided on the final day. Just one point separates the two feature winners from Tucson – Christian Brooks and Austin Versteeg. Brooks (Nash Motorsportz/Tony Kart) was awarded the win on Sunday following some contact, dropping provisional winner Kyle Wick down to third in the order. Versteeg (Rolison Performance Group/Kosmic) was among the leaders then, as the Saturday winner fell to fourth, and trails Brooks by one point heading into PKRA. Each stood on the podium last year, both looking for their first Challenge wins at the facility.
Three others stood on the podium at the opening rounds in Tucson. Phillippe Denes (ART GP America/ART) was runner-up to Versteeg on Saturday, recovering to a fifth on Sunday after getting dropped back to finish the weekend third in points, still in the chase. Wick (Rolison Performance Group/Kosmic) was quicker as the weekend went on, and was there for the provisional win on Sunday until officials took it away for a questionable call. The quickest driver in Tucson however was Junior rookie Sting Ray Robb (BBR Karting/Tony Kart). The 2013 Mini Max series champion was quickest all day Saturday, until a carb issue in tech ended his day with a disqualification. He bounced back the next day to score the fast time in qualifying, and fought for the runner-up position in the main event. While he has some climbing to do, sitting eighth in the standings, Robb is a projected contender this weekend.
Junior Max Provisional Entry List
[table]
No,Driver,Team,Chassis,City,State
200,Sting Ray Robb,BBR Karting,Tony Kart,Boise,ID
203,Max Fedler,Unser Racing,Kosmic,Denver,CO
209,Kyle Wick,Rolison Performance Group,Kosmic,Auburn,WA
211,Nicky Hays,,FA ,Huntington Beach,CA
212,Stevie Pugsley Jr.,Black Flag Racing,FA,Eagle Point,OR
213,Blake Milton,Snow Racing,Energy,Rancho Murieta,CA
216,Ryan Martin,Ryan Perry Motorsports,Tony Kart,Edmonton,AB
218,Walker Hess,,Tony Kart,Park City,UT
226,Jake Boyle,,CRG,Anthem,AZ
227,Matthew Taskinen,Ryan Perry Motorsports,Tony Kart,Leduc,AB
230,Dhyllan Skiba,Rolison Performance Group,Kosmic,Leesburg ,VA
231,Jeff Fulham,Rolison Performance Group,Kosmic,Winnipeg,MB
234,Christian Brooks,Nash Motorsportz,Tony Kart,Santa Clarita,CA
242,Corrie Hiatt,Cambrian Go Karts,RK,Englewood,CO
243,Garrett Gulenchyn,,Tony Kart,Hadashville,MB
253,Callum Smith,Snow Racing,Energy,Wilton,CA
274,Nick Brueckner,MRP Motorsport/Birel America,Birel,Hockley,TX
277,Austin Versteeg,Rolison Performance Group,Kosmic,Sandy,UT
278,Annie Breidinger,,Kosmic,Hillsborough,CA
279,David Rafailov,Rolison Performance Group,OTK,Aurora,CO
280,Toni Breidinger,,Kosmic,Hillsborough,CA
281,Justice Lepe,,Tony Kart,Bonita ,CA
284,Alec Faubion,,Kosmic,Scottsdale,AZ
291,Sara Houston,,CRG,Glendale,AZ
298,Phillippe Denes,ART GP America,ART,Carmel,CA
299,Kellen Ritter,BBR Karting,CRG,N. Vancouver ,BC
[/table]
Nash Motorsportz Masters Max
Two drivers shined during the Tucson weekend in Masters Max, with John Crow and defending champion Donald Durbin Jr. putting in stellar performances. Crow (Tony Kart) left Tucson with the point lead over Durbin, thanks to the five bonus points for qualifying on Sunday, but will be unable to compete in Phoenix due to scheduling conflicts. This leaves Durbin with the top spot in the standings with a sizable lead over second round podium finisher, Brian Phillipsen. The Tony Kart driver was among the quickest during Sunday's action, placing third. Series newcomer Kurt Fisher (Snow Racing/CRG) was among the fastest drivers all weekend, but ran into bad luck both days which forced him to come from the back to the front in both main events. Last year's Phoenix events saw some great racing that included Ken Maxfield (Arrow) and Justin Peck (Rolison Performance Group/Tony Kart). Maxfield was third in Saturday's action in Tucson, but suffered a mechanical issue Sunday while in contention. Peck wasn't able to match the pace of the leaders all weekend, and is looking to turn it around in Phoenix.
Masters Max Provisional Entry List
[table]
No,Driver,Team,Chassis,City,State
601,James Weaver,,CRG,Scottsdale,AZ
609,John Breidinger,,FA,San Francisco,CA
617,Jacob Zamora,Full Throttle Karting,Arrow,Manhattan Beach,CA
641,Larry Hayashigawa,Nash Motorsportz,Tony Kart,Downey,CA
649,Justin Peck,Rolison Performance Group,Tony Kart,Sandy,UT
654,Steve Wiener,ART GP America,ART,Santa Ana,CA
659,Brian Phillipsen,,Tony Kart,Huntington Beach,CA
662,Ken Maxfield,,Arrow,Murray,UT
671,Richard Hensley,Unser Racing,Kosmic,Erie,CO
676,Kurt Fisher,Snow Racing,CRG,Richland ,WA
679,Donald Durbin Jr. ,Cambrian Go Karts,Birel,Campbell,CA
685,James Dix,Cambrian Go Karts,Birel,Millbrae,CA
[/table]
BBR Karting Mini Max
At the end of the Challenge last year, Jacob Blue Hudson was coming up to speed with the faster Mini Max package. Now into his second season, the 2012 Micro Max champion is in position to battle for his second series title. Hudson (Black Flag Racing/Energy) was in another zip code during Saturday's action in Tucson, pulling away from the field. Sunday however, 2013 US Rotax Grand Nationals Micro Max winner Dylan Tavella (GT7 Motorsports/Tony Kart) was up to the challenge, scoring the feature win. Hudson ran second, and now holds a 22 point advantage in the standings over Tavella.
Trey Brown put in an impressive series debut, winning the fight for third both days. If the Iron Rock Motorsports driver is able to improve his pace in Phoenix, he could move himself close into the championship race. Mini Max rookie Payton Durrant (Birel) was quick throughout the Tucson weekend, but ran into trouble during both main events. A bounce-back in Phoenix is likely as he should be in podium contention.
Mini Max Provisional Entry List
[table]
No,Driver,Team,Chassis,City,State
106,Griffin Dowler,Ryan Perry Motorsports,Tony Kart,Sherwood Park,AB
108,Hannah Greenemeier,KartSport North America,Arrow,Parker,CO
110,Filip Niemkiewicz,AM Racing Karts West,AM Kart,Breckenridge,CO
111,Colin Queen,Ryan Perry Motorsports,Tony Kart,Coto De Caza,CA
114,Dylan Tavella,GT7 Motorsports,Tony Kart,Massapequa,NY
119,Conner Wick,Rolison Performance Group,Kosmic,Auburn,WA
121,Zoey Edenholm,BBR Karting,CRG,Scottsdale,AZ
127,Collin Mullan,Cambrian Go Karts,Birel,Danville,CA
128,Trey Brown,Iron Rock Motorsport,Tony Kart,Lemon Grove,CA
151,Marco Kacic,CRG West,CRG,West Kelowna,BC
153,Jacob Blue Hudson,Black Flag Racing,Energy,Keizer,OR
169,Cash Tiner,Motorsports Group/CRG West,Tony Kart,Angleton,TX
176,Everest Fedler,Unser Racing,Sodi,Denver,CO
181,Payton Durrant,Durrant Racing,Birel,Lehi ,UT
194,Sebastian Alvarez,CRG West ,CRG,,MEX
[/table]
Black Flag Racing Micro Max
It was a weekend of adversity for Jak Crawford (Birel), having to come from the back of the field to the front to earn both feature wins in Tucson. A disqualification in qualifying dropped him to the tail of the field, only to see the young driver back in the lead group by the end of the prefinal. A couple of wrecks dropped him down the order on Sunday, but Crawford kept digging and returned to the front of the field. Ethan Arndt (Tony Kart) and Sebastian Davis were the only drivers to stay within reach of Crawford, as they finished second and third respectively in both feature races. The battle continues into Phoenix, home Diego LaRoque (Birel) – who won the opening main event last year.
Micro Max Provisional Entry List
[table]
No,Driver,Team,Chassis,City,State
5,Cole Keith Cotham,,CRG,Corona,CA
14,Joshua Pierson,Rolison Performance Group,OTK,Wilsonville,OR
19,Cooper Becklin,Black Flag Racing,FA,Medford,OR
25,Max Wright,Black Flag Racing,Energy,Damascus,OR
28,Esteban Jimenez,CRG-USA,CRG,Mexico City,MEX
49,Ethan Arndt,Iron Rock Motorsport,Tony Kart,Leander,TX
51,Tyler Ruth,,KGB,Glendale,AZ
52,Jak Crawford,Nash Motorsportz,Birel,The Woodlands,TX
54,Tait Blum,Rolison Performance Group,Tony Kart,St. Helena,CA
56,Diego LaRoque,Durrant Racing,Birel,Laveen,AZ
69,Branyon Tiner,Motorsports Group/CRG West,Tony Kart,Angleton,TX
78,Paden Hall,,CRG,Tucson,AZ
88,Austin Torgerson,Ruthless Motorsports,KGB,Central Point,OR
02,Ashton Torgerson,Ruthless Motorsports,KGB,Central Point,OR
03,Palmer Mahoney,Unser Racing,Kosmic,Longmont,CO
[/table]