Paddock Insider: 2013 Rotax Max Challenge Grand Finals – Saturday
Championship Saturday here at NOLA as Rotax world champions to be decided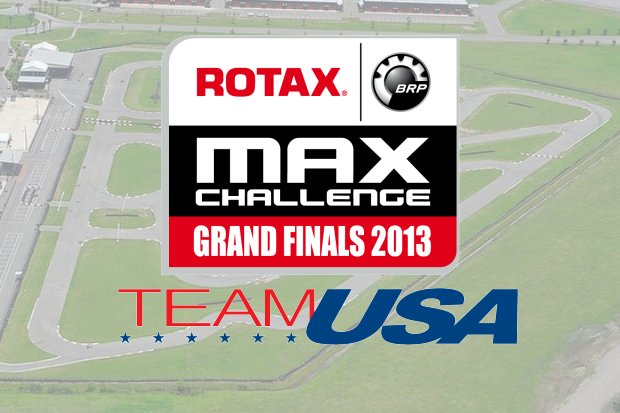 EKN's Paddock Insider is a new Trackside coverage addition, bringing you notes, updates and breaking news as it happens. The article will be a timeline of events as they happen during the 2013 Rotax Max Challenge Grand Finals. The information will not be seen anywhere else, including notes, interviews and photos. For complete coverage, visit the EKN Event Page. Please feel free to comment and discuss our coverage and today's action in the EKN Global Members Discussion area below:
Interviews:
Junior Max – Juan Manuel Correa
Wimsett and Formal Top-Five in DD2 Prefinal
It was a very dramatic 14 laps for the DD2 event with Joey Wimsett and Daniel Formal able to get into the top-five early. Wimsett was running pace with the top two drivers, until a bog on the exit of the final corner around lap seven. He lost four positions but was able to get going. Formal took advantage of that and one of the leaders breaking, slotting up into the second spot. He would fight for position to the checkered flag, finishing fourth with Wimsett able to recover back to fourth. Both have the pace to contend for the victory, and should make for an exciting main event.
Rudolph Tested in DD2 Masters Prefinal
Perfect through the qualifying and three heat races, Alan Rudolph started the 14-lap Prefinal on the pole position. He was challenged early by former champion Cristiano Morgado. Jostling for position, Rudolph was shuffled back as Morgado got away. Rudolph was then under pressure for the remainder of the race. After a few close calls, Rudoph was able to hang onto the fourth position. Mike Jones was up to fourth at one point after starting sixth, but was pushed back to the 10th position. Derek Wang and Rene Martinelli were on the charge, with Wang ending up 12th after starting 20th. Martinelli was on rails, climbing as high as 13th before he was removed from the track for a missing rear bumper piece off his DD2 machine, classified 30th. Scott Falcone was into the top-20 before a flat tire sent him to the pit lane and on the main event grid in the 31st position.
Heartbreaking 14 Laps in Senior Max – Neri Recovers for Top-10
The initial Senior Max prefinal would be red flagged after a few drivers were collected in a wreck. Returning to their original positions, the 14-lap race was underway. Nick Neri would be shuffled back after starting 13th, with the lead role for Team USA going to Oliver Askew. Lap after lap, Askew was gaining ground on the leaders after starting 24th. Into the top-15 quickly, he began picking off drivers one by one as the quickest kart on the track. Askew had worked his way up to the sixth position when he went off at the end of the long back straight. With the nose cone smashed under the kart, he could not continue any long and finished 31st. The torch was then passed to Neri as he was climbing his way back up through the field. He would eventually finish eighth with Phillip Arscott just behind in 12th. Andrew Palmer gained positions, as he came from 35th to 21st.
Selliken Leads Team USA in Junior Max Prefinal
The initial start was yellow-flagged for the Junior Max field to begin their 11-lap event. Kirkwood led the field but came under pressure quickly. Racing for position, Kirwood was slotted back to fourth when he was shoved off at the end of the straight, dropping him back to 13th. This put Jamaican Thomas Issa at the lead for Team USA until he was hit and began losing positions. Luke Selliken stepped up to and made his way into the top-five from 11th. He would go on to finish fourth, leading Team USA. Juan Manuel Correa had a great drive after getting shuffled back at the start. He would end up sixth while Kirkwood fought back to 10th. Ashley Rogero came up from 19th to 13th with Issa down to 15th. Rocha was involved in a turn five wreck at the start of the race, so the yellow flag allowed him to catch back up to the field as he drove up to 20th, where he started.
Micro and Mini Battle for First Time
The opening Micro Max Prefinal saw a seven driver pack race for seven laps, providing some great excitement to start out the racing action for Championship Saturday. Dylan Tavella (USA) was the early leader, but it would be Canadian Matthew Latifi breaking up the American group and scoring the win. Nicholas d'Orlando (USA) was second, Maxwell Waithman (USA) third, Tyler Gonzalez (USA) fourth and Tavella fifth. It was a four driver battle for the Mini Max race. Devin Boutot (USA) edged out David Malukas (USA) for the prefinal win. Sting Ray Robb (USA) was third with Michael Benyahia (USA) and Aidan Keel (USA) completing the top-five.
Interviews:
The Final Countdown to Rotax Grand Finals Championships
It's Championship Saturday here in NOLA Motorsports Park as the 2013 Rotax Max Challenge Grand Finals is set for the final day of action to crown the four world champions. After some rain and fog overnight, the sun is shinning and weather should not be an issue all day. Warm-up is underway with the Prefinals set to begin at 9:30am. Be sure to go to http://rgf-2013.kart-data.com/ for live coverage all day with Mr. Ken Walker on the mic. Here are the top drivers in morning warm-up:
Micro Max: Harry Coulton – 1:06.399
Mini Max: David Malukas – 1:03.061
Junior Max: Juan Manuel Correa – 58.317 (5th)
Senior Max: Nick Neri – 56.983 (2nd)
DD2 Masters: Alan Rudolph – 56.158 (2nd)
DD2: Joey Wimsett – 55.381 (1st)