EKN Trackside: 2013 Rotax Max Challenge Grand Finals – Wednesday Report
Formal, Rudolph and Kirkwood score first ever pole positions for Team USA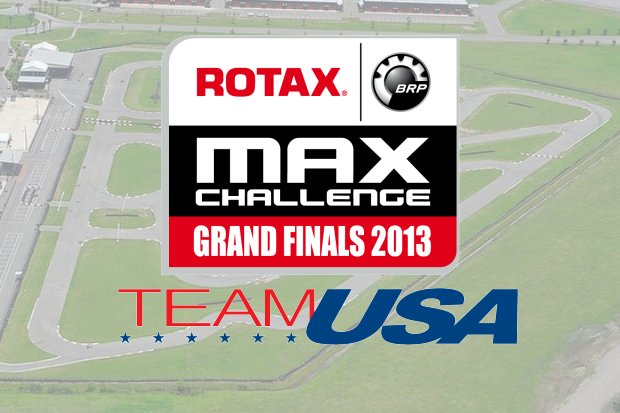 For complete coverage, visit the EKN Event Page and for a recap on the day's action, visit the EKN Paddock Insider – including interviews with a number of the Team USA members.
Wednesday was an historic day in American karting, as a trio of Team USA drivers stepped to the plate to score the country's first ever pole positions in Rotax Max Challenge Grand Finals competition.  Against the world's finest Rotax racers, veteran Alan Rudolph topped the DD2 Masters category, multi-time US Grand National champion Daniel Formal out-gunned his challengers in DD2 and Kyle Kirkwood led his fellow Team USA Junior drivers by turning in the fastest lap of his 72-kart field to become the first American to accomplish the feat.  It was an emotional day for the team at NOLA Motorsports, as their sheer speed became official.  While there is still a great deal of work to be done, lightning fast baselines are always a nice place to start.
The morning dawned extremely cold, with high winds making all the more unpleasant.  But once the sun began to come on strong, its heat worked its magic as the winds died down to help the cause.  A morning worth of practice went in the books, and then it was time to get down to business with qualifying.  And as has already been detailed, it would be an exciting day for Team USA.
---
JUNIOR MAX
---
Juan Manuel Correa – #173
Hometown: Miami, Florida
Mechanic: Yuri Carvalho
Facebook
Practice 4: 58.375
Practice 5: 57.085
Qualifying: 56.589
Notes:
Correa, who was the quicker of the three drivers in the Odd group for Team USA, continued in the top-10 as he ran eighth in Wednesday's practice sessions. A gearing change overnight helped, but with no drafting help, he was still not able to gain the increase in lap time as others in the group. They continued to change into qualifying, where he would end up sixth in the group, 15th overall. Following the session, he reported of the engine running weak while in the draft, but the chassis handling well. Correa will be in Group C, starting from row four in the heat races.
Thomas Issa – #156
Hometown: Kingston, Jamaica
Mechanic: Sam Fugett
Instagram
Practice 4: 58.053
Practice 5: 57.237
Qualifying: 56.796
Notes:
Issa and Fugett made big improvements overnight and through the practice sessions on Wednesday. Placing seventh and sixth in the Even group runs, they continued with playing with the grip level going into qualifying. At one point in qualifying, Issa jumped to the top of the time chart to hold the number one position. In the final three minutes however, contact would push him off course and hurt his chance at improving his time. Thankfully, the kart was undamaged and the Jamaican is looking forward to the heat races tomorrow. Ending up sixth over and second best for Team USA, Issa is set to battle in Group B, starting from row two.
Kyle Kirkwood – #171
Hometown: Jupiter, Florida
Mechanic: Cody Johnson
Facebook
Practice 4: 58.321
Practice 5: 56.883
Qualifying: 56.589
Notes:
Continuing to improve with each session on course, Kirkwood climbed his way to the top and became the first American to qualify on pole position at the Rotax Grand Finals. Moving up to seventh in the first practice today, he jumped to P1 in the final session, working on chassis, gearing and carb settings. The Ocala Gran Prix driver was able to get a big draft on his third lap, and it held through his group and the other to secure the overall top spot by 0.156 seconds. Kirkwood will have the honor of the pole position in all three of his heat races in Group A.
Ryan Norberg – #180
Hometown: Orlando, Florida
Mechanic: Robert Bujdoso
Facebook
Practice 4: 58.963
Practice 5: 57.603
Qualifying: 57.315
Notes:
Norberg, who joined Team USA just a week before the event after a driver from another country was unable to attend, continues to learn with each and every session. Improving on-track as well as educating himself with the chassis, Norberg sat inside the top-20 of his group. In qualifying, they missed the jetting and gear selection, which hampered his overall pace but finished 50th overall. He's looking forward to the racing, as he knows making up positions is out there over the course of three races, starting from row 13 in the Group B.
Blaine Rocha – #174
Hometown: Oakdale, California
Mechanic: Eric Bartolero
Instagram
Practice 4: 58.029
Practice 5: 57.241
Qualifying: 56.814
Notes:
Rocha remained among the top drivers through Wednesday's morning practice sessions, placing fifth and seventh. He complained of getting through the low-speed corners better, and the kart too loose but the engine running much better than Tuesday. In qualifying, Rocha sat within the top-five, but was dropped to sixth in the last minute of the session. He felt comfortable with the chassis, but is still looking for better pace through the low-speed corners. The Rolison Performance Group driver is set to go from row two in Group D.
Ashley Rogero – #155
Hometown: Naples, Florida
Mechanic: Jim Rogero
Twitter
Practice 4: 58.451
Practice 5: 56.936
Qualifying: 56.977
Notes:
Rogero made great strides in practice today, as they did with each session yesterday. Starting out 14th in the opening run, she was third in the final session before qualifying. Very happy with the progress, she was still lacking in straight-speed and adjusted the carb for qualifying. During qualifying, Rogero was up to the top-five at one point, but was unable to improve her time as the session went on. She ended up placing 12th in the group, 30th overall, and will race in Group B from row 8. Talking with her father Jim, they have worked well to get the engine and baseline set for the chassis, now it's working with the tire/chassis combination in order to improve in the three heat races.
Luke Selliken – #172
Hometown: Portland, Oregon
Mechanic: Arie Ouimet
Facebook
Practice 4: 58.240
Practice 5: 57.185
Qualifying: 56.806
Notes:
Selliken was quick out of the box in yesterday's practice, but began going the wrong direction. A massive change in seat and engine setup improved his pace as he end the final practice in the fifth position going into qualifying. Selliken was at the top of the order at certain points of the 15-minute run, but dropped down in the last few laps with others improving their time at the checkered flag. He finished fifth in the session, complaining of losing straight speed in a projected fast lap late. The Rolison Performance Group driver is set to start row two in Group C.
---
SENIOR MAX
---
Phillip Arscott – #260
Hometown: Portland, Oregon
Mechanic: John Arscott
Practice 4: 55.977
Practice 5: 55.679
Qualifying: 55.708
Notes:
Arscott spent the last two practice sessions testing out different things in search of a better setup. Going back to what they felt worked better, they attacked qualifying with the goal of a top-10 run. The Even session saw a number of drivers enter the track later then expected, and a lot of jostling for track position. Arscott was caught up in the mix, and unable to get a clear lap. This left him back in 34th overall, starting from row 9 in Group B.
Oliver Askew – #272
Hometown: Jupiter, Florida
Mechanic: Gary Carlton
Twitter
Practice 4: 56.084
Practice 5: 55.599
Qualifying: 55.659
Notes:
After running up front in yesterday's final practice, Askew was not able to increase his pace as others did. During practice, the Ocala Gran Prix driver was unable to get into the right traffic for a quick lap and suffered some overheating issue with the radiator flap not in the correct position. He mentioned that turns one and two were the only places he could improve on. In the Even group, he was caught up in the mix and unable to get a clear lap. During what was looking to be his best lap, going green in sector two on the live timing, the red flag came out with two minutes remaining and cut what may have been his best lap short. Askew ended up 30th overall and will race in Group B, starting in row eight.
Sam Beasley – #261
Hometown: Cleveland, Ohio
Mechanic: Ben Beasley
Twitter
Practice 4: 56.054
Practice 5: 55.468
Qualifying: 55.231
Notes:
Beasley's run at near the front continued on Wednesday, eventually finishing up as the top Team USA driver in Senior Max. Placing seventh and fifth in practice, Beasley was experiencing that working the tires too hard early on would prevent the kart to run better in later laps. In qualifying, Beasley stayed right in the top-five and was able to run quicker late in the session. Posting his fast lap on his seventh circuit, the Ocala Gran Prix driver ended up 32 thousandths out of the pole position, fourth overall. Beasley will start from the outside of the front row in all three heat races as part of Group D.
Jake Craig – #275
Hometown: Mission Viejo, California
Mechanic: Chris Wesson
Facebook
Practice 4: 56.307
Practice 5: 56.208
Qualifying: 55.704
Notes:
Craig bounced up and down in the practice time sheets Wednesday morning. Moving up to 16th in the opening run, he fell back to 30th in his group prior to qualifying. A seat change helped, but the front end changes were the wrong way so they planed to go back to what they had previously before qualifying, struggling with mid-corner speed. Craig ended up 22nd in his group, 33rd overall. Moving forward, Craig is more comfortable with the track, so he and his team are working on getting the chassis to work better for Craig.
Nick Neri – #274
Hometown: Palmetto, Florida
Mechanic: Alex Speed
Twitter
Practice 4: 55.926
Practice 5: 55.599
Qualifying: 55.924
Notes:
Confidence was high for Neri heading into Wednesday. Placing sixth and eleventh in the practice sessions, the Ocala Gran Prix driver continued to fine-tune the carburetor moving into qualifying. As part of the Even group, Neri was never able to get a clear lap and ended up 18th in group and 47th overall, lowest of Team USA. The former US Rotax Grand Nationals champion will race in Group C, starting from row 12 with work to be done in the three heat races.
Andrew Palmer – #276
Hometown: Chicago, Illinois
Mechanic: Justin Stefani
Practice 4: 56.559
Practice 5: 55.704
Qualifying: 55.861
Notes:
Sector 2 of the NOLA circuit continued to be the place where Palmer would gain time throughout the day Wednesday. Placing 25th in the opening practice, he jumped up to 16th in the final session. Palmer qualified in the wild Even group and was among the drivers unable to get a clear lap. The red flag at the end hurt his final position, as he was on a flier prior to reaching the red flag area. Placing 16th in group and 43rd overall, Palmer is in Group C, one row ahead of Neri.
---
DD2 MASTERS
---
Scott Falcone – #461
Hometown: Lone Tree, Colorado
Mechanic: Eric Jones and Benny Small
Facebook
Practice 4: 55.663
Practice 5: 55.477
Qualifying: 55.457
Notes:
Falcone remained in the top-10 throughout the day in his group, but not happy with the end result. He continued to struggle with high-speed corner grip, but felt the engine was on point. Falcone jumped around the top-10 in his group for qualifying, ending up 10th about six tenths off the fast time. He would be classified 26th overall, scheduled to start row seven in Group B through the heat races. After qualifying, Falcone had the chassis checked out by the Praga technicians, and put back together for the first two rounds of battle on Thursday.
Mike Jones – #476
Hometown: Sachse, Texas
Mechanic: Greg Bell
Facebook
Practice 4: 55.826
Practice 5: 55.493
Qualifying: 55.152
Notes:
Throughout the event thus far, Jones has remained in the top-10 of his group and continues to find speed thanks to changes in the ride height along with adjustments with the seat struts. The qualifying session was not as planned, however, as contact from with driver caused the throttle to get stuck under the fairing. Once he broke it free, the Dallas Karting Complex driver was able to post his fast lap. Placing 13th overall, Jones is far better off from a year ago and knows that surviving the heat races will be the first task.
Rene Martinelli – #475
Hometown: Tampa, Florida
Mechanic: Carlos 'Tyson' Barbosa
Practice 4: 55.981
Practice 5: 55.656
Qualifying: 55.283
Notes:
Martinelli, a three-time Rotax Grand Finals competitor, continued to improve with each session. Working on understeer with old tires, and getting off the corner faster, Rene was top-15 in the practice sessions. Once the new Mojo tires went on, Martinelli continued to post personal best laps throughout the qualifying session to finish top-10 in the group, and place 21st overall. A cracked seat on the sides and the bottom, a new seat was the order for the night as he prepares to row six in Group A.
Corey Mitchell – #446
Hometown: Sacramento, California
Mechanic: Scott Gordinier
Facebook
Practice 4: 57.567
Practice 5: 56.830
Qualifying: 56.288
Notes:
Enjoying his time here as part of Team USA, Mitchell continues to improve his pace throughout the event. He began about two-seconds off the leaders in the opening session, and for never racing a DD2, he's stayed about that gap throughout practice. He worked with Mike Jones on some data overlay, and continues to find more from himself and the kart. He ended up 51st overall, just 1.5 seconds off the pole position, looking to be in the top-34 came Friday evening. The Rolison Performance Group driver will race in Group C, starting in row 13.
Alan Rudolph – #460
Hometown: Gilbert, Arizona
Mechanic: Jesse Dunham
Twitter
Practice 4: 55.174
Practice 5: 54.750
Qualifying: 54.693
Notes:
Rudolph has nearly won every type of event in the United States, so the challenge of winning a Rotax Grand Finals championship was a perfect fit for the karting veteran. Little by little, Rudolph and his PSL Atlantic team have worked to make his Praga ride better and better. Dropping to third in the opening practice, he moved right back to P1 prior to qualifying. Needing just four laps on track, Rudolph slammed the best lap of the qualifying session to become the second driver of Team USA to earn pole position on the day.
Derek Wang – #459
Hometown: Kirkland, Washington
Mechanic: Diego Valverde
Facebook
Practice 4: 55.697
Practice 5: 55.325
Qualifying: 54.898
Notes:
Despite missing some track time yesterday, the three-time Team USA driver put in a solid performance to end up fourth overall. Fine-tuning through each practice session, he ran sixth and fourth in the Odd group. Slapping on new Mojo tires, Wang fought for the provisional pole position with former Rotax champion Cristiano Morgado before ending up second in the group and fourth overall. Wang will go from the outside of the front row in all three heat races.
---
DD2
---
Mitch Carey – #378
Hometown: Parker, Colorado
Mechanic: Jim Carey
Instagram
Practice 4: No time
Practice 5: 55.140
Qualifying: 55.109
Notes:
Carey began Wednesday losing valuable track time when a king pin sheared off on his out lap, forcing him to miss the opening 15-minute session. Placing 32nd in the second run, Carey mad a seat placement change and continued to play with tire pressure. The Colorado driver was 32nd in group, 57th overall just over a second off the fast time. Group A in row 15 will be the position for Carey in the heat races as he will work to get into the top-34, doing well with just a limited karting schedule this season and racing on the big stage that is the Rotax Grand Finals.
Daniel Formal – #368
Hometown: Orlando, Florida
Mechanic: Donald Formal
Instagram
Practice 4: 54.130
Practice 5: 54.199
Qualifying: 54.010
Notes:
Looking at Formal's lap times on the day, he remained very consistent. Talking with him after each session, he's been happy with the way his CRG is performing and the power his Rotax is producing. The results show as well, placing first and fourth in practice. Similar to Rudolph, Formal needed just four laps to post his fast lap, and earn the pole position to give Team USA its third on the day. The four-time US Rotax Grand Nationals champion ran the session with a loose spindle, which thankfully held together long enough for Formal to score the top spot.
Fritz Leesmann – #371
Hometown: Folsom, California
Mechanic: Ricky Luther
Instagram
Practice 4: 54.762
Practice 5: 54.944
Qualifying: 54.700
Notes:
After seizing the piston in the final practice Tuesday, Leesmann came back wondering what he would get from his DD2 engine. The first practice saw Fritz go to P9 in his group which proved the engine would be ready to go. The second however would see Fritz suffer a axle shift that dropped him down to 21st in the order. His pace continued to go in the wrong direction, as he was unable to perform similar to what he did the day before. He ended up 15th in the group and 39th overall to start row 10 for Group C.
Sean Owens – #377
Hometown: Dallas, Texas
Mechanic: Tom Owens
Facebook
Practice 4: 55.646
Practice 5: 55.781
Qualifying: 55.414
Notes:
Owens has yet to post a result that he had hoped for over the last two days. Owens was unable to break the top-30 in his group, and moved into 29th in qualifying. One section of the NOLA course where Owens has not yet gained enough speed is through the 'bus stop' section, leading up to the long straight. Despite the results, they are still happy to be part of Team USA and will not give up as racing comes tomorrow.
Joey Wimsett – #369
Hometown: Beavercreek, Oregon
Mechanic: Wesley Boswell
Instagram
Practice 4: 54.690
Practice 5: 54.424
Qualifying: 54.433
Notes:
Wimsett and Boswell continue to make changes after each session. Some to the chassis, some to the engine, they are still searching for the near-perfect setup. Wimsett was top-five in the final two practice session, and finished fourth in qualifying after running consistent 54.4-lap times. His time however would put him 22nd overall, about four tenths off the pole position time. Some of the changes they made for qualifying did not work as hoped, and traffic was an issue throughout the 15 minutes. The CRG-USA driver will race in Group B, starting from row six each time.