EKN Exclusive: SKUSA SuperNationals XVII – Preview Program – DD2/Rotax Junior
Rotax categories join biggest North American event, offering up three 2014 Rotax Grand Finals tickets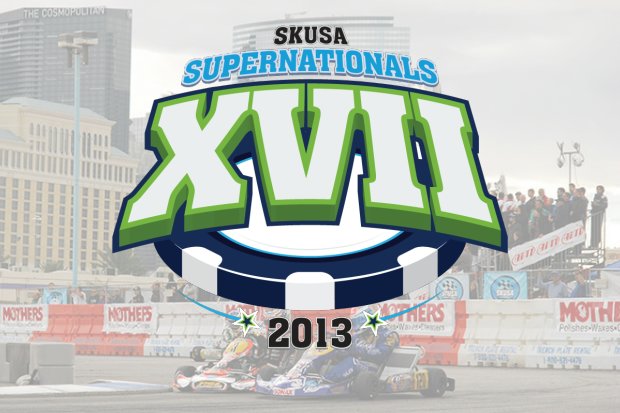 eKartingNews.com, the official online media partner of Superkarts! USA, is proud to present the SKUSA SuperNationals XVII Preview Program. Over the coming days leading up to the November 20-24 event, EKN will preview each of the 11 categories that will close out the 2013 SKUSA Pro Tour while competing for a share of the prize package, worth well over $100,000.
For complete coverage of the SKUSA SuperNationals XVII, visit the EKN Event Page
DD2
The two-speed DD2 category will make its SuperNationals debut this year with a solid international field set to battle outside the Rio. Reaching the maximum capacity, the draw of the first ticket to the 2014 Rotax Max Challenge Grand Finals has brought in a number of major 'Rotaxian' found at the front of the field from around the world. Both the overall winner, along with the top DD2 Masters driver in the field will be awarded the ticket courtesy of MAXSpeed Group – the United States distributor of all Rotax products. Ironically, 11 of the racers in Las Vegas will be coming straight from the 2013 Rotax Grand Finals, taking place at the NOLAMotorsportsPark on November 10-16.
Podium Predictions: With the international field like it is, narrowing the group to the best five is very difficult. First, we look at former world champions – Ben Cooper (Birel) and Pier-Luc Ouellette (CRG). Cooper has three Rotax titles on his CV, including last year's DD2 title. PLO is the only North American driver to earn a DD2 world championship, winning in 2007 and 2011. Add in Belgian driver Xen De Ruwe (CRG) along with factory drivers Anthony Abbasse (Sodi Kart) and Paolo de Conto (Birel), and podium positions will be hard to come by. The top American of the group who has a fighting chance to stand on the podium is Daniel Formal (Tony Kart). A winner at the US Rotax Grand Nationals and the Rotax Pan-American Challenge, the Florida driver has seen some great results in the past at the SuperNationals.
Within the DD2 Masters category, at least 12 drivers will be eligible for the class within the class. The talent pool is just as strong, with two former world champions – Canadian Scott Campbell (CRG) and Christophe Adams. Along with them are fellow top Canadian driver Stuart Clark (Maranello) and US Rotax Grand Nationals runner-up Mike Jones. All four are fighting for the Rotax Grand Finals victory in NOLA, and set to battle for the DD2 Masters 2014 ticket in Vegas a few days later.
Wildcards: Some of the best karters in Rotax will be joined by two talented drivers from the motorsports world. IndyCar's Sebastien Bourdais returns to the sport as the Frenchmen is set to pilot the French brand Sodi Kart under the Dallas Karting Complex tent. NASCAR and former Formula One driver Nelson Piquet Jr. makes a return visit to the SuperNationals, having competed in the SuperPro category. This year, he's doing double duty by running the DD2 category as well. Robert Wickens is among the rising stars in Canada, racing in the Mercedes-Benz DTM program in Europe. He returns to race with his brothers Prime Powersports team aboard a Maranello chassis.
Entry List
[table]
No.,Driver,Team,Chassis,State,Country
4,Xen De Ruwe,PSL Karting,CRG,Kontich,BEL
7,Barrie Pullinger,,FA Kart,,GBR
10,Scott Campbell,CRG-USA,CRG,BC,CAN
11,Paolo de Conto,Birel Motorsport,Birel,,ITA
13,Bailey Murphy,Team BMR,Tony Kart,AZ,USA
15,John Kwong,True North Motorsports,Zanardi,,CAN
17,Andres Fonseca,,CRG,,CRI
18,Jan Charouz,Praga North America,Praga,ON,CZE
19,Brendon Bain,Maranello North America / Prime Powersports,Maranello,ON,CAN
29,Kyle Ensbey,Patrizicorse,Birel,QLD,AUS
31,Ben Cooper,KMS North America,Birel,QC,GBR
37,Daniel Formal,Advanced Karting,Tony Kart,FL,USA
41,Ronald Billings,Team Screenvyn,Praga,,GBR
43,Kevin Lüdi,Spirit Karting AG,Birel,AG,CHE
44,Anthony Abbasse,SodiKart USA / Dallas Karting Complex,SodiKart,,FRA
55,Christophe Adams,,,,BEL
68,Brian Whitmire,NOLA Motorsports Park,CRG,LA,USA
71,Yaro Deckers,,CRG,,DEU
82,Gavin Reichelt,PSL Karting,CRG,NY,USA
87,Andreas Matis,,,,DEU
91,Semen Ryasnov,Praga North America,Praga,ON,RUS
93,Dominic LeGrand,PSL Karting,CRG,QC,CAN
97,Stuart Clark,Maranello North America / Prime Powersports,Maranello,ON,CAN
106,Igor Mukhin,Praga North America,Praga,ON,RUS
115,Joshua Crossingham,Praga North America,Praga,,AUS
137,Mathias Detige,,,,BEL
153,Max Preston,Praga North America,Praga,,CAN
222,Sebastien Bourdais,SodiKart USA / Dallas Karting Complex,SodiKart,,FRA
300,Francois Lepesqueux,SodiKart USA / Dallas Karting Complex,SodiKart,,FRA
333,Nelson Piquet,,Tony Kart,,BRA
410,Alex Tartaglia,SodiKart USA / Dallas Karting Complex,SodiKart,TX,USA
412,Fred Woodley,Maranello North America / Prime Powersports,Maranello,,CAN
422,Shelton Wright,,CRG,,USA
423,Robert Wickens,Maranello North America / Prime Powersports,Maranello,ON,CAN
444,CJ Cramm IV,,CRG,TX,USA
504,Mike Jones,SodiKart USA / Dallas Karting Complex,SodiKart,TX,USA
569,Philip Stoelman,,SodiKart,,NED
622,Andreas Backman,Strawberry Racing,Tony Kart,,SWE
626,Eugene Brittz,,Birel,,ZAF
631,Orlando Munoz,,AM,,VEN
671,Dario Callegher,,Praga,,ITA
993,Chris Koster,SodiKart USA / Dallas Karting Complex,SodiKart,TX,USA
[/table]
---
Rotax Junior
The second Rotax category is the Junior Max division, as 40 drivers will fight for a third 2014 Rotax Max Challenge Grand Finals ticket. Year after year, the Junior classes at the SuperNationals have provided some great drama throughout the weekend and 2013 should be no different. The field making the Rotax Junior debut at the SuperNationals is nearly half international drivers, similar to what we've seen DD2, with a good handful making the trek over to Vegas from NOLA.
Podium Predictions: Starting with the best from the US, Juan Manuel Correa (Tony Kart) has been among the top drivers in the country. Winning at the US Grand Nationals, he was among the top contenders fighting for the victory at the Pan-American Challenge. North of the border, Gianfranco Mazzaferro (Tony Kart) earned the Canadian national championship in August. Other top drivers from their countries include Austrian Thomas Preining (CRG), Columbian Christian Munoz (Tony Kart), Aussie Liam McLellan (Praga), German Philip Hamprecht (Kosmic) and Dutch driver Rinus Van Kaimthougt (CRG).
Wildcards: Taking on the international field is a good number of Americans that can make a name for themselves. Christian Brooks (Tony Kart) was the 2011 US Mini Max champion, and is creeping up the Junior ranks race by race. Florida driver Darren Keane (Tony Kart) is a regular challenger at the Florida Winter Tour, and could be found near the front in Vegas. Matt Solarczyk (Birel) is among the top Junior drivers in the east with Phillippe Denes (ART GP) among the rising stars in the west.
Entry List
[table]
No.,Driver,Team,Chassis,State,Country
00,Devlin DeFrancesco,DeFrancesco Racing (DFR),Tony Kart,ON,CAN
3,Callum Walker,Team Formula K,Formula K,QLD,AUS
5,Rinus Van Kaimthout,PSL Karting,CRG,,NED
6,Richard Verschoor,Ferrolatti Corse,OTK,,NED
7,Michael McCarthy,Andersen Racing,Birel,,USA
8,Clay Van Eerd,,Tony Kart,,CAN
10,Thomas Preining,PSL Karting,CRG,,AUT
15,Colby Du Bato,PKS Kart Supplies,Top Kart,CA,USA
16,Bryce Fullwood,Kartsport North America,FA Kart,,AUS
20,Vanthoor Dries,,OTK,,BEL
21,Ruben Grillet,Ruben Grillet Racing,Tony Kart,FL,VEN
22,Michael Michoff,Cambrian Go-Karts,Birel,CA,USA
34c,Christian Brooks,Nash Motorsportz,Tony Kart,CA,USA
35,Felipe Ortiz,,CRG,,BRA
41,Jack Black,2Wild Karting,Tony Kart,CA,AUS
42,Leonard Hoogenboom,Ferrolatti Corse,OTK,,NED
43,Pedro Cardoso,PSL Karting,CRG,DF,BRA
45,Darren Keane,,Tony Kart,FL,USA
51,Julia Boos,Top Kart USA / Grand Products,Top Kart,NJ,USA
56,Abby McLaughlin,Top Kart USA / Grand Products,Top Kart,IN,USA
67r,Kale Kunicki,Team VemmeKart / Extreme Karting,Vemme,BC,CAN
68,Juan Correa,VMotorsport,Tony Kart,FL,USA
79,Ayaly Kanoivicki,,Birel,,ISR
92,Christian Munoz,VMotorsport,Tony Kart,FL,COL
93,Zane Goddard,Pserra Racing,Tony Kart,ON,AUS
96,Liam McLellan,,Praga,,AUS
99,Philip Hamprecht,,Kosmic,,DEU
110,Jose Alzate,Praga North America,Praga,ON,COL
203,Max Fedler,Unser Racing,Kosmic,CO,USA
208,Jared Cordova,MRP Motorsports,Birel,VA,USA
212,Matt Solarczyk,MRP Motorsports,Birel,VA,USA
225,Enzo Prevost,Jet Connection,Trackmagic,,USA
231,Jeff Fulham,,LH Kart,,CAN
250,Natael Cantin,KMS North America,Birel,,CAN
267,Justin Taylor,Kartorama,Arrow,WA,USA
293,Russell Boyle,IPK North America,OK1,ON,CAN
298,Phillippe Denes,ART GP America,ART GP,CA,USA
514,Gianfranco Mazzaferro,Ferrolatti Corse,Tony Kart,QC,CAN
555,Julien Andlauer,Praga North America,Praga,,FRA
568,Javier Gonzales,Advanced Karting,Tony Kart,FL,MEX
[/table]