Kiwi News: Strong Mainland Series Start for Cox and Armstrong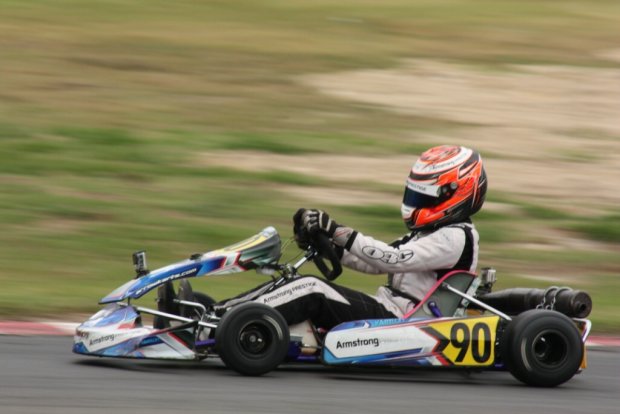 Young Christchurch driver Marcus Armstrong was one of the class winners at the first round of the 2013 Mainland (Kart) Series in Christchurch on Sunday
(Photo: Fast Company-Leith Robertson)
Nationally-ranked Canterbury karters Chris Cox and Marcus Armstrong kicked off their Mainland Karting Series campaigns with class wins at the opening round of the South Island series at KartSport Canterbury's annual Memorial meeting on Sunday.
In the best supported senior class, 125cc Rotax Max Light, Cox managed to beat reigning South Island champion James Penrose, while in Junior 100cc Yamaha Armstrong came out on top after a day-long battle with Jai Buckley.
Other class winners were Blair Hall (100cc Yamaha Light), Michael Collins (100cc Yamaha Heavy), Matthew Pluck (125cc Rotax Max Heavy), Lewis Ball (Junior Restricted 100cc Yamaha), and Jacob Mitchell (Cadet).
Mitchell and Ball also won the Memorial races for their respective classes that the annual meeting takes its name from.
In Mitchell's case it was the Bob Brown Memorial for the Cadet class while Ball won the Doug Varnham Memorial for Junior Restricted 100cc Yamaha, Ryan McPherson won the Gee Memorial for the Junior 100cc Yamaha and Matthew Hamilton won the Ian Love Memorial for a combined 125cc Rotax Max field.
Cadet Class
1. Jacob Mitchell, 2. Laura McPherson; 3. Josh Bethune; 4. Makayla Mustoe
Junior Restricted Class
1. Lewis Ball; 2. Jarod Fisher; 3. Reuben Adams; 4. Jaden Ransley
Junior 100cc Yamaha
1. Marcus Armstrong; 2. Jai Buckley; 3. Ryan McPherson; 4. Brent Neill
125cc Rotax Max Light
1. Chris Cox; 2. James Penrose; 3. Thomas Emmerson; 4. Matthew Straker
125cc Rotax Max Heavy
1. Matthew Pluck; 2. Michael Collins; 3. Andrew Downs; 4. Jarred Cleghorn
100cc Yamaha Light
1. Blair Hall; 2. Ethan Anderson
100cc Yamaha Heavy
1. Michael Collins; 2. Michael Smith
Bob Brown Memorial (Cadet class)
1. Jacob Mitchell; 2. Laura McPherson; 3. Josh Bethune; 4. Tyson Bone
Doug Varnham Memorial (Junior Restricted 100cc Yamaha class)
1. Lewis Ball; 2. Jarod Fisher; 3. Reuben Adams; 4. Jaden Ransley
Gee Memorial (Junior 100cc Yamaha)
1. Ryan McPherson; 2. Kieran Woods; 3. Brent Neill; 4. William Reith
Ian Love Memorial (Rotax classes)
1. Matthew Hamilton; 2. James Penrose; 3. Josh King; 4. Jack Milligan