EKN Trackside: Superkarts! USA Pro Tour SpringNationals – Preview Series – Part 2
Solid group of Semi-Pro and Masters drivers set to do battle in Tucson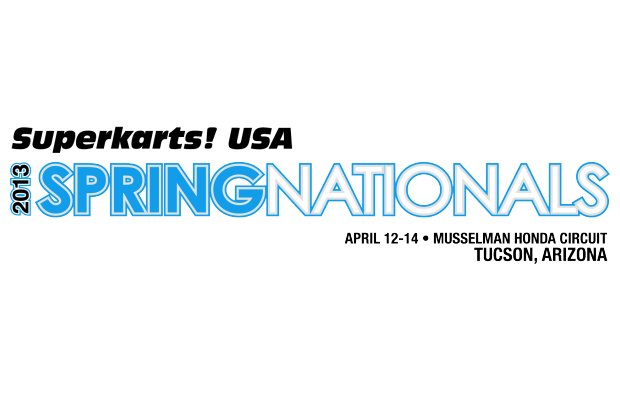 The 2013 Superkarts! USA Pro Tour is set to begin April 12-14 as the SpringNationals will take place at the Musselman Honda Circuit outside Tucson, Arizona. A record number of drivers – 220 in eight categories – have registered to take part in this historic event, a good mixture of returning drivers and new faces. A season high $96,000 prize purse is to be awarded on the year, with up to $9,600 in cash available this weekend, as the journey to the SKUSA SuperNationals XVII in Las Vegas. The circuit hosting the opening two rounds of the SKUSA Pro Tour is the 8/10-mile replica of the famous Suzuka track in Japan. Built in 2005, the facility was site of the 2011 SpringNationals, which produced some of the best racing seen in recent years.
eKartingNews.com will once again be on site – from Friday to Sunday of the race weekend – providing the 'EKN Trackside Live' broadcast presented by Champion Racing at http://www.ekartingnews.com/live . Live play-by-play action, live timing and forum discussion is available all on one page, and a mobile audio link is available to those on the go.
EKN, the official media partner of Superkarts! USA, is set to provide a three-day preview program leading up to the SKUSA Pro Tour SpringNationals highlighting each of the eight classes. Follow updates at the Official Discussion Thread, Facebook, Twitter and now on Instagram. The series continues with S2 Semi-Pro Stock Moto, S4 Master Stock Moto, and TaG Master.
---
S2 Semi-Pro Stock Moto
It was a historic season in the S2 category last year as SKUSA crowned its first female Pro Tour champion – Sabré Cook. The Colorado driver passed on defending her title to take her talent to the Pro level, leaving a gap at the top of the order in S2. This year's field is a good mix of returning talent with a solid influx of new drivers – including a total of four female drivers racing in Tucson – all racing for a $1,000 purse at the end of the weekend.
The top driver returning is NorCal's Cody Diede. The PSL CRG/Diede Racing pilot finished third in last year's championship chase and elected to return for a bid at the title. A win at the SummerNationals last year put him in contention but mixed results the rest of the season show the need for more consistency to contend for the title. The most experienced driver in the field continues to be Ryan Kinnear. Two podiums in 2012, including a third at the SuperNationals, put the Champion Racing driver fourth in the standings. Now back aboard an Intrepid for 2013, Kinnear is a serious contender for the title.
Troy Diede (PSL CRG/Diede Racing) scored one more podium finish then his brother Cody, reaching the steps both days at the SummerNationals. He has shown the speed to be a consistent contender, as both he and Cody have worked well with two-time S1 champ Fritz Leesmann, but will need to avoid any issues if he intends to be on the championship podium in Vegas. Augie Lerch showed some sparks last season, including a victory at the Streets of Lancaster Grand Prix. The Arizona driver was just unable to translate that into solid results on the Pro Tour, finishing 11th in the standings. The Pure Karting/Tony Kart pilot will race at his home track, and could use that to his advantage this weekend to position himself as a title contender.
A couple key drivers have moved to new teams for 2013, looking for a boost up the standings this year. SummerNationals winner Christian Schureman is now running with CRG-USA, entering his third season in the S2 category and making steady improvements year after year, looking to add to the win column this year. Texan Connor Wagner switched to Phil Giebler Racing and the FA Kart for the 2013 season, and has found success early by winning at the California ProKart Challenge last month. Wagner, like the rest of the group, is sure to toss his name into the title chase as the season begins.
S2 Provisional Entry List
[table]
No.,Driver,Team,Chassis,City,State,Country,Age
3,Cody Diede,PSL CRG / Diede Racing,CRG,Lodi,CA,USA,25
3t,Ryan Kinnear,Leading Edge Motorsports,Intrepid,Richmond,TX,GBR,27
9m,Mariana Ramirez,Leading Edge Motorsports,Intrepid,Coyacán,DF,MEX,20
10c,Alan Michel,Pure Karting,Tony Kart,Gilbert,AZ,USA,26
11t,Ryan Belanger,3G Kart Racing / Team Burger King,Birel,Spring,TX,USA,18
12k,Augie Lerch,Pure Karting,Tony Kart,Tucson,AZ,USA,16
13t,Miguel Lopez,GP Texas,GP,Tyler,TX,USA,15
15t,Connor Wagner,Phil Giebler Racing,FA Kart,Flower Mound,TX,USA,17
17d,Christian Schureman,CRG-USA,CRG,Golden,CO,USA,17
20t,Luke Shanahan,MJDrive,Arrow,Dallas,TX,USA,15
22c,Chance Stephens,DRT Racing,DR,Tucson,AZ,USA,17
25t,Jerry Rhodes,CRG-USA / RPM Motorsports,CRG,Bellville,TX,USA,26
38d,Jack Bradley,CRG-USA,CRG,Littleton,CO,USA,20
51h,Jenna Grillo,DB Motorsports / Riverlake Racing,Exprit,Lakeville,MN,USA,16
55d,Ben Schermerhorn,CRG-USA,CRG,Highlands Ranch,CO,USA,25
61t,Allyn Hewitt,3G Kart Racing / Team Burger King,Birel,Angleton,TX,USA,15
66f,Don Whittington,Pure Karting,Tony Kart,Fort Lauderdale,FL,USA,27
72u,Chris Neria,MSquared Karting,Tony Kart,Salt Lake City,UT,USA,30
73c,Micah Hendricks,Innovative Karting,Intrepid,Glendale,AZ,USA,15
77j,Colton Aldridge,JD Byrider Racing,Tony Kart,Indianapolis,IN,USA,22
82z,Kory Estell,Rolison Performance Group,CRG,Kirkland,WA,USA,20
88x,Kolton Griffin,Pure Karting,Tony Kart,Anthem,AZ,USA,18
96z,Dalton Egger,Team VemmeKart / Extreme Karting,Vemme,Canby,OR,USA,15
99r,Kyoichi Tsutsui,Team VemmeKart / Extreme Karting,Vemme,Calgary,AB,CAN,17
100t,Garrett Boone,3G Kart Racing / Team Burger King,Birel,Houston,TX,USA,23
111y,Joshua De Losier,Acceleration Karting,CRG,Las Vegas,NV,USA,18
177y,Curtis Paul Jr.,,Tony Kart,Stockton,CA,USA,13
221d,Lindsay Brewer,CRG-USA,CRG,Arvada,CO,USA,15
246d,Mianna Wick,DRT Racing,DR,Delta,CO,USA,16
441y,Troy Diede,PSL CRG / Diede Racing,CRG,Lodi,CA,USA,24
526o,Tyler Fling,Champion Racing,Intrepid,Edmond,OK,USA,22
727t,Sky Finley,DRT Racing / Pole Position Raceway,DR,Frisco,TX,USA,16
[/table]
---
S4 Master Stock Moto
Familiar names make up the 34-driver field that will contest for the $1,000 in prize money this weekend in S4. Like the other categories on the Pro Tour, many of the same championship contenders will be back for more in 2013. The competition could be as tight as it was in 2012, which produced five different winners in five different rounds. Last year, it was a battle of the 'young guns' as the 30-something drivers conquered the top three positions in the championship battle.
Utah's Eddie Olpin (Powers World Racing/Kosmic) ran to three straight podium finishes at the start of 2012 to push himself to the top of the title chase, placing fourth at the SuperNationals to secure his first SKUSA championship in his first full season of Pro Tour competition. Olpin was cool and calculated all season, exactly what a champion needs to be over the course of a season. Second and third in the title chase – Trevor McAlister and Jordon Musser – essentially took themselves out of the running during the opening weekend in Phoenix. McAlister had two damaging DNFs, but ended the year strong with a win in Utah and runner-up at the SuperNationals to recover nicely. The Leading Edge Motorsports driver has been running the S2 category on the regional side during the past two months to prepare himself for the upcoming season of hardcore S4 racing. Musser (3G Kart Racing/Team Burger King/Birel) is a multi-time Rock Island Grand Prix winner and Rotax Grand Nationals champion, so experience is not an issue. The Texan would like nothing more than to add a SKUSA Pro Tour title to his CV.
Curtis Cooksey is the third returning race winner from last year, as he was the round one winner from last year's SpringNationals. Contact took him out of contention the following day, and a penalty took a win away at the SummerNationals. The Acceleration Karting/CRG pilot, a longtime national and international competitor, knows what it takes to run at the front and could once again find himself taking the checkered flag this season.
As you continue up and down the driver list for this weekend, it's easy to point out a number of drivers who have what it takes to run up front. 2012 SKUSA SuperNationals pole sitter Brian Fisher, former #3 plate holder Lance Lane and former SuperNats winner Chris Jennings return to the Pro Tour, among the many drivers under the DRT Racing tent, all aboard the importer's DR Racing Kart. Robert Marks, just one of the nine CRG-USA drivers in the field. Arizona drivers Nick Firestone (Zanardi America) – the 2011 vice-champion – and Chris Fosso (Pure Karting), California PKC winner Willy Musgrave (MRC/Tony Kart) and former S1 driver Don McGregor (Italian Motors USA/Italkart USA) highlight a field that features a multitude of potential winners. The chances of picking a winner this weekend are a crap shoot at best, considering the talent this this field holds.
S4 Provisional Entry List
[table]
No.,Driver,Team,Chassis,City,State,Country,Age
1,Eddie Olpin,Powers World Racing,Kosmic,Pleasant Grove,UT,USA,32
2,Trevor McAlister,Leading Edge Motorsports,Praga,Los Angeles,CA,USA,38
2c,PP Mastro,Italcorse America,Italcorse,Bakersfield,CA,USA,49
2t,Steve McCaffery,CRG-USA / RPM Motorsports,CRG,Katy,TX,GBR,35
3,Jordon Musser,3G Kart Racing / Team Burger King,Birel,Coppell,TX,USA,31
11b,Jack Nelson,Musselman Honda Circuit,CRG,Tucson,AZ,USA,45
21x,Ken Schilling,Team VemmeKart / Extreme Karting,Vemme,Stanton,CA,USA,50
22d,Jet Davis,CRG-USA,CRG,Glenwood Springs,CO,USA,52
22z,Ben Johnston,CRG-USA,CRG,Salem,OR,USA,36
28c,Todd Wilson,Aluminos,CRG,Newport Beach,CA,USA,51
33d,David Conyers,Ruthless Karting,KGB,Golden,CO,USA,60
33x,Rob Logan,Kimball Williams Racing,CRG,Newport Beach,CA,USA,32
37d,Rob Van Deren,CRG-USA,CRG,Steamboat Springs,CO,USA,47
41t,Mike Smith,Texas Karts,CRG,San Antonio,TX,USA,49
41y,Curtis Cooksey,Acceleration Karting,CRG,Las Vegas,NV,USA,40
52t,Michael Rhodes Jr.,CRG-USA / RPM Motorsports,CRG,Bellville,TX,USA,31
53c,Michael Potekhen,Ruthless Karting,KGB,Scottsdale,AZ,USA,33
61x,Chris Fosso,Pure Karting,Tony Kart,Glendale,AZ,USA,50
65j,Lance Lane,DRT Racing,DR,Algonquin,IL,USA,47
66c,Nick Firestone,Zanardi America,Zanardi,Paradise Valley,AZ,USA,47
71r,Don McGregor,Italian Motors USA / Italkart USA,Italkart,Langley,BC,CAN,30
84d,Mike McDonough,Ruthless Karting,KGB,Lakewood,CO,USA,52
90g,Brian Fisher,DRT Racing,DR,Gray,TN,USA,33
102x,Darrell Tunnell,CRG-USA,CRG,Visalia,CA,USA,52
103x,Robert Marks,CRG-USA,CRG,Visalia,CA,USA,51
104x,Levi Bennett,CRG-USA,CRG,Visalia,CA,USA,46
121y,Mike Sullivan,Acceleration Karting,CRG,Las Vegas,NV,USA,45
164u,Scott Clark,MSquared Karting,Tony Kart,Salt Lake City,UT,USA,54
175t,Chris Jennings,DRT Racing,DR,Sachse,TX,USA,32
222c,Greg Nelson,Musgrave Racing Company,Tony Kart,Norco,CA,USA,53
249u,Justin Peck,MSquared Karting,Tony Kart,Riverton,UT,USA,39
324b,Greg Brydle,DRT Racing,DR,Marana,AZ,USA,39
422c,Willy Musgrave,Musgrave Racing Company,Tony Kart,Norco,CA,USA,49
823m,Victor Jimenez,CRG-USA,CRG,San Diego,CA,MEX,41
[/table]
---
TaG Master
The 2012 TaG Master title went down to the wire last year, with a head-to-head battle between Arrow drivers Paul Bonilla and Scott Falcone in Las Vegas. Both doubled up in the win column after the SpringNats and SummerNats, with Bonilla able to gain the most points after the SuperNationals to claim his first Pro Tour championship. The duo returns with a load of the same contenders from a year ago, in addition to some new names looking to add to the fun and excitement that has been the TaG Masters class over the past two season.
The top three will carry their SKUSA plates for the 2013 season, including third place finisher Chuck Gafrarar. All three have been busy this winter, racing in their respective programs and already finding the podium. Bonilla (Full Throttle Karting) opted for DD2 action at the Rotax Challenge of the Americas, Falcone (KartSport North America) found success at the Florida Winter Tour, while Gafrarar (Russell Karting Specialties/Parolin) has been competing at his new home track – Mooresville Motorplex against former top karters and current NASCAR drivers. One great talking points about the Masters category is the engine parity, as the top three from last year will begin 2013 on different engines – Vortex, Rotax and Parilla, respectively – with the rest of the driver roster on an assortment of powerplants.
The 2011 SpringNationals was the springboard for Brian McHattie's championship season. Despite an up-and-down title defense, the DB Motorsports/Exprit driver ended the season strong and is set at returning to Tucson for more. The last two season, Jim Russell Jr. (Russell Karting Specialties/Parolin) has been on the edge of the championship podium. The veteran hit a road block early last year, and is hoping to start 2013 in the right direction as he finished 2012. This year's field will include all three previous champions, something no other class can match, with 2010 title winner Ethan Wilson (Phil Giebler Racing/FA Kart) taking on the SpringNats. A year ago, Wilson was involved in a practice crash that resulted in a severely broken wrist. Victory at the Streets of Lancaster five months later signaled his return as a contender once again.
Other drivers to watch include the deadly Billy Cleavelin (Mike Manning Karting/CRG), who returns to the Pro Tour off two straight wins at the California PKC already this year. New in the mix will be Indiana's John Dixon and Texan Mike Jones. Dixon (Top Kart USA/Grand Products) is two-time Rock Island Grand Prix winner and WKA champion making his Pro Tour debut, while Jones is also new to the TaG Master field. The Dallas Karting Complex/SodiKart USA pilot is a former S4 SuperNationals podium finisher and an experience veteran. If he can get up to speed quickly, he could mix it up with the TaG Master establishment in a hurry.
TaG Master Provisional Entry List
[table]
No.,Driver,Team,Chassis,Engine,City,State,Country,Age
1,Paul Bonilla,Full Throttle Karting,Arrow,Vortex ROK TT,Cypress,CA,USA,44
2,Scott Falcone,KartSport North America,Arrow,Rotax,Lone Tree,CO,USA,44
3,Chuck Gafrarar,Russell Karting Specialties,Parolin,Leopard,Midland,NC,USA,42
4f,Brent Lyman,Russell Karting Specialties,Parolin,Leopard,Ocala,FL,USA,35
10c,Jerry Henderson,Mike Manning Karting,CRG,Rotax,Fountain Valley,CA,USA,58
14c,Will Jadiker,Mike Manning Karting,CRG,Motori 7,Venice,CA,USA,48
16y,Federico Aquini,Italcorse America,Italcorse,Leopard,Henderson,NV,ITA,40
19c,Billy Cleavelin,Mike Manning Karting,CRG,Motori 7,Covina,CA,USA,55
21e,Jim Russell Jr.,Russell Karting Specialties,Parolin,Leopard,Raymore,MO,USA,40
23k,Kevin Manning,Team VemmeKart / Mike Manning Karting,Vemme,Vortex ROK TT,Castaic,CA,USA,41
27q,Don Guilbeault,DRT Racing,DR,Leopard,Hudson,NH,USA,53
31y,Paul Hohlbein,Energy Corse America,Energy,Vortex ROK TT,Reno,NV,USA,44
45r,Ron Hyde,Italian Motors USA / Italkart USA,Italkart,Leopard,Victoria,BC,CAN,47
49y,Ethan Wilson,Phil Giebler Racing,FA Kart,Motori 7,Campbell,CA,USA,43
51c,Andy Seesemann,Full Throttle Karting,Arrow,Vortex ROK TT,Orange,CA,USA,42
54c,Steve Wiener,ART GP America,ART GP,Vortex ROK TT,Spring Valley,CA,USA,51
58c,Wade Eastwood,Mike Manning Karting,CRG,Leopard,Marina Del Rey,CA,GBR,41
69r,Dave Kunicki,Team VemmeKart / Extreme Karting,Vemme,Leopard,Surrey,BC,CAN,54
76o,Anthony Honeywell,DB Motorsports,Tony Kart,Vortex ROK TT,Tulsa,OK,USA,31
77j,John Dixon,Top Kart USA / Grand Products,Top Kart,Vortex ROK TT,Evansville,IN,USA,44
77x,Vatche Tatikian,Phil Giebler Racing,FA Kart,Vortex ROK TT,Altadena,CA,ARM,31
93j,Brian McHattie,DB Motorsports,Exprit,Vortex ROK TT,Youngstown,OH,USA,36
93t,Chris Koster,Dallas Karting Complex / SodiKart USA,SodiKart,Vortex ROK TT,McKinney,TX,USA,41
127y,Mirko Mizzoni,Italcorse America,Italcorse,Leopard,Henderson,NV,ITA,29
141z,Kurt Fisher,2J's Racing,Tony Kart,Motori 7,Richland,WA,USA,47
492o,Gary Butler,Champion Racing,Intrepid,Motori 7,Oklahoma City,OK,USA,49
504t,Mike Jones,Dallas Karting Complex / SodiKart USA,SodiKart,Vortex ROK TT,Sachse,TX,USA,41
612y,Corey Mitchell,Snow Racing,OK1,Leopard,Sacramento,CA,USA,39
777n,Tom Gerstner,Mike Manning Karting,CRG,Vortex ROK TT,Rochester,NY,USA,56
[/table]