EKN Trackside: Superkarts! USA Pro Tour SpringNationals – Preview Series – Part 1
S5 Junior Stock Moto, TaG Junior and TaG Cadet set the stage for this weekend in Tucson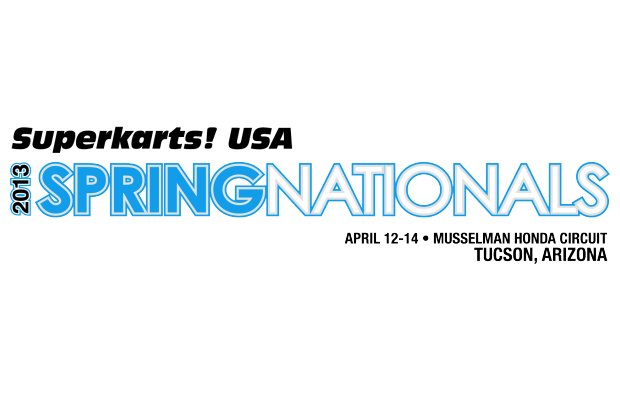 The 2013 Superkarts! USA Pro Tour is primed to explode into the new year this coming weekend (April 12-14) as the fourth annual SpringNationals will take place at the Musselman Honda Circuit, located just outside Tucson, Arizona. A record number of drivers – 220 in eight categories – have registered to take part in this historic event, with an exciting mixture of returning drivers and new faces. A series-high $96,000 prize purse is to be awarded on the year, with up to $9,600 in cash available this weekend, as the journey to the SKUSA SuperNationals XVII in Las Vegas. The circuit hosting the opening two rounds of the SKUSA Pro Tour is the 8/10-mile replica of the famous Suzuka track in Japan. Built in 2005, the facility was site of the 2011 SpringNationals, which produced some of the best racing seen in recent years.
eKartingNews.com will once again be on site – from Friday to Sunday of the race weekend – providing the 'EKN Trackside Live' broadcast presented by Champion Racing at http://www.ekartingnews.com/live . Live play-by-play action, live timing and forum discussion is available all on one page, and a mobile audio link is available to those on the go.
EKN, the official media partner of Superkarts! USA, is set to provide a three-day preview program leading up to the SKUSA Pro Tour SpringNationals highlighting each of the eight classes. Below begins the series with S5 Junior, TaG Junior and TaG Cadet. Follow updates at the Official Discussion Thread, Facebook, Twitter and now onInstagram.
---
S5 Junior Stock Moto
The S5 field is very diverse, featuring drivers from seven different states, including one driver from Mexico, along with three female competitors. The goal for many will be to replace the top three drivers from last year, who are all returning to run the SKUSA National Number plates. Jim McKinney (KGB) scored the series championship last year with consistent results early on, securing it at the SuperNationals in his first season competing in the category. Now with a full season and championship behind him, the Arizona driver will carry the coveted SKUSA #1 plate throughout the year while also contesting the TaG Junior class. Texan Patricio O'Ward was quick last season, making his debut at the SummerNationals in Utah. The Texas ProKart Challenge champ swept that event, and went on to score the SuperNationals victory. That boosted him into second in the point standings to carry the SKUSA #2 plate, now running for the 3G Kart Racing / Team Burger King operation aboard a Birel. Carter Williams (FA Kart) rounded out the championship podium in Vegas last year. The Phil Giebler Racing driver was runner-up to O'Ward in the final two races last year, and will continue running double duty as he contends the TaG Junior category as well.
Among the returning drivers, Erik Nelson (Kosmic) showed strong improvement as the season wore on. A podium at the SummerNationals translated into being in contention at the SuperNationals until losing his nose piece and ending his race early. At 15 years old, the DB Motorsports/Riverlake Racing driver could be a championship contender this year. Jarred Campbell (Intrepid) has started out the season as the driver to beat on the west coast. Two victories in the opening two rounds of the California ProKart Challenge over 2012 champion Williams puts the Leading Edge Motorsports drive among the contenders this year.
The S5 category is welcoming new names to the roster, as it has since its inception. Two to watch include Oklahoma's Jesse Woodyard and NorCal's Garrett Dixon. Woodyard (Champion Racing/Intrepid) kicked off the year with a victory at the Lone Star Grand Prix last month, and represented the USA at the Red Bull Kart Fight last year in Spain. Dixon (Iron Rock Motorsports/Energy) was a TaG Junior competitor a year ago, making the switch S5 for 2013 and has already earned two podium in California PKC competition. A number of others are expected to step up this season, making the 2013 season the biggest yet for the S5 program.
S5 Provisional Entry List
[table]
No.,Driver,Team,Chassis,City,State,Country,Age
1,Jim McKinney,Ruthless Karting,KGB,Chandler,AZ,USA,15
2,Patricio O'Ward,3G Kart Racing / Team Burger King,Birel,San Antonio,TX,USA,13
3,Carter Williams,Phil Giebler Racing,FA Kart,Clovis,CA,USA,14
3t,Andretta Young,3G Kart Racing / Team Burger King,Birel,Katy,TX,USA,13
7m,Raul Guzman,GP Texas,GP,Zapopan,Jalisco,MEX,13
17o,Jesse Woodyard,Champion Racing,Intrepid,McLoud,OK,USA,14
18t,Nathan Adds,Dallas Karting Complex / SodiKart USA,SodiKart,Rowlett,TX,USA,14
27e,Max Nufer,Team Sydwaz Racing,Tony Kart,Wildwood,MO,USA,13
58d,Evan Roshak,CRG-USA,CRG,Arvada,CO,USA,12
63y,Saundra Kirby,Musgrave Racing Company,Intrepid,Las Vegas,NV,USA,14
91h,Erik Nelson,DB Motorsports / Riverlake Racing,Kosmic,Stillwater,MN,USA,15
94y,Garrett Dixon,Iron Rock Motorsports,Energy,Tahoe City,CA,USA,13
101t,Derek Scott Jr.,Derek Scott Motorsports,Tony Kart,Franklin,TX,USA,13
103y,Jarred Campbell,Leading Edge Motorsports,Intrepid,West Sacramento,CA,USA,15
168t,Jacob Loomis,Iron Rock Motorsports,CRG,Corinth,TX,USA,13
888c,Hannah Grisham,Musgrave Racing Company,Arrow,Glendora,CA,USA,13
[/table]
---
TaG Junior
This season's TaG Junior field is probably one of the most challenging yet in Pro Tour history. Nine of the top-10 from last year's standings return – including the top three. Defending champion Luke Selliken (Kosmic) had a breakout season in 2012. Winning the opening two rounds in Phoenix at the SpringNationals, the Rolison Performance Group driver stood on the podium at both the SummerNats and the SuperNationals to claim the Pro Tour championship. Earning another vice-championship this winter, Selliken is primed for a title defence, however, school commitments will not allow him to arrive until Saturday night, so he take the first day of competition as his drop. He'll need to come up to speed quickly and have a great day on Sunday to keep the door open to win another SKUSA title. Carter Williams (FA Kart) matched Selliken's SpringNats performance at the SummerNationals in 2012, winning both main events, but fell just short in the championship chase. Williams, carrying two SKUSA plate numbers aboard his Phil Giebler Racing machines for his efforts in the 2012 Pro Tour, returns with the goal of making them both the #1 plate in Vegas. Brenden Baker rounded out the top-three in the championship a year ago. The SoCal driver had four podium finishes last year, with a tough SuperNationals finish keeping him third in the title chase. Now on-board with the new ART GP America operation and the current point leader in the California ProKart Challenge series, Baker is set for title contention in 2013.
Among the returning drivers from last year are Christian Brooks (Nash's Motorsports/Tony Kart), Austin Versteeg (CRG-USA), Davey Manthei Jr. (KartSport North America/Arrow), Blaine Rocha (Rolison Performance Group/Kosmic), Noah Grey (Phil Giebler Racing/FA Kart) and Jake Preston (Phil Giebler Racing/FA Kart). All certainly have the chance at the title, as they have been racing all winter long already. Rocha is coming off an impressive title run in the Rotax Challenge of the Americas, signally that he is peaking as a Junior driver and could very well be one of the pilots to beat.
The field will have some East Coast flavor as well, as three drivers are making the trek to Tucson. Emerson Reed, Killian Keaveny and Emily Hurlbert will all be making their Pro Tour debuts. Reed (Top Kart USA) is in his first year in the Junior ranks after an impressive Cadet career on the East Coast in the WKA Manufacturer's Cup series. Keaveny (Top Kart USA) is among the older drivers in the TaG Junior field, hailing from Minnesota, and is coming off good results this past weekend in WKA Manufacturers Cup series event South Carolina. Hurlbert (Franklin Motorsports/Merlin) makes up 1/2 of a sister team from Minnesota competing at their first Pro Tour event.
The 2013 season in TaG Junior appears to be unpredictable by simply reviewing the roster for the SpringNationals, and it won't be until the official timed runs on Friday before anyone knows for sure who will be in the hunt.
TaG Junior Provisional Entry List
[table]
No.,Driver,Team,Chassis,City,State,Country,Age
1,Luke Selliken,Rolison Performance Group,Kosmic,Portland,OR,USA,14
2,Carter Williams,Phil Giebler Racing,FA Kart,Clovis,CA,USA,14
3,Brenden Baker,ART GP America,ART GP,Palmdale,CA,USA,14
10h,Emily Hurlbert,Franklin Motorsports,Merlin,Northfield,MN,USA,12
19k,Jim McKinney,Ruthless Karting,KGB,Chandler,AZ,USA,15
34c,Christian Brooks,Nash's Motorsports,Tony Kart,Santa Clarita,CA,USA,12
42z,Davey Manthei Jr.,KartSport North America,Arrow,Pasco,WA,USA,14
51z,Jake Preston,Phil Giebler Racing,FA Kart,Renton,WA,USA,14
52y,Zack Dante,Leading Edge Motorsports,Praga,Davis,CA,USA,14
63u,McKay Snow,Rolison Performance Group,Kosmic,Pleasant Grove,UT,USA,14
67r,Kale Kunicki,Team VemmeKart / Extreme Karting,Vemme,Surrey,BC,CAN,14
73y,Sonny Cervelli,,CRG,Benicia,CA,USA,15
77u,Austin Versteeg,CRG-USA,CRG,Sandy,UT,USA,13
81c,Justice Lepe,Nash's Motorsports,Tony Kart,San Diego,CA,USA,12
83c,Nick Ramirez,Top Kart USA / Grand Products,Top Kart,Riverside,CA,USA,16
88j,Emerson Reed,Top Kart USA / Grand Products,Top Kart,Mason,OH,USA,14
95a,Yurik Carvalho,Italian Motors USA / Italkart USA,Italkart,Sumas,WA,BRA,14
98y,Phillippe Denes,ART GP America,ART GP,Carmel,CA,USA,14
99y,Scott Huffaker,Energy Corse America,Energy,Menlo Park,CA,USA,13
141h,Killian Keaveny,Top Kart USA / Grand Products,Top Kart,Annandale,MN,USA,15
209y,Blaine Rocha,Rolison Performance Group,Kosmic,Oakdale,CA,USA,14
324x,Noah Grey,Phil Giebler Racing,FA Kart,Dana Point,CA,USA,13
[/table]
---
TaG Cadet
The numbers in the TaG Cadet category have doubled since last year's SpringNationals, and with 30 drivers registered for the race, SKUSA's youngest competitors will now race for $1,000 purse provided by Superkarts! USA. Many are new to the Pro Tour, although a handful making their return, while a few have advanced to TaG Junior. One factor remains the same, however, and that is that they will all be chasing Hunter Kelly (Tecno Kart). The NorCal driver scored a double podium weekend at last year's SpringNats, and fought his way to the end to claim the championship. Sting Ray Robb (Tony Kart) and Roy Fulmer IV (Arrow) will be among the top contenders returning this season, as the field is filled with a number of Pro Tour rookies that we will learn more about throughout the SpringNationals. Among them is California ProKart Challenge point leader Ryan Schartau (Top Kart) and frontrunners Jackson Logsdon and Myles Farhan, as well as Challenge of the Americas stars Liam Letzsch (GP) and Chase Farley (Energy).
TaG Cadet Provisional Entry List
[table]
No.,Driver,Team,Chassis,City,State,Country,Age
1,Hunter Kelly,Kelly Racing,Tecno Kart,Elk Grove,CA,USA,11
1e,Nick Nufer,Team Sydwaz Racing,Tony Kart,Wildwood,MO,USA,11
2d,Derek Deslauriers,Buddy Rice Karting,Energy,Littleton,CO,USA,11
3d,Tristin MacLeod,CRG-USA,CRG,Grand Junction,CO,USA,10
10d,Filip Niemkiewicz,Buddy Rice Karting,Energy,Breckenridge,CO,USA,10
12y,Oliver Calvo,,Tony Kart,Stockton,CA,USA,9
16c,Gary Lyles,Buddy Rice Karting,Energy,Bakersfield,CA,USA,11
17c,Ryan Schartau,Empire Karts,Top Kart,Montclair,CA,USA,10
21x,Zoey Edenholm,Pure Karting,CRG,Scottsdale,AZ,USA,12
21y,Dezel West,Smokin' Fast Motorsports,Nevoso BA-1,Henderson,NV,USA,9
25c,Joseph Daniele,Mike Manning Karting,DR,Long Beach,CA,USA,9
32b,Trenton Sparks,Phil Giebler Racing,FA Kart,Bakersfield,CA,USA,11
44x,Dante Yu,Buddy Rice Karting,Energy,El Monte,CA,USA,11
49c,Jonathan Shone,Mike Manning Karting / Top Kart USA,Top Kart,Fontana,CA,USA,12
53t,Riley Dickinson,Iron Rock Motorsports,Tony Kart,New Braunfels,TX,USA,10
58o,Hayden LeFever,Dallas Karting Complex / SodiKart USA,SodiKart,Lindsay,OK,USA,7
73c,Anthony Willis,Nash's Motorsports,DR,Peoria,AZ,USA,9
74t,Nick Brueckner,MRP Motorsports,Birel,Hockley,TX,USA,11
88z,Austin Torgerson,Ruthless Karting,KGB,Eagle Point,OR,USA,10
98x,Jagger Jones,Pure Karting,Tony Kart,Scottsdale,AZ,USA,10
99c,Jackson Logsdon,Pure Karting,Tony Kart,Scottsdale,AZ,USA,11
100y,Chase Farley,Energy Corse America,Energy,Walnut Creek,CA,USA,12
108c,Jace Denmark-Gessel,Pure Karting,Tony Kart,Phoenix,AZ,USA,8
111c,Colin Queen,RBR Motorsports,Tony Kart,Coto De Caza,CA,USA,8
117c,Jude Logsdon,Pure Karting,Tony Kart,Scottsdale,AZ,USA,8
177d,Liam Letzsch,CB Motorsports,GP,Golden,CO,USA,9
186y,Roy Fulmer IV,Energy Corse America,Arrow,Placerville,CA,USA,11
198x,Jace Jones,Pure Karting,Tony Kart,Scottsdale,AZ,USA,8
316z,Sting Ray Robb,Rolison Performance Group,Tony Kart,Ontario,OR,USA,11
981x,Myles Farhan,Mike Manning Karting,DR,Upland,CA,USA,10
[/table]