Race Report: Florida Winter Tour – Formula Kart Weekend – Ocala Gran Prix
Champions crowned in TaG categories in winter program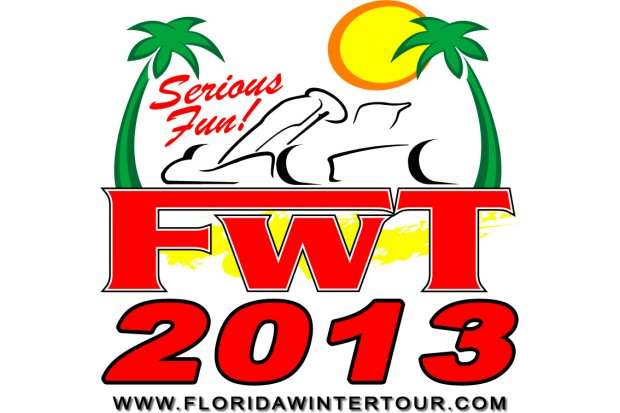 Saturday Report
The final weekend of Formula Kart Racing in Formula Kart Production's 2013 Florida Winter Tour kicked off today in Ocala, Florida in what can only be described as perfect "Chamber of Commerce" weather for the 144 entries. The deep blue skies and warm sunshine accented the intense on-track competition as the four FWT Formula Kart Racing TaG classes took to the Ocala Gran Prix track to battle for the coveted FWT Palm trophies.
This is the championship weekend for the Formula Kart Racing drivers. It's also the weekend when we award one lucky Formula Kart competitor with a once-in-a-lifetime opportunity to compete in the Granja 500 endurance event. We spoke with last year's MG Tires / FWT Granja award winner, Phil Kirby, about his experience in the event. He confirmed it's one of those events that you must put on your bucket list.
People race karts for many different reasons. Some people race karts because it's their hobby. Others see it as training before moving over to racing cars. For those in the latter category, the Skip Barber Racing/FWT Scholarship award is one way of helping them along that path. For 2013, the Skip Barber Racing School has provided $22,000 in awards that will be given to the top three registered drivers that accumulate points in the Florida Winter Tour. While it is not a mandate that the award hopefuls must compete in both FWT weekends, it's well known that if you do not compete in the Formula Kart weekends then your chances of winning this award are substantially reduced. Going into the weekend Daniel Formal had a strong lead in the race for the three Skip Barber Awards. Let's take a look at how he and his fellow competitors did on Saturday at Ocala Gran Prix.
AM Engines sponsored Formula Vortex TaG Cadet (31 drivers) 
The AM Engines Formula Vortex TaG Cadet is the largest class during the Formula Kart weekend and these kids never fail to put on a fantastic show. Leading the way in qualifying was not one, but TWO GT7 Motorsports teammates who turned in identical qualifying times. Anthony Gangi jr. (USA) and Giovanni Bromante (USA) both stopped the clocks at 40.386 seconds to outpace another GT7 driver, third qualifying Dylan Tavella (USA) by just 0.022 of a second. Believe us folks, when we say the competition in this class is tight, you can take that to the bank.
Anthony Gangi jr. earned the honor of leading the TaG Cadets to the line in the first heat race of the day. As is usually the norm in this category it was one heck of a race as several karts battled for the top spot. In the end, it was Gangi taking the win with the top five karts separated by less than a second at the checkers. The second TaG Cadet heat race saw more of the same tight racing action with a swarm of Cadets jousting for position. This time it was Mathias Ramirez who emerged on top after a hard fought battle for a well-deserved win.
Going into the TaG Cadet final, there was no way to predict who would claim the top step of the podium. At the start of the race it was Ramirez leading from Gangi, with a tight pack led by Michael d'Orlando (USA) and Nicholas Brueckner (USA) fast approaching from behind. Around the midway point, Gangi took over the top spot and looked like he could be headed towards his eighth win out of nine FWT races this year. But, soon after, Ramirez reclaimed the lead. While this was happening, David Malukas (USA) was storming through the field to add his name to the list of contenders. In the end it was Mathias Ramirez who would celebrate a fantastic win for the home team at Ocala Gran Prix while Michael d'Orlando and David Malukas would fill out the Cadet podium to receive their FWT Palms.
Euro Motorsport sponsored Formula TaG Masters (7 drivers) 
Qualifying in Euro Motorsports TaG Masters was led by Venezuelan Juan J. Font. Maybe he was motivated not just to win for himself, but to help secure his country's second place standings in the prestigious FWT Nations' Cup competition. With Jim Russell jr. (USA) less than a tenth away in second, we were set for a North vs. South American showdown.
In TaG Masters heat race number one, Jim Russell jr. emerged victorious with his teammate, Brent Lyman (USA) just three tenths of a second behind. In the second heat race with the inverted start, it was again Russell taking the top honor but this time he had to work hard to get around Lyman as the former Midwesterner who now calls Ocala home was firmly on his game.
With two heat race wins on the day, it was Jim Russell jr. who led the TaG Masters field under the custom-built FKP starting gantry to start the final. It was obvious the racing veteran was keeping one eye on the speed readout board so as to keep a controlled and legal speed which led to a safe and clean start for the pack of Masters Drivers. In the opening laps of the race, Russell assumed the lead. But, just as he'd done all day, Lyman was not going to let him walk away with it. After some problems in the heat races, Font was back in the mix as well and we had a real good race on our hands. Eventually, Fond found a way past Lyman but by that time Russell was just out of reach for Font to challenge for the win. In the end, it was Russell jr. taking the victory followed by Juan Font and Brent Lyman.
RYSA Racing sponsored Formula TaG Senior (15 drivers) 
The story of the day in RYSA Racing Formula TaG Senior was the domination of Ashley Rogero (USA). In fact, it looked as though when everyone set their clocks ahead last weekend by one hour, Ashley set hers ahead two because she was in a different time zone from her competitors all day. In only FWT Senior class debut the talented racer from Naples, FL took the field by storm.
In TaG Senior qualifying, Rogero would set the pole time of 36.561 seconds. While this was a tenth of a second faster than second, it's worth noting that the next five spots on the grid were covered by less than one tenth of a second. As the field got underway in the first heat race, a small mistake by Rogero garnered a one second penalty. But, on this day that wasn't much of an issue for her as she easily won by over five seconds from Canada's Bryce Choquer. In the second heat with the inverted start, Ashley stormed through the field from the back to take an impressive victory by over eight seconds from a Roger Ralston jr. (USA).
For Ashley Rogero, the TaG Senior final would be much of the same as at times she was so far ahead of the field it was easy to lose track of where she was. And, if anyone did lose track, they could be easily forgiven because the fight for second was stupendous. Roger Ralston got the jump at the start to fall in behind Ashley. But, before you could say "Skip Barber Racing Scholarship", the driver in the lead for that award, Daniel Formal (USA), came storming through to challenge for second. With Kevin Barbesino (USA) in the mix too, the fight for second was an awesome duel that just may make the highlight reel in our FWT LIVE! archived video coverage.
In the end it was Rogero with the win by more than 10 seconds over Formal and Barbesino taking second and third respectively. With four wins in the first four races, Daniel had a perfect season going in Formula Kart competition until today. His second place all but assures him of the driver's title for TaG senior. Although he did not win today, Daniel's performance was especially impressive when it was discovered he had been running a high fever for most of the day. Under conditions where some may have given up, Formal got on with the program and did what he needed to do in his quest to win his second successive FWT TaG Senior Points Championship and claim his stake in the Skip Barber Racing / FWT Scholarship Award.
MDD sponsored Formula TaG Junior (21 drivers) 
The competition is always close in TaG Junior at the Florida Winter Tour. Today the qualifying times were so close that second through 18th were covered by just 0.549 of a second. Up front it was Jack Weprin (USA) who scorched OGP's 0.520 mile circuit in just 36.471 seconds. Although Jack would start up front, with drivers like Christian Munoz (USA), Juan Manuel Correa (USA) and Gianfranco Mazzaferro (Canada) in the first two rows, we were assured of a great dogfight.
The wins in the first two heats were split between Brazilian Pedro Cardoso and Jack Weprin. Starting the final, Weprin had scored enough points to start on pole with Mazzaferro alongside him. After dutifully bringing the field to the starting line, Jack Weprin stood on the gas and led the screaming pack or TaG Juniors into the fast, sweeping turn one. By the second lap of the race, Mazzaferro has assumed the point with Correa in second and Weprin third.
Weprin continued to hound Correa until lap six, when he was able to get around him and set off in pursuit of Mazzaferro. Although the Canadian had pulled out a small cushion over second, by this point in the race Weprin had hit his stride and it was only a couple laps before he was in the lead for good. As the checkered flag was being waved, Jack Weprin crossed the stripe with a 0.611 second lead over Mazzaferro to take a hard fought but well-earned win. Javier Gonzales (Mexico) would work his way up to third and Juan Manuel Correa hung on for fourth.
Sunday 
The competitors of the Formula Kart portion of Formula Kart Production's Florida Winter Tour wrapped up their 2013 season today at the Ocala Gran Prix circuit in Ocala, Florida. The Formula Kart weekend is normally thought of as the more relaxed of the two FWT programs. However, with this being Championship Sunday the intensity level was kicked up another notch as everyone wanted to end their season on a high note.
As always, there are many awards given out at the Florida Winter Tour. During today's lunch break, one of the most anticipated awards was given out as George Moss' name was drawn from a hat to represent the FWT in the 2013 Granja 500. This award, sponsored by MG Tires, sends one lucky FWT participant to the Beto Carrero's Go kart Track in Penha, Brazil to compete in the truly unique karting endurance race. Each and every participant that has gone to represent the Florida Winter Tour has come back raving about how much fun the event was and how much they would like to return. On the chance that George cannot make it, alternates were also drawn from the hat. Brent Lyman and Jim Russell jr. were selected as the alternates.
The Florida Winter Tour is known around the world as "THE Winter Place To Be". As such, many drivers from colder climates opt to come to Florida this time of year to get their seasons started. Two of those racers are from the Midwestern United States. David Malukas is an eleven-year-old TaG Cadet driver from Chicago, IL. David has been racing for three years and says it was a trip to MRP in South Bend, IN (now JET karting) that got him hooked on racing. That trip led to the purchase of a Kid Kart and he's been racing ever since.
Although success is starting to come quickly for Malukas, he says he's not focused on a career in racing, just having fun. Indeed it was fun that brought him to the FWT. When asked why he started coming here, he said some friends from back home were running the Florida Winter Tour and always talked about how much fun they had running the FWT. So, naturally, he and his father decided to give it a shot. When not racing, David says he enjoys playing soccer, football and baseball with his friends.
Richmond, Indiana's Sam Cate is running the Florida Winter Tour for his second time. He says he originally competed last year on the suggestion of his tuner and that he had so much "Serious Fun" that he had to come back. Sam has been competing in karts for six of his 16 years but says he doesn't really remember where the itch to race came from. "All I remember was just wanting to race," he said, "So I asked my dad for a kart and not long after we were picking one out."
When asked what his favorite track was, he said there's no one track he rates as his favorite, but New Castle is the one he definitely considers his "home track". He also says that New Castle is his favorite track in Indiana. "Everywhere we go I have a favorite track," Sam said with a smile. Although he says he enjoys other sports, Sam said he quit playing baseball to focus on racing karts. After our interview, Sam went on to finish second in the TaG Senior final. With results like that, it appears he is another driver to watch in the future.
With 144 entries there was a lot happening during the FWT's Formula Kart Racing Championship Weekend. Let's take a look at who came out on top in the on-track competition.
AM Engines sponsored Formula Vortex TaG Cadet (31 drivers) 
Anthony Gangi jr. (USA) came into the weekend unbeaten in Formula TaG Cadet Finals. Try as he did to make that streak continue, he was not able to win yesterday, but, the TaG Cadet Championship leader rebounded in Sunday morning's qualifying session to set the fastest time by 0.038 of a second over Michael d'Orlando (USA).
In the first heat race, Gangi shot to the lead while d'Orlando fell back to sixth. For the next 14 laps the Cadets put on a show so intense, so competitive, that if you watched it live and weren't entertained, racing is not the sport for you. Lap-after-lap these talented kids fought hard for every position. In the end, Michael d'Orlando recovered to take the victory over Nicholas Brueckner (USA) with Vincenzo Sarracino (USA) in third.
Heat two for the TaG Cadet drivers was more of the same and one of the reasons we remind people to tune into FWT LIVE! to see these events as they happen. Heat two would belong to Saturday's winner Mathias Ramirez (USA) while David Malukas came flying up through the field to capture second ahead of a pack consisting of Antonio Serravalle (Canada), Anthony Gangi jr., Vincenzo Sarracino and Michael d'Orlando who all crossed the line within four tenths of a second.
With the possibility of rain in the late afternoon, the TaG Cadet final went off ahead of schedule with Michael d'Orlando and Mathias Ramirez sharing the front row. Just as in the heat races, the competition was fiercely competitive through much of the field. However, on this day Michael d'Orlando got everything right and pulled out to a solo lead with only Antonio Serravalle able to keep pace. Joining these two on the podium was Mathias Ramirez to add another FWT Palm trophy to the one he won the day before.
Euro Motorsport sponsored Formula TaG Masters (7 drivers) 
Qualifying in Euro Motorsports TaG masters featured a tight three-way battle between Venezuelan Juan J. Font, U.S. driver Jim Russell jr. and Mexican Javier Gonzales. When all the times were in, it was Font who stood atop the standings with a lap of 37.880 seconds. The first two heats for the TaG Masters were split with Font winning the first and Russell the second. As such, they would share the front row going into the final.
At the start of the TaG Masters final, the usual steady group of racers suddenly got it all wrong in turn one where a grand carambolage sent all but Juan Font into the energy absorbing safety barrier. With all but one competitor involved in the accident, the call for a complete restart was given so they could do it all over again, albeit this time without crashing.
On the restart, what was left of the field streamed smoothly through the section of the earlier carnage and settled into a fast race pace. Up front, Font knew that a win would cap off a great championship and that's just what he did as he methodically built up a cushion over Russell, who had a similar gap in hand to Brent Lyman (USA) in third. At the end of the day, it would be these three on the box taking home the FWT Palm trophies.
RYSA Racing sponsored Formula TaG Senior (14 drivers) 
After dominating Saturday's TaG Senior action, Ashley Ann Rogero (USA) was once again setting the pace in qualifying with a lap of 36.607 seconds. Behind Rogero, Chad Campbell (Canada) was the only other driver to break the 37 second barrier with a lap of 36.837 seconds.
At the start of TaG Senior heat race #1, Ashley shot to the lead but it was Bryce Choquer (Canada) who ran her down and briefly led in what was to be a Spiderman vs. Supergirl battle. After a number of laps, Ashley was able to extract herself from Choquers web and ran off to win by 6.734 seconds over a fast finishing Chad Campbell.
Heat two for the TaG Seniors featured the inverted starting lineup that's been immensely popular during the 2013 Tour. With the speed she'd shown all weekend, most expected to see Ashley pass the entire field again. And she did, with the exception of Roger Ralston jr. (USA) who used the top starting spot to his advantage to take the win.
In the final, Ashley was again setting lap times up to half a second a lap faster than her closest rivals. Everything seemed to be going to plan. But, with five laps to go, she encountered a problem with her right front tire going flat. In no time at all, Ashley was going backwards through the field as fast as she had been going forward and, although her competitive spirit refused to quit, there comes a time when the smart move is to just call it a day.
This left Roger Ralston in the lead by two seconds over Choquer. Ralston would take the checkers first but a non-compliance issue in post-race technical inspection assured the victory for Bryce Choquer. Joining the Canadian on the podium were Sam Cate (USA) in second and Thomas Radivoy (USA) coming home third.
MDD Formula sponsored TaG Junior (19 drivers)
The last class to run in today's queue was the Motorsports Driver Development Formula TaG Junior class. Setting the fastest time in qualifying to claim pole position was MDD driver Juan Manuel Correa (USA). Jack Weprin (USA) and Pedro Cardoso (Brazil) filled out the top three in qualifying where less than a tenth of a second covered first through third. In fact, the spread from first to 14th was a scant 0.367 of a second for one of the tightest FWT qualifying sessions ever. (Promoters note. Remember this is a TaG class, featuring three engines. Congrats to the Formula Kart tech staff for getting it right!)
Heat one saw Brazil's Pedro Cardoso put in a flawless run to claim victory over an equally speedy Juan Manuel Correa. After struggling with issues in qualifying that forced him to start last, Antoni Ptak (Poland) charged through the field to finish in ninth. With the inverted start for heat two, things were looking good for Ptak. Indeed the young Pole did get off to a great start. However, this race belonged to Canadian Gianfranco Mazzaferro who took complete command to take a 1.46 second win over Ptak.
As the pack of TaG Juniors rapidly streamed into turn one at the start of their final, Juan Manuel Correa led the field. But, within two laps Antoni Ptak was on his bumper and looking to get by. On lap five, he did just that as he set off in search of his first victory at the Florida Winter Tour. Behind Ptak, a heated battle between Juan Manuel Correa, Jack Weprin, Javier Gonzalez (Mexico) and Pedro Cardoso had the spectators on their feet. Eventually, Weprin and Cardoso broke free and tried to work together to run down Ptak. But, on this day, the young man from Poland was too strong and took the checkers 0.448 of a second to the good from Weprin and Cardoso.
After the day's usual daily trophy presentations, it was time to hand out the "Big Palms" for the season's Formula Kart Racing driver's championships. With such strong results coming into Championship Sunday Anthony Gangi jr. was all but a lock for the AM Engines Formula TaG Cadet title. Sure enough, he was able to close the deal and take the championship trophy back to New York. Michael d'Orlando used strong podium results throughout the season to take second in the championship, while third went to Nicholas Brueckner.
Euro Motorsports Formula Tag Masters saw Juan Font use his three wins throughout the season to take a well-deserved championship over 2011 TaG Masters champion James Russell jr. The two fought each other hard through the course of the championship and it was not unexpected to see Russell, last year's Dan Wheldon/FWT Karting Ambassador award winner, pull alongside the new champion on the cool down lap to give him his congratulations.
For the second straight year Daniel Formal reigned supreme in the RYSA Racing Formula TaG Senior category. The Floridian from Orlando had a spectacular year winning the first four races of the season amid some stiff competition from the likes of Roger Ralston jr. (2nd) and Kevin Barbesino (3rd). Although still feeling the effects of a fever that kept him out of the last day of competition, Daniel was able to attend the podium celebrations and save enough strength to chase after Formula Kart Production's Bill Wright during the podium champagne spraying. While no one has questioned Daniel's ability to win races, many were surprised to find out just how fast Bill Wright can run when he needs to.
The championship story in MDD Formula TaG Junior is one worth learning from. Last year Jack Weprin came to the Florida Winter Tour as a learning experience. What he learned was he wasn't fast enough to compete with the level of competition at the FWT. But, instead of whining about it or finding a new hobby, he set to work to become fast enough to win, and win he has! With multiple race wins under his belt and the ability to work his way through the pack, Jack Weprin is on his way to being the complete racer. As such, he earned the right to claim the 2013 FWT Formula Kart Racing TaG Junior championship. Joining Jack in the top three are Juan Manuel Correa (2nd) and Pedro Cardoso (3rd). All three of these drivers are names to watch for the future and we have a feeling you'll be hearing of their accomplishments for years to come.
It seems like just the other day we were starting a new year of Florida Winter Tour competition in West Palm Beach, and here we are hailing the new and defending champions. All of us at Formula Kart Productions would like to offer congratulations to all the racers for the accomplishments you've made throughout the year. Whether it was winning a race, a championship, or just achieving your personal best at a specific venue, the undying spirit of the competitors in the FWT is what drives us to provide you with the best program possible.
We hope to see many of you next weekend at the final championship weekend of the year for the FWT Rotax MAX Challenge. In addition to the drivers' championship and tickets to the Grand Finals, we'll be announcing the winners of the FWT Nations' Cup, Manufacturers' Cup, the Skip Barber Racing Scholarship Awards and the 2013 recipient of the Dan Wheldon/FWT Karting Ambassador award. As always, if you can't get to Ocala, log on to http://www.FloridaWinterTour.com to watch the action as it happens on FWT LIVE!